Higher taxes and rate hikes? What's ahead for Singapore
SINGAPORE — Singapore is bracing for possible tax increases and monetary policy tightening in 2018 against a backdrop of steady economic growth and benign inflation.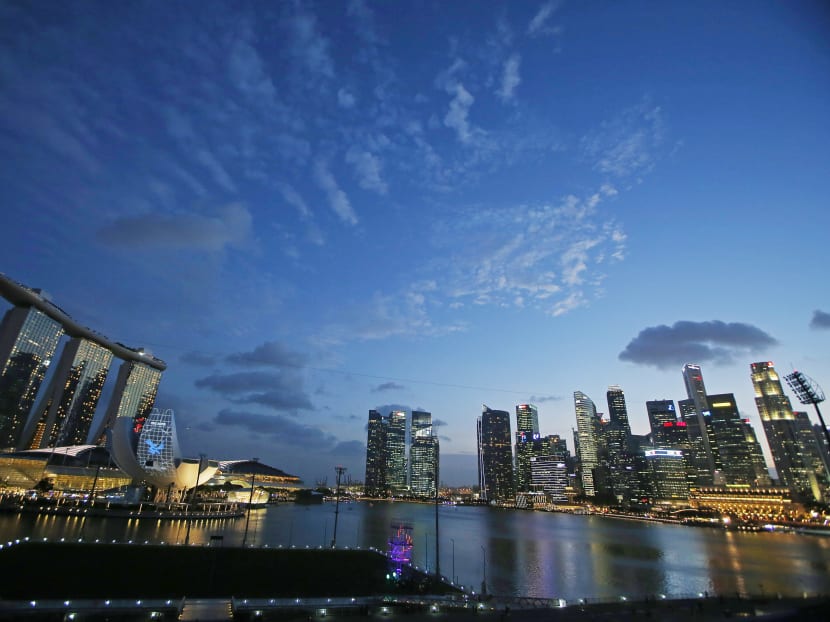 SINGAPORE — Singapore is bracing for possible tax increases and monetary policy tightening in 2018 against a backdrop of steady economic growth and benign inflation.
The city state's economy will probably expand 2.8 per cent next year compared with an estimated 3.3 per cent this year, while inflation is forecast to pick up slowly, according to the median estimates in a Bloomberg survey.
Gross domestic product probably rose an annualised 2.1 per cent in the fourth quarter of 2017 from the previous three months, according to a separate survey ahead of data due Jan 2.
While some economists including Ms Selena Ling at Oversea-Chinese Banking Corp. say the potential domestic fiscal and monetary policy tightening may pose headwinds to the Singapore economy, they still see a "benign" macroeconomic environment with domestic growth drivers having broadened beyond manufacturing and electronics.
"Global growth is picking up and broadening and there's still some decent ongoing momentum," supporting the view that the export push from 2017 will persist into next year, said Mr Khoon Goh, head of Asia research at Australia & New Zealand Banking Group Ltd. in Singapore, who is forecasting economic growth of 4 per cent in 2018.
"We had several years of pretty sub-par, below-trend growth. It's about time we had a nice recovery."
Mr Goh's rosier forecast includes a bet that trade-reliant industries that cut jobs over the past few years will start to hire again, benefiting consumption, and that recent gains in construction will pick up pace.
NO LONGER NEUTRAL
That recovery may spur the central bank to move away from its neutral policy stance. The Monetary Authority of Singapore (MAS) is forecasting growth of 1.5 per cent to 3.5 per cent in 2018, with its core measure of inflation seen fairly stable at an average of 1 per cent to 2 per cent.
The MAS, which uses the currency as its main policy tool rather than interest rates, opened the door to a tightening move at its last policy meeting in October. Economists such as Mr Goh and Mr Mohamed Faiz Nagutha at Bank of America Merrill Lynch see an adjustment in October, while Maybank Kim Eng Research's Chua Hak Bin predicts it will come as early as April.
The budget, which is likely to be announced in February, will be closely watched with the government already signaling it may raise taxes. While speculation has centered around an increase in the goods and services tax, authorities have a range of options such as raising the stamp duty or motor vehicle levy, said Ling, head of treasury research and strategy at OCBC in Singapore.
"There's no smoke without fire," she said. "They've hinted quite strongly that there's some tax changes coming up, probably they will announce something in the budget."
Corporate and income taxes, which together make up almost half of the government's tax revenue, probably won't be adjusted since that would hinder competitiveness and would be counter to moves in the US which cut taxes.
Trade will remain a top long-term priority as Singapore helps shape the regional agenda as chair of the Association of Southeast Asian Nations in 2018. That should mean more talk about boosting intra-regional trade that has languished over the past decade, according to Nomura Holdings Inc.
"We see plenty of scope for Asean to reap the benefits from increased intra-regional trade," Nomura analysts said in a note. "With growth this strong, demand for exports from within should naturally pick up." BLOOMBERG