Hit with diabetes, running enthusiast refuses to give up on marathon dream
SINGAPORE — An avid sportsman and fitness buff, Miftahul Arifin was just months away from achieving his lifelong dream of running a full-distance marathon last August when a medical condition put a halt to his plans.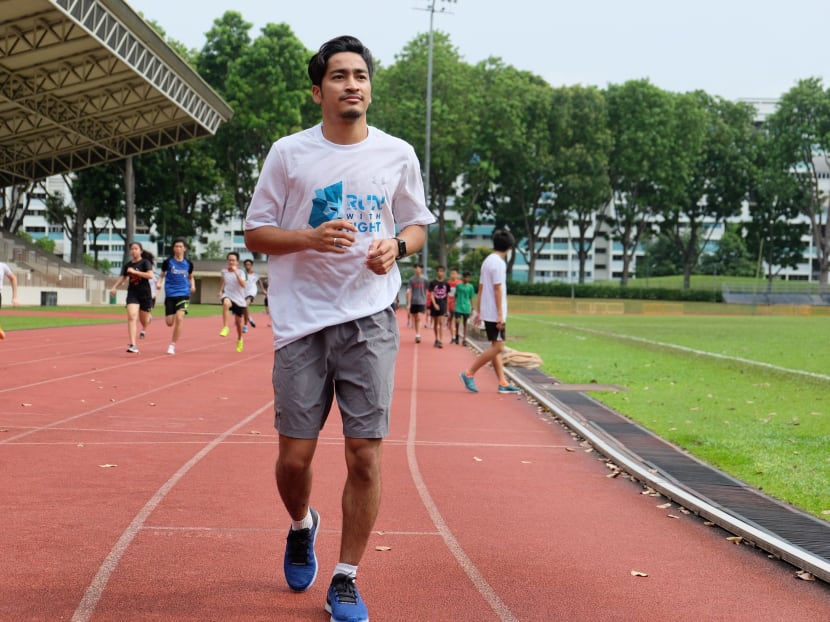 SINGAPORE — An avid sportsman and fitness buff, Miftahul Arifin was just months away from achieving his lifelong dream of running a full-distance marathon last August when a medical condition put a halt to his plans.
The 28-year-old nurse had signed up for the year-end Standard Chartered Singapore Marathon (SCSM), running five to 10km at least three times a week as part of his preparations for his 42.195km race. But Miftahul was forced to withdraw from the Dec 4 event after he was diagnosed with Type 1 diabetes, a condition that made him feel tired and lethargic easily, forcing him to end his training regime.
Having led a healthy lifestyle of regular exercise and a balanced diet - he only ate brown rice and drank lots of water daily - the former national age-group footballer was surprised to learn that he had diabetes.
"The first question I asked my doctor was whether I could run the Standard Chartered Marathon that year... The doctor advised me against it and told me to give my body some time to adjust to the treatments first," said Miftahul, who works at Sengkang Health.
"But, deep down I always knew that I would still want to achieve my dream."
Unlike the more common Type 2 condition - which 95 per cent of diabetes patients are diagnosed with - Type 1 diabetes is not linked to an individual's lifestyle choices. While researchers have not found the cause of the condition, it is believed that certain factors such as genetics and some viruses may contribute to it. The chronic condition causes a person's immune system to attack healthy body tissue in the pancreas, which results in the production of little or no insulin, which is needed to allow sugar to enter cells to produce energy. There is currently no cure or prevention for Type 1 diabetes, and the only treatment is lifelong regular monitoring of a patient's sugar levels and daily insulin injections. Patients have to be careful about injecting too much insulin, which could cause hypoglycemia, or low blood sugar, which can even result in death.
Miftahul took two months to adjust to his condition and treatment - which involves monitoring his blood sugar levels regularly throughout the day and and injecting insulin shots when required - before he felt confident enough to exercise regularly. He began with light exercises, progressing to short runs of between one to 2km, before moving onto longer runs and eventually playing football again.
Over a year after he was first diagnosed with diabetes, Miftahul is ready for his shot at the SCSM on Dec 3. While his target last year was to finish the race in 4hr 30min, his goal for his first full marathon is to cross the finish line. His race day plan for the full-distance marathon will see him carrying a device to monitor his sugar levels, and he will have inject himself with insulin shots or drink an energy drink during the race when necessary.
Although he has the support of his wife, some of his family members, particularly his mother, are concerned for his safety. "My family is a bit worried that it may be a bit too tough for me... but I've assured them I will check my sugar levels every hour during the run, and if I don't feel good at any point, I will stop," he said.
According to Dr Vivien Lim, an endocrinologist at Gleneagles Hospital, Type 1 diabetes patients like Miftahul face several risks when participating in strenuous sports. Dehydration and excess blood sugar could lead to a condition known as diabetic ketoacidosis, which can lead to a diabetic coma or even death. Conversely, blood sugar levels could also drop, leading to hypoglycemia.
While advising diabetic patients to plan ahead before embarking on an exercise regime, Dr Lim added that exercise could be beneficial to them. "In general, exercise helps to improve the effect of insulin that helps drive the glucose into the cells to be used for fuel," she said.
"As such, it can be used to help control the blood sugar levels for a diabetic, in addition to its beneficial effects on other aspects of health. This will augment the effects of the medication."
A serious health concern in Singapore, diabetes has afflicted over 400,000 people here, and one in three Singaporeans has a lifetime risk of getting the disease. With the Government focused on trying to reduce the burden of diabetes in the population and keep Singaporeans healthy as they age, Miftahul is also doing his part - in a small way - by starting a running club for diabetes patients to get fit, share health tips, and support one another.
While Type 1 diabetes may have thrown this running enthusiast a curveball, Miftahul is determined not to let it take control of his life. This includes achieving his dream of running a marathon, as he added: "Some of my doctors have advised me not to go for a full marathon, but they also say that if this is my life goal, then they can't stop me from doing it.
"To run 42km is something not everyone can do, even for the fitter ones, because you need the right training and the right mindset and the will to keep going... so I would say this marathon will define how my life so far has been, going through all the obstacles and challenges I have faced, and finally accomplishing what I've set out to do."
Visit https://singaporemarathon.com for more information on the SCSM. Find out more about diabetes and World Diabetes Day (Nov 14) at http://www.worlddiabetesday.org.