Home Nursing Foundation aims to care for more by 2018
Singapore — At the home of a client with Parkinson's disease, physiotherapist Vijayakumar Angidisamy uses paper rolls for his client to step over and, eventually, to take bigger steps, with the aim of lowering the risk of a fall.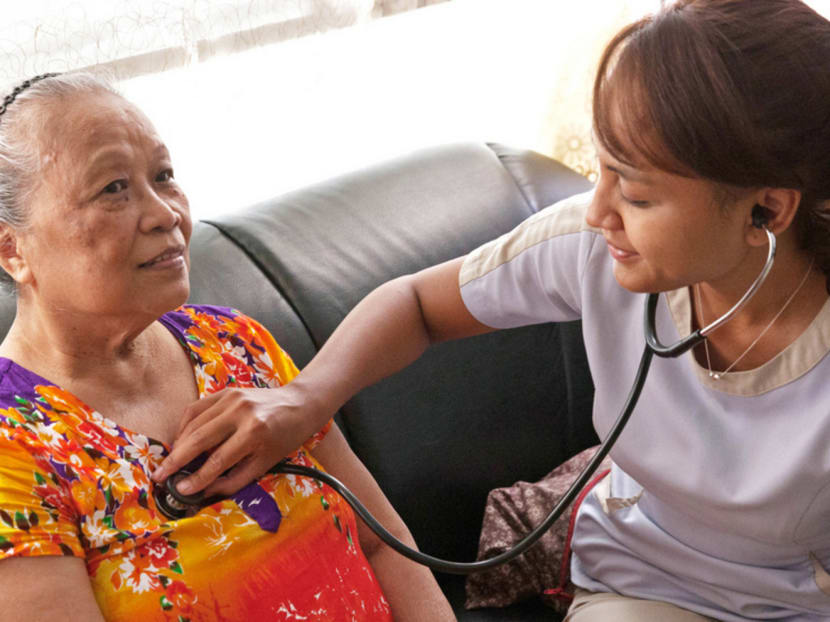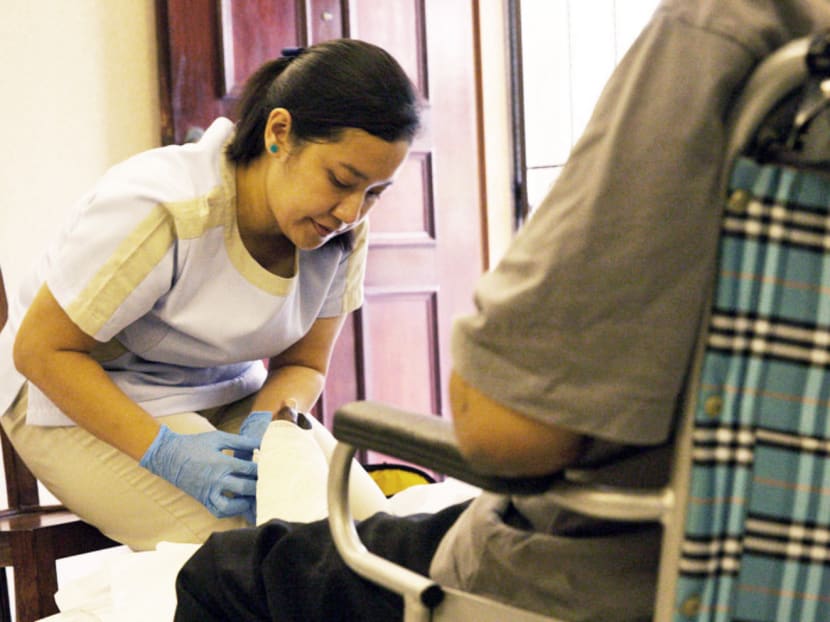 Singapore — At the home of a client with Parkinson's disease, physiotherapist Vijayakumar Angidisamy uses paper rolls for his client to step over and, eventually, to take bigger steps, with the aim of lowering the risk of a fall.
Together, therapist and client work towards improved functional ability, or getting well enough to attend centre-based care. Such rehabilitation through therapy has been part of Singapore's biggest home-healthcare provider's suite of services since November. And the Home Nursing Foundation (HNF), which accounts for 60 per cent of home-healthcare services, such as in nursing, medical and social welfare, now has ambitious plans to increase capacity by more than 50 per cent by 2018.
From 2,500 active patients, the voluntary welfare organisation plans to cater for 3,900 medical or nursing cases, and 680 home therapy cases. There will be clients receiving both types of services, said HNF chief executive Karen Lee.
To meet its target, clinical staff strength will increase from 43 nurses, two therapists and nine doctors currently, to a total of 78, said Ms Lee.
The therapists are seconded full-time from AWWA, formerly known as the Asian Women's Welfare Association, which has a "therapy hub" that began outsourcing therapy services in 2014.
The doctors are from HNF's partners such as Frontier Healthcare Group as well as solo general practitioners, said Ms Lee.
"If we hire our own, we'd have a much smaller base and it would be difficult to meet the needs of the patients. If I have a panel of 10 (doctors), depending on where patients live and their needs, I have a much bigger pool to deploy," she said.
The Tote Board's Community Healthcare Fund, the Ministry of Health and HNF are funding the capacity expansion, which is estimated to cost S$6.7 million for the next three years. The demand for home healthcare will keep growing because the ageing population means people are living longer but not necessarily healthier, said Ms Lee.
"Hospitals are trying to decant cases back to the community; most patients also prefer to be at home, and families are getting smaller," she said.
In his addendum to the President's Address last month, Health Minister Gan Kim Yong said the Government will add more than 7,000 places to community care, home care and palliative home care between 2015 and 2020, as well as more than 10,000 beds in acute hospitals, community hospitals and nursing homes.
HNF has around 50 individuals on its waiting list at any given time — a list it wants to keep lean. It tries to divert cases to other providers if the wait is expected to be longer than a fortnight, but this can be challenging because HNF is the only service provider that operates islandwide, said Ms Lee. Other service providers include Tsao Foundation, TOUCH Home Care and NTUC Health.
Besides expanding capacity, HNF has tweaked its operations to improve quality of care. In September, it aligned its care teams according to the six regional health-systems here.
Each team now has a defined range of patients whom nurses and doctors can get to know better, and teams can collaborate more closely with other social and healthcare support services in their respective area, said Ms Lee.
Staff are now better able to address or even pre-empt the needs of clients, such as when a doctor's or therapist's visit is warranted, she added.
With patients' conditions getting more complex, the "natural progression" is to improve HNF's ability to respond when their conditions deteriorate suddenly, so that they may avoid a hospital visit or admission if possible.
HNF aims to beef up its capabilities in palliative care and managing patients with dementia, perhaps through advanced-practice nurses who have undergone training, said Ms Lee.
A more responsive call centre that is able to provide sufficient medical and social support to patients and families over the phone is also on the cards.
"It's going to be a busy three years. It's a very aggressive plan," said Ms Lee. "If we do successfully pull it (off), it'll change the home care and healthcare landscape ... That would be a big service (to) the local population."
For Mr Vijayakumar, who used to work in community hospitals and whose clients now are mostly the elderly with orthopaedic conditions, stroke or chronic illnesses such as diabetes and hypertension, the satisfaction lies in seeing gradual improvements in them.
"From my observation, they're quite happy in a home environment," he said.