How do you win an elephant over? With food, says Singapore's first female elephant keeper
SINGAPORE — On her first day on the job, Ms Nursyafiqah Mohamed Yusof cried.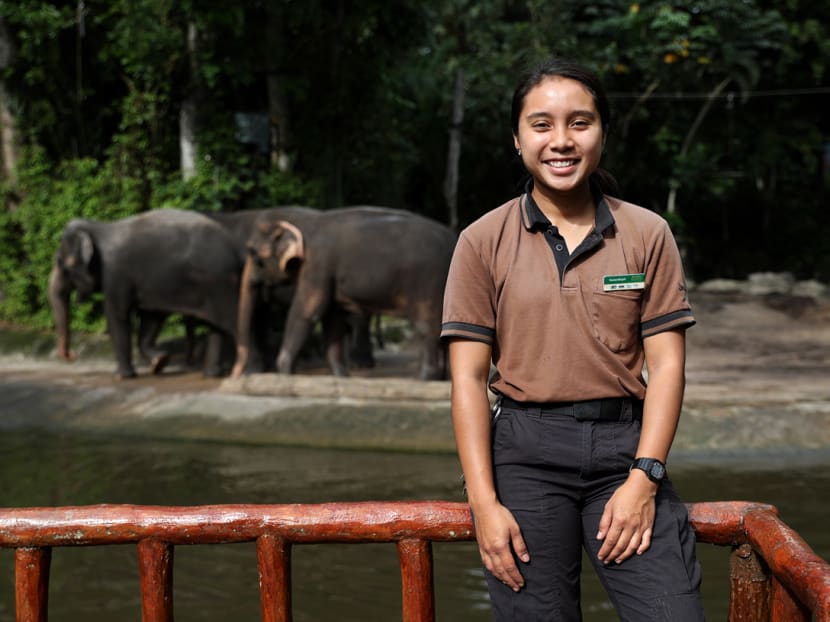 SINGAPORE — On her first day on the job, Ms Nursyafiqah Mohamed Yusof cried.
The 24-year-old told TODAY that she had no idea what to expect when she first joined the Singapore Zoo back in 2017.
She adores primates with their "human-like" behaviour, but has a deathly fear of snakes — which, ironically, started at the zoo.
As a child, she had a frightful moment when she mistook a python's body for her mother's lap during a family photoshoot with the reptile.
Other than that, she had little prior experience when it came to dealing with animals.
So when, after taking up her new job, she saw something long, grey and serpentine swinging and curling about, her eyes swelled. Fortunately, it was not a snake but an elephant's trunk.
Awed that she was standing so close to the majestic animal for the first time, Singapore's first female elephant keeper said: "They were tears of joy. I just knew I was going to be working with them for a long time."
Ms Syafiqah suspects the reason elephant keeping has been a male-dominated role for so long is the physical rigour involved in interacting with the animals, though with evolving practices, that physical contact is reducing.
"As the first female elephant keeper in Singapore, I feel pretty good about myself because I actually do sort of the same amount of (work) as the guys here."
And while she is thrilled to be a trailblazer, she admits she is hoping that the zoo will recruit another female elephant keeper to keep her company.
'SCHOOL WON'T PREPARE YOU FOR THIS'
With around 250 keepers in total, Ms Syafiqah is just one of the 78 female keepers employed by Wildlife Reserves Singapore (WRS), which manages the zoo and the Night Safari.
However, as a graduate from Ngee Ann Polytechnic's Landscape Design and Horticulture course, she started her career with zero knowledge about animal husbandry, which essentially refers to the care of animals.
But like many of her counterparts, she would receive all the training she would need while at work.
"School won't prepare you for a job like this," said Ms Syafiqah, who was not allowed to work directly with the elephants until she was well-versed with her job scope.
Nursyafiqah Mohamed Yusof, 24, the Singapore Zoo's first female elephant keeper, feeds Aprila, a 24-year-old Sumatran female elephant. Photo: Nuria Ling/TODAY
The Singapore Zoo's five female elephants, also known as cows, are given regular thorough body inspections to ensure they are in the pink of health.
A separate team cares for the other five pachyderms, three cows and two bulls, at the Night Safari.
The inspections are carried out through a barrier, where the elephants are conditioned to present different parts of their body to the keepers on cue.
Each elephant is also fed 80 to 100 kg of fruit, leaves and hay in total daily. They also defecate roughly the same amount each day, a back-breaking task to clear.
"A lot of things were mentally and physically draining for me," said the petite and sporty lady. "At the end of the day, I was thinking: 'Do I really want this job?'"
However, her colleagues gave her a lot of motivation and encouragement, which allowed her to push on. Over time, she found herself getting used to the daily rigours.
ELEPHANTS LIKE DURIANS TOO
Despite her enthusiasm, the eloquent host for the twice-daily animal presentation to zoo visitors had her work cut out for her when she was finally ready to begin training with the animals.
The WRS is transitioning away from its old free contact system of training elephants, which involves physical touch, to a protected contact system.
Under the new system, the keepers use positive reinforcement to train the elephants to carry out a certain action, without physically touching them.
"It's for the better welfare of the animals, and the safety of the keepers," she said, explaining the rationale for moving to the new system.
The challenge lies in the elephants being very particular about who they deal with, said Ms Syafiqah.
"A well trained dog will listen to anyone," she said. "But an elephant will only listen to their trainer."
This proved to be the case with Komali, the 49-year-old matriarch of the herd, which would only take instructions from the senior keepers.
Just approaching the Sri Lankan elephant proved difficult, as it would raise her trunk whenever Ms Syafiqah neared — a sign that it was displeased. Even the other elephants would give way for the old dame.
While Ms Syafiqah knew she would have no luck with the matriarch, she was determined to win over the other elephants.
Her breakthrough came about six months into her job, after she learnt from a mentor that the way to an elephant's heart is through its stomach, just like humans. "It was the best feeling ever," she said.
With offers of jackfruit, sugarcane and even durian — thorns and all — Ms Syafiqah was eventually able to bond with the half-sisters Intan and Aprila, which are coincidentally the same age as her.
Sharing the same father, but different mothers, the critically-endangered Sumatran elephants were born under human-care at the Taman Safari zoo in Indonesia, before they arrived in Singapore in 2005. There are only 2,400 of these elephants left in the wild.
Fully grown, the Sumatran elephants stand between 1.5m and 2.7m high at the shoulder, and are considered the second smallest subspecies of Asian elephants after the Borneo pygmy.
Aprila, which was named after the month she was born in, is the cheekier of the pair, said Ms Syafiqah.
She said that although Jati, a 35-year-old Malaysian elephant, was the largest in the herd and was at least 1,000kg heavier than Aprila, who weighs in at around 2,400kg, it did not deter the younger elephant from teasing the older female.
Said Ms Syafiqah: "Jati is very timid and gives in to Aprila a lot."
"But when the matriarch comes up, Jati is a totally different person," said Ms Syafiqah, temporarily forgetting that she was talking about elephants. "Jati knows she has the support from her friend, the boss, so Aprila wouldn't really try her."
Meanwhile, Intan, which means diamond in Bahasa Indonesia, is intelligent.
While some of the other elephants might resort to brute force in an unsuccessful attempt to extract the treats from "enrichment devices", which contain snacks for them, Intan tends to employ more subtle means.
In one scenario, Ms Syafiqah said Intan was the only elephant to use her trunk to blow out popcorn treats that had been hidden within a feeder box.
MORE THAN MEETS THE EYE
Although she has yet to encounter anyone who has questioned her career decision, Ms Syafiqah said she does come across some misconceptions.
"People just see what we do outside, which is the cleaning of exhibits and the preparation of the food," she said. "But there is a lot going on back of house."
Due to the unique bond between the elephants and the keeper, only they can easily carry out sensitive work such as the drawing of blood, foot care and even monitoring of weight, among other things.
Beyond the husbandry aspects of "looking after a big child", there is also the academic.
Just last year, Ms Syafiqah was given the opportunity to speak at an international conference on how the WRS protects its elephants from the Elephant Endotheliotropic Herpesvirus.
The fatal elephant-specific virus targets young Asian elephant calves and juveniles, both in the wild and in captivity.
Recently, Ms Syafiqah has embarked on a research paper that will examine the difference in behaviour between elephants under the free contact system and the protected contact method.
The paper, which she expects to be published around the end of 2020, will be shared with other zoos around the world.
While Ms Syafiqah recognises that some people do not agree with the idea of having animals in captivity, she stressed that there is a difference between "good zoos and bad zoos".
WRS has met the stringent conditions set by the European Association of Zoos and Aquaria, and Zoo and Aquarium Association of Australasia in order to be accredited by them.
Beyond prioritising the welfare of the elephants, Ms Syafiqah said WRS also supports conservation projects.
For instance, monies received during the feeding sessions are channelled entirely to fund the Elephant Response Unit project in the Way Kambas National Park in Sumatra, Indonesia, that seeks to resolve human-elephant conflict.
Ms Syafiqah's job also gives her an opportunity to interact with children who want to learn more about animals, and she hopes it will influence them to care about conservation.
"If we start educating children about animals young, they will keep that interest in them for a long time," she said.