How travelling to Australia is like in Covid times
MELBOURNE/SYDNEY — After the Covid-19 pandemic struck early last year, I have had to cancel a trip to Jordan that was scheduled to take place in April 2020.
Pre-trip preparation was more draining than compared with travelling before Covid
But the actual journey turned out to be quite smooth, even though there were more documents that needed to be checked
There are fewer pandemic-related restrictions in Australia; for example, people are not required to wear masks when out on the street
MELBOURNE/SYDNEY — After the Covid-19 pandemic struck early last year, I have had to cancel a trip to Jordan that was scheduled to take place in April 2020.
And since then, the notion of international travel seems to have become a thing of the past.  
But the opening of several vaccinated travel lanes has definitely reignited that sense of wanderlust, especially considering that it has been close to two years since I last travelled out of Singapore. 
So when I was given the opportunity — and privilege — to head to Melbourne and Sydney to cover the launch of the first quarantine-free flight between Singapore and Australia on Nov 21, I was really excited even though it was a work trip. 
It was a media familiarisation trip organised by Singapore Airlines and Tourism Australia, an Australian government agency tasked to promote the country's tourism industry. 
But that excitement quickly turned to quite a fair bit of frustration when I realised the amount of preparatory work I had to do before I flew off.
I had to find out how to get my vaccination certificate digitally authenticated. And then, book for a pre-departure polymerase chain reaction (PCR) test and get swabbed within three days from flying. 
Before that, I had to comb through various Australian government websites to find out if there are any other entry requirements. Turns out, besides applying for a visa, I had to complete an Australian travel declaration form and apply a border entry permit for the state of Victoria. 
To be fair, these admin work may be par for the course for other nationalities whenever they travel. But as someone who holds one of the most powerful passports in the world, I have always had the privilege of relatively fuss-free travel, and all these additional admin work was really quite draining for me. 
Fortunately, once that was all done, the actual process of travelling was pretty smooth.
Sure, there was a slightly longer wait at the airport while checking in. But that's pretty understandable given that there are now more documents staff have to check through.
Crossing immigration and stepping into an airplane after two years was really a surreal experience. 
It just felt so foreign. Even the whole packing process, which was something quite automatic for me before Covid, felt so unfamiliar. I even forgot that I had to carry an international adaptor at one point, and couldn't remember whether power banks were meant to be in the check-in baggage or had to be in the cabin. But I definitely didn't need to be reminded to pack extra masks. 
That feeling was further accentuated when I reached Melbourne, because we were not required to wear masks while walking on the streets of Melbourne, or at most places tourists would typically go to, with the exception of public transport.
Most journalists on the trip, including me, had our masks on most of the time when we first arrived because it was just something so deeply ingrained in us after living in a pandemic for close to two years. 
And if you think this was making me uncomfortable, you couldn't be further from the truth.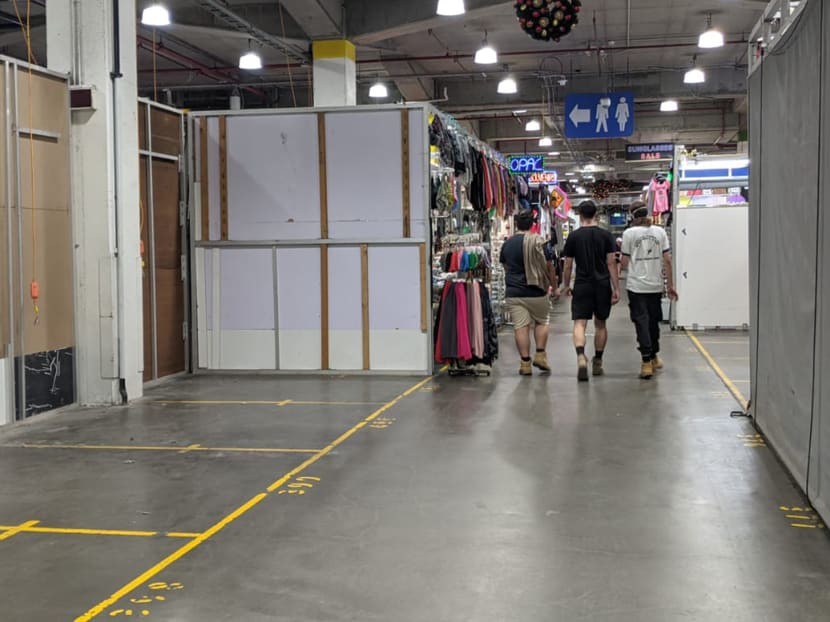 TRAVEL TIPS
1. Research all entry requirements of the destination country you are heading to, and the various documents that need to filled.
2. Also research on what are the steps you are required to take if you do catch Covid-19 while travelling. 
3. Prepare both hard and soft copies of all required documents, including vaccination certificates and swab test results.
4. Buy travel insurance and check through what exactly it covers should you contract Covid-19 while overseas. 
5. Don't forget to pack extra masks! 
HIGHWAY TO FREEDOM
Within this feeling of being out-of-place, there was a whole lot of excitement, and more importantly, freedom. 
The act of taking off one's mask in public may seem so innocuous. But it slowly dawned on me how liberating such a simple act was, and stirred some hope that we may return to such normalcy back home sooner rather than later. 
Of course, the Omicron variant was not on global headlines at that time, so things were really starting to look up. 
Sydney has stricter mask-wearing policies, but I felt that, overall, there wasn't much of an inconvenience for tourists in both cities. There were also no limits to the number of people who could dine in. 
To ride on this feeling of freedom, I suggested doing something we could do in Australia that we could not in Singapore.  
So, a bunch of us even went for a karaoke session after dinner one night in Melbourne, and sang our hearts out for two hours — something we have not been able to do for the last two years. 
And although it was a work trip, where I had to make time between events to file my stories or do interviews, I still felt incredibly lucky that I was able to experience this change in scenery, whether it's a simple stroll looking over the Yarra River or admiring AC/DC street art painted along a lane in Melbourne.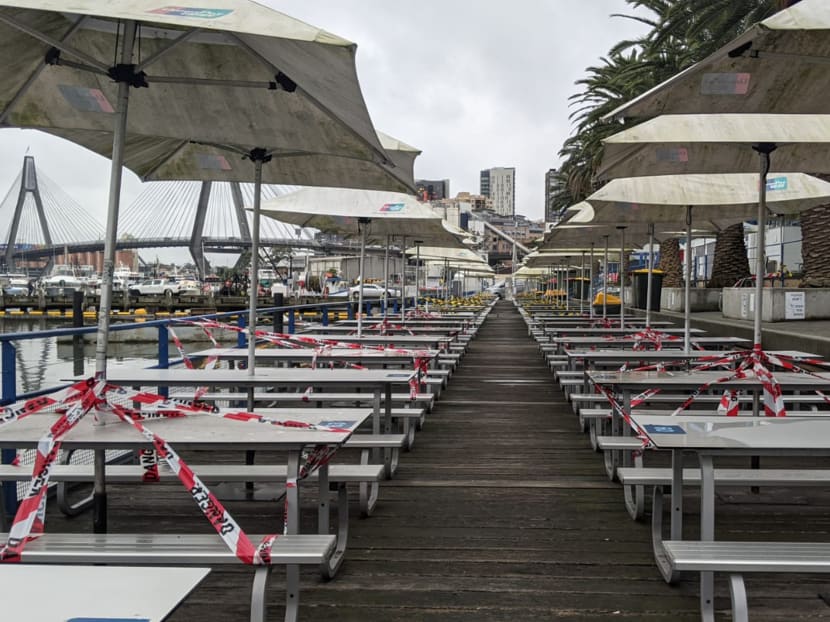 The only time I felt concerned about the virus was when we were in a packed theatre in Melbourne watching the Moulin Rouge! musical, and I kept my mask on throughout the whole show even though most people were maskless. 
To be fair, this was more because I wanted to avoid all the complications that would arise if I tested positive for the Covid swab test before flying back to Singapore, more than the fear of contracting the coronavirus itself. 
Of course, this is not to say that the Covid-19 pandemic had disappeared from Australia. 
Signs telling people to keep a distance of 1.5m from each other were being placed throughout Melbourne and Sydney. 
We also had to show our vaccination certificate and scan a QR code with their mobile app which works like TraceTogether whenever we entered a building or restaurant. 
Red and white tape were placed around tables in Sydney Fish Market to indicate that these were not meant for diners to eat at — just like at hawker centres in Singapore. 
Covid-19's impact on tourism in Australia was most visibly felt when I saw how empty Paddy's market in Sydney had become. Many stalls have closed, and all that's left were yellow floor markings that used to indicate the boundaries of each stall.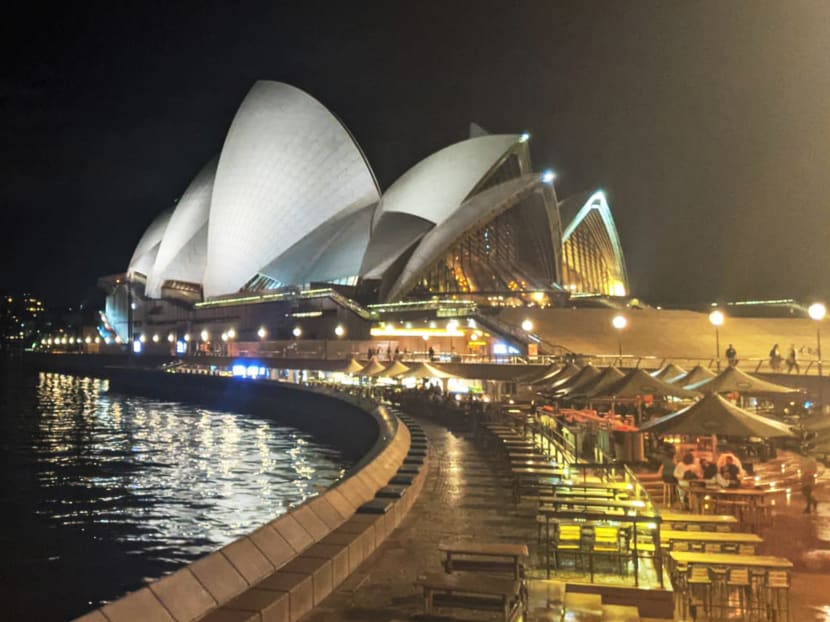 Locals who worked in the tourism sector, and have been among the hardest hit by pandemic measures, told me that they were really excited that Australia was opening its borders, even though it was just to visitors from two countries at that time — Singapore and New Zealand. 
We were in fact the first international tour group for a skipper who took us around the Sydney Harbour in a sailboat since the pandemic started. 
Unfortunately, news about the Omicron variant broke as we were about to return and Australia announced a three-day quarantine for all international arrivals the very next day I touched down in Singapore. My heart went out to all the tourism workers I spoke to when I saw the news. 
While the journey back to Singapore was equally smooth as the journey there, I am afraid the same can't be said for the return of travel. It will likely continue to progress in fits and starts.
And I can understand if this may deter people from making travel plans over fears of unforeseen changes to travel requirements, or even worse, lockdowns. 
Despite these uncertainties, my six-day trip to Australia has given me a glimpse of how things were like before Covid-19 and I hope everyone has the opportunity to experience what I did.