Hundreds protest against reserved Presidential Election
SINGAPORE – A silent protest against the reserved Presidential Election (PE) drew hundreds to Hong Lim Park on Saturday (Sept 16).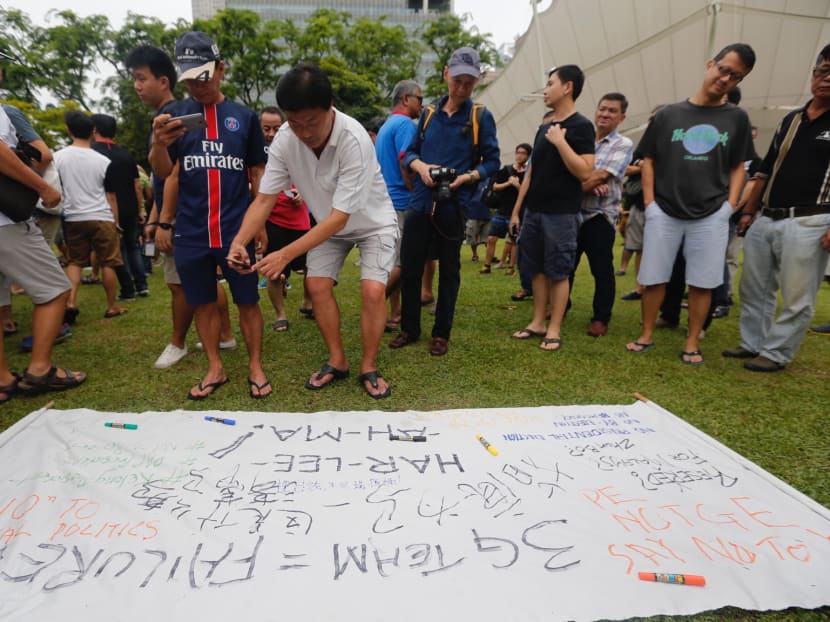 SINGAPORE – A silent protest against the reserved Presidential Election (PE) drew hundreds to Hong Lim Park on Saturday (Sept 16).
Among those who turned up at the "sit-in" demonstration were former presidential candidate Tan Cheng Bock, Singapore Democratic Party chief Chee Soon Juan, Singaporeans First secretary-general Tan Jee Say and blogger Han Hui Hui.
When TODAY arrived at about 4pm – half an hour before the protest's scheduled start – participants already began trickling in, with some armed with picnic mats and placards. The crowds swelled as the evening wore on.
At about 5.10pm, the crowd broke into applause and cheers when Dr Tan Cheng Bock showed up at the park, as a mob quickly closed in around him.
In a Facebook post earlier on Saturday, Dr Tan Cheng Bock, who came in a close second to Dr Tony Tan in the 2011 PE, said he would attend the protest. He recently mounted, and lost, a legal challenge against the basis of holding a reserved election this year. 
The recently-concluded PE was reserved for the Malay community, after Parliament passed into law changes to the Elected Presidency in November last year.
Madam Halimah Yacob, 63, won the election via a walkover, after her potential rivals Mr Salleh Marican, 67, and Mr Farid Khan, 62, were deemed ineligible.
Many Singaporeans expressed their disappointment at the non-contest, with some taking to social media to air their views, using the hashtag #NotMyPresident in their posts. The hashtag shot to popularity last year among social media users rallying against Mr Donald Trump after he won the United States' presidential election. 
Speaking to the media after the protest, organiser Gilbert Goh, 56, stressed that participants were "not against the Malay community" or Mdm Halimah. Instead, they were against the constitutional changes that allowed for a reserved election this year, which ultimately led to a walkover with Singaporeans not given a chance to vote. "We're in this together. We're not against any race," Mr Goh stressed.
He also noted that only a small proportion of those who turned up were below 30 years old. Urging young Singaporeans to "step up", he said: "The future belongs to them."
Throughout the protest, most of the participants, some of whom wore T-shirts with the #NotMyPresident hashtag, were seen milling about the park. Some gathered to pen their thoughts on a piece of white cloth splayed out on the ground or listened to off-the-cuff speeches, while others watched.
An administrator who wanted to be known only as Ms Caroline, 50, said she attended the protest because the reserved election went against "everything in the Pledge, and everything we are supposed to stand for". "This degeneration is heart-rending," she added.
Educator Jane Oh, 23, said the protest was to "make a point, for people to come together". "This is not something you see in Singapore every day," she said.
A 20-year-old humanities undergraduate, who gave his name only as Faris, had turned up with a group of 10 friends who had arranged to attend the protest via platforms such as Facebook. Holding a sign that read "You Cheapened Malayness", he said: "I'm here just to express my dissatisfaction with the way things were (done)."
Speaking to TODAY, Dr Chee claimed that people could see that the changes to the Elected Presidency were structured from the beginning so that the Government's preferred candidate could "come in".
Coupled with the ensuing walkover, this was "not appropriate at all", he said.
"It's just a terrible, terrible message to send to Singaporeans," he added.
Fellow opposition politician Mr Tan Jee Say, who also ran in the 2011 PE, said he was motivated to attend "for the same reason everybody else is coming down here: To highlight the death of democracy and meritocracy".
As dusk fell, the crowd started to disperse orderly from the venue, with only a handful still hanging around just after 7pm.