Straight fight in Bukit Batok; candidates spar over upgrading plans
SINGAPORE — The Bukit Batok by-election will see a straight fight between the Singapore Democratic Party (SDP) and the People's Action Party (PAP), which continued to lock horns on Wednesday (April 27) over the upgrading issue.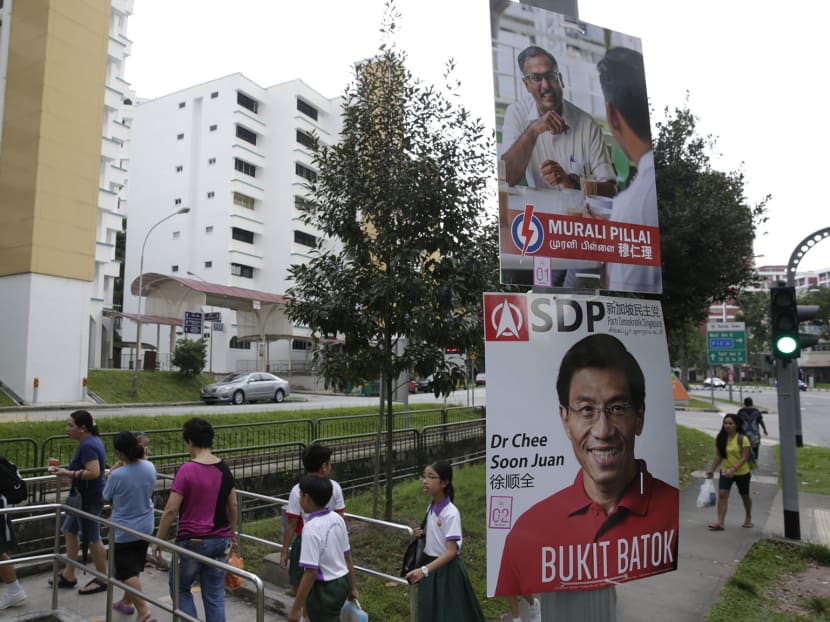 SINGAPORE — The Bukit Batok by-election will see a straight fight between the Singapore Democratic Party (SDP) and the People's Action Party (PAP), which continued to lock horns on Wednesday (April 27) over the upgrading issue.
SDP chief Chee Soon Juan and PAP long-time activist Murali Pillai were declared as candidates for the May 7 polls after they successfully filed their papers at the nomination centre at Keming Primary School. Two hopefuls, including a former SDP member who had performed creditably a quarter of a century ago when the opposition party contested the constituency, showed up but they did not file their papers. Otherwise, there was little drama as the candidates and their supporters shook hands and mingled.
The temporary truce — following a sharp exchange of words between the two parties, including a statement from the PAP issued around 1.35am on Wednesday dismissing SDP's claim as "absurd" that Mr Murali may have said something that breached the law — did not last long.
At a press conference held at the primary school's canteen after the nominations closed, Dr Chee called on the PAP to provide an update on the S$24 million five-year masterplan for Bukit Batok announced by former Member of Parliament David Ong during the General Election last year.
"What I want to ask the PAP now is: What happened to this project? Were those just promises to entice voters, and then you do something else, worse, do nothing else after the GE?" he said. "This is where Mr Murali needs to address this issue….you don't just discard S$24 million of projects  and then make promises, and when the by-election comes, forget all about that and say, I'll give you S$1.9 million."
On Sunday, Mr Murali had unveiled S$1.9 million worth of infrastructural plans for Bukit Batok, including walkways, ramps and a three-generation park.
Dr Chee said it did not "make sense" for his opponent to say he would build a three-generation park for residents in the constituency only if he was elected. "If he doesn't win, he's not concerned that (families) don't have facilities (where they can) come together?" Dr Chee said. 
Asked to respond to Dr Chee on the masterplan, Mr Murali - who was part of the PAP Aljunied team in the GE last year - reiterated that his focus was to meet residents and explain his plans for the constituency, noting there was keen interest among residents in his proposed health cooperative.
Mr Murali added: "Should I be elected, I will not just talk in Parliament or on YouTube, but really the idea is to come up with 'actionable' plans on the ground to help Bukit Batok residents."
On Tuesday, PAP second assistant secretary-general Tharman Shanmugaratnam suggested that the SDP was unprepared for the election and it should not begrudge the PAP for having done its homework - after the SDP had questioned Mr Murali's plan to construct the three-generation park, saying there was a need to consult residents before putting taxpayers' money into such a project.
Separately, the SDP said it was "unethical" to say that major improvements will be implemented only if Mr Murali gets elected. This could even contravene the Parliamentary Elections Act, which prohibits undue influence on voters, the SDP said.
SDP's comments drew a riposte from the PAP: "The SDP's statement is therefore misconceived, and its speculation that the PAP candidate in Bukit Batok may have made a statement in breach of the law absurd."
If a party's candidate is not elected, its town council "naturally cannot be responsible" for a constituency, and cannot execute its Neighbourhood Renewal Programme (NRP) plans, PAP said. Stressing that the Government funds NRP projects for all town councils, PAP added: "It will then be for the new Town Council that is formed to decide on its plans and what it should proceed with."
Apart from Mr Murali and Dr Chee, private-hire car driver Shirwin Eu, 32, and veteran opposition politician Kwan Yue Keng, 68, turned up at the Nomination Centre indicating their interest to run in the by-election. Both Mr Kwan and Mr Eu did not file nomination papers, the Elections Department (ELD) said. It added that the two men left the Nomination Centre after election officials explained to them the requirements and procedure under the law for nomination as a candidate.
Mr Eu, who also tried and failed to run in the GE last year, told reporters that he was drawn by the "fame and wealth" of becoming an MP and he did not know what Bukit Batok residents want. Mr Kwan, who contested the Bukit Batok seat in the 1991 GE and received 48.2 per cent of the vote, said he showed up to ensure that there was "no walkover in case Dr Chee is disqualified".
After being declared as candidates by the election's Returning Officer Ng Wai Choong, Mr Murali and Dr Chee addressed their supporters.
Mr Pillai, who spoke in Tamil, Mandarin, Malay and English, said he was "ready" and urged residents of Bukit Batok to "vote for PAP, vote for a better home, vote for a brighter future". 
Speaking in Mandarin and then English, Dr Chee vowed to serve the town as a full-time MP, with his top priority being to take care of the "housing estate and to run the town council in the most productive manner". He wants to make Bukit Batok the "envy of Singapore", he added.
Meanwhile, the ELD reminded the Singapore Democratic Party that posters and banners can be put up only after the close of nomination proceedings.  The reminder came after the opposition party put up banners in Bukit Batok before Dr Chee was officially declared a candidate.  ADDITIONAL REPORTING BY NEO CHAI CHIN, LAURA PHILOMIN AND LOUISA TANG