'I can't conceive how he died': Wife of Covid-19 infected migrant worker found dead at hospital seeks closure
SINGAPORE — The wife of the foreign worker who was found motionless at a staircase landing of Khoo Teck Puat Hospital (KTPH) had no clue that her husband had even been hospitalised for Covid-19 until she was informed of his death last Thursday (April 23).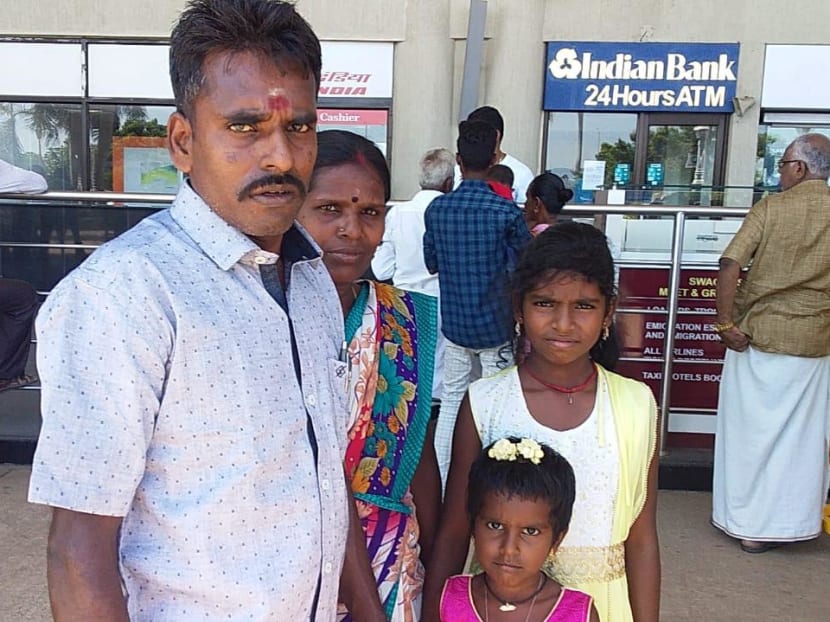 SINGAPORE — The wife of the foreign worker who was found motionless at a staircase landing of Khoo Teck Puat Hospital (KTPH) had no clue that her husband had even been hospitalised for Covid-19 until she was informed of his death last Thursday (April 23).
Though she had spoken with Alagu Periyakarrupan a day before his death, Ms A Panjali told TODAY in an interview facilitated by migrant worker welfare group ItsRainingRaincoats that she was unaware her husband had been diagnosed with the disease. 
In recent weeks, their phone calls had gotten shorter, down to just one or two minutes each, but the 40-year-old homemaker said that she had not noticed anything amiss with her husband, who was his usual calm self.
Her husband, who was 46, had attributed the short phone calls to the circuit breaker restricting movement of people, saying that he was not allowed to go to the shops as much to top up the credit on his mobile phone, she said.
So when her nephew, who also works in Singapore, called her on Thursday to inform her of her husband's death, the news came as a shock.
"I spoke to him last Wednesday around 4pm, India time. All he told me was to take care of the children and to make sure they stayed home. He didn't say anything beyond that," she said in Tamil.
"I didn't know if I should believe the news or not. There was a huge conflict within me. I simply couldn't believe it," Ms Panjali said. Her hometown is Madurai, a city in the South Indian state of Tamil Nadu.  
She and her husband Alagu moved to the Andaman Islands to take care of her elderly parents, aged 70 and 85 now, after they got married in 2002.
Alagu was found motionless at a staircase landing of KTPH last Thursday morning, four days after he was confirmed to have Covid-19.
The Ministry of Health (MOH) attributed his death to "multiple injuries consistent with those resulting from a fall from height", and not due to complications from the coronavirus infection.
MOH told TODAY that it is unable to reveal when Alagu had been admitted to KTPH due to patient confidentiality, but his relative, Mr Veerapan Meenakshi Sundaram, was quoted in an interview provided by the Ministry of Manpower (MOM) as saying that Alagu had been hospitalised seven to eight days before his death.
Ms Panjali said that the family heard about the nature of his death only after a relative forwarded news articles from Singapore via WhatsApp.
"I keep wondering about what could have happened. Was it because of the virus? How did he end up (at the staircase)? Did he fall because he fainted? Until now, I cannot conceive how he died," she said.
A hearing in the coroner's court has been set for May 8. The police said on Tuesday that investigations are still ongoing and they do not suspect foul play.
A BETTER FUTURE FOR HIS CHILDREN
Alagu leaves behind three daughters, aged 16, 11 and six. He was the sole breadwinner for his family. 
He had been working as a coolie in India when his relatives, who were working in Singapore at the time, suggested that he come and work here so that he could provide a better future for his children.
Heeding their advice, he moved to Singapore in 2009. 
MOM said that he had been working as a construction worker with the same employer for nearly 11 years. It did not reveal his employer's name. 
MOM also said that he had lived in a factory-converted dormitory operated by the employer.
Ms Panjali described her husband as an understanding man and devoted father, whose sole focus was on ensuring that his children were educated. He always sent home enough money to cover all their expenses, she said.
"Since the time we were married, all he has wanted was to raise our children well and get them government jobs. That's all he wanted," his wife said.
Even when she urged him to return to India so that he could "enjoy (his) daughters' laughter", he would refuse, saying that he needed three or four more years in Singapore to financially secure their future.
Ms Panjali said that her two older children have been inconsolable since their father's death, while the youngest is unable to understand the situation.
During one of their phone calls, which took place during the circuit breaker period that began on April 7, Alagu had told her that being cooped up in his room had made him think a lot more about his children. 
She said that he had decided to return for a visit as soon as flights to India were available.
UNCERTAIN FUTURE FOR THE FAMILY
Ms Panjali said she has not heard from her husband's employer or any other officials since his death. She does not know who his employer is. 
The only authority here that contacted her was the Singapore Police Force, she said. An officer called her on the day of his death to ask if Alagu had been facing any family or personal issues, such as debt.
She said that he had not. 
With her youngest daughter due to start school this year, Ms Panjali is worried about whether she can see through her children's education.
She does not work now because she is the sole caregiver to the three children and her elderly parents.
"I will have to find a job to raise the children. Maybe I will work as a coolie. I just have to find a way to raise them and take care of our expenses," Ms Panjali said, adding that her two sisters are too poor to help her with her living expenses.
ItsRainingRaincoats said that it has been directing people who want to make a private donation to do so through the bank account of Ms Panjali.
A volunteer from ItsRainingRaincoats has been in close contact with the wife and oldest daughter over the phone, and the volunteer's friends in the Andamans have been driving to the family's home to check on them.
Migrant Workers' Centre, a non-governmental organisation that is also an initiative of National Trades Union Congress (NTUC) and the Singapore National Employers' Federation, said in a Facebook post last Thursday that it will "spare no effort" to support the family and assess any need for further support if necessary.
An NTUC spokesperson declined to elaborate on the assistance rendered to the family as police investigations are still ongoing.