I hope this gold medal can unite S'poreans: Paralympic champ Yip Pin Xiu
SINGAPORE — When Yip Pin Xiu's petite hands touched the wall at Rio de Janeiro's Olympic Aquatic Centre this morning, she had no idea what she had done.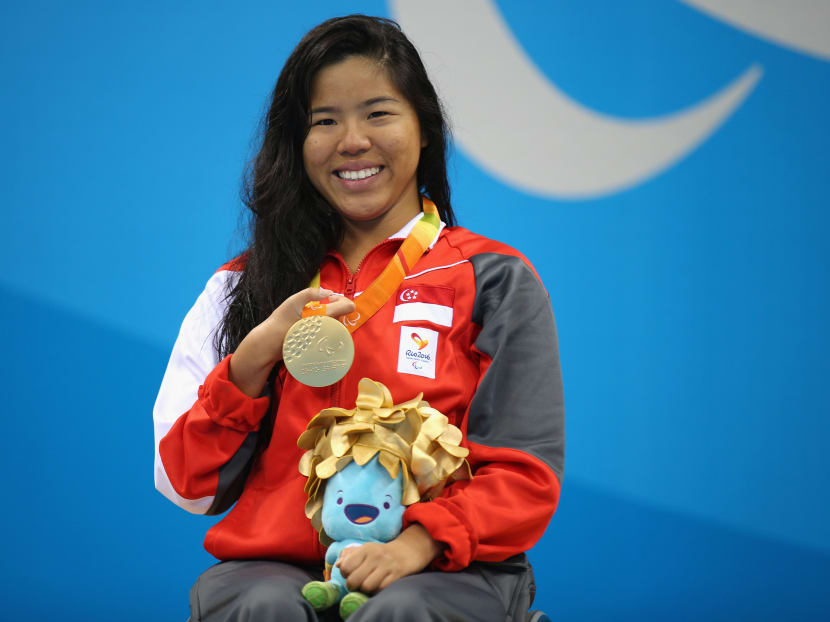 SINGAPORE — When Yip Pin Xiu's petite hands touched the wall at Rio de Janeiro's Olympic Aquatic Centre this morning, she had no idea what she had done.
As her head first emerged from the water after her Paralympics women's 100m backstroke S2 final, she was straining to see the result on the score board. But her vision was a total blur.
Then, she heard that little pocket of Singaporean fans going wild and cheering her name in the spectator stands, and she could just about make out their ecstatic waving of the small red—and—white national flags.
"When I first touched the wall, I actually couldn't see my timing because I wasn't wearing my spectacles," said the short—sighted Yip, 24, who has muscular dystrophy. "But, I could tell that I won based on the Singapore crowd going wild. I could see the Singapore flag waving a lot.
"I guess, at the point of time, I knew that we made it. My team and I made it."
Made it she did. And in style. As if clinching Singapore's first gold medal from the Rio Paralympic Games was not enough, Yip's time of 2mins 07.92secs set a new Paralympic record, and smashed her own world record of 2:09.79 by more than two seconds.
"I am really, really happy," said the Singapore Management University undergraduate. "When I came out of the pool, I was really excited because, throughout the day, I was pretty nervous as I had doubts on whether I was able to do a good timing.
"When I saw my timing — my personal best, ever, in 12 years of competitive swimming — I am really happy with it. I couldn't have done this without an extremely good support staff and the entire Singapore supporting us.
"It was nice being able to hear (National Anthem) Majulah Singapura played at the arena and see everybody standing at attention to it.
"It is nice to know that even though we are an extremely tiny nation, we can do things as long as we set our minds to it."
Describing her historic race, Yip said coach Mick Massey told her to give her all in the first 50m.
"Normally, I would go 90 per cent in the first 50m, and then come back fast, but my coach told me to go all out in the first 50m because we've been working on our back—end speed for a while now and we were confident that I would still have enough energy to come back fast.
"So, for this race, I sprinted out and, by 25m, I was already very tired! But, I kept telling myself to go harder, push even faster."
Yip's Paralympic feat has been feted by Singaporeans at large, with President Tony Tan Keng Yam and Prime Minister Lee Hsien Loong among those who offered their heartiest congratulations.
Dr Teo—Koh Sock Miang, chairman of Singapore National Paralympic Council, said Yip has blazed the trail for Singapore's para—athletes.
"Her spectacular win will inspire and motivate her fellow para—athletes to dream big and believe that everything is possible if you are willing to push yourself and train to achieve the goal of podium finish," she said.
"Pin Xiu's win is also testament that the human spirit can triumph over limitations; and challenge all of us to change our perceptions about what persons with disabilities can and cannot do. I certainly hope persons with disabilities can look at Pin Xiu's achievement and be inspired and motivated to give sports a try.
"Truly, Pin Xiu's win showed us that impossible is possible when you dig deep within yourself and find that strength to finish the race when your entire body is screaming with pain."
Many Singaporeans, through social media platforms, are urging the Government to honour Yip the same way as they did with Singapore's Olympic gold medal—winning swimmer Joseph Schooling last month. Schooling, 21, was honoured in Parliament and enjoyed an open—top bus victory parade around the city for winning the 100m butterfly with an Olympic record time of 50.39s.
Yip said it would be nice to see para—athletes enjoy similar recognition.
"I really have to say thank you to all these people who have been supporting us and fighting for us. It's nice that a lot of people want equality for us (para—athletes) and, of course, we hope for that too," she said.
"But I think, at the same time, there are also people being negative and saying that (my Paralympic gold medal) cannot be compared (to Schooling's Olympic gold) because they don't think para—sports is the same as able—bodied sports.
"My answer to (critics) is that we put in the same amount of effort to get to where we are and it's not easier being in para—sports.
"So, people who are comparing are missing the point here. Because sports has the ability to unite people. Joseph's gold medal brought Singaporeans together. Hopefully, with this Paralympics gold medal, it would also be able to do the same. That's the magic of sports."
With one gold medal safely in her bag, Yip said the pressure to deliver has been relieved.
"I was a bit nervous today and a couple of days back. But, now getting the first event out of the way, I feel a bit more relief but, at the same time, I know that my job here is not done," said the swimmer, who will be competing in the 50m backstroke S2 final on Friday (Sept 16).
"There is another event coming and, of course, I will give my all for that. As always."