I took a rapid test to attend S'pore's first large in-person conference since Covid-19 hit. It was a breeze
SINGAPORE — Attending conferences and seminars is part and parcel of being a journalist, but for months, they have been held virtually only. On Monday (Oct 26), I attended Singapore's first large in-person conference since the pandemic began — and that meant undergoing an antigen rapid test before being admitted.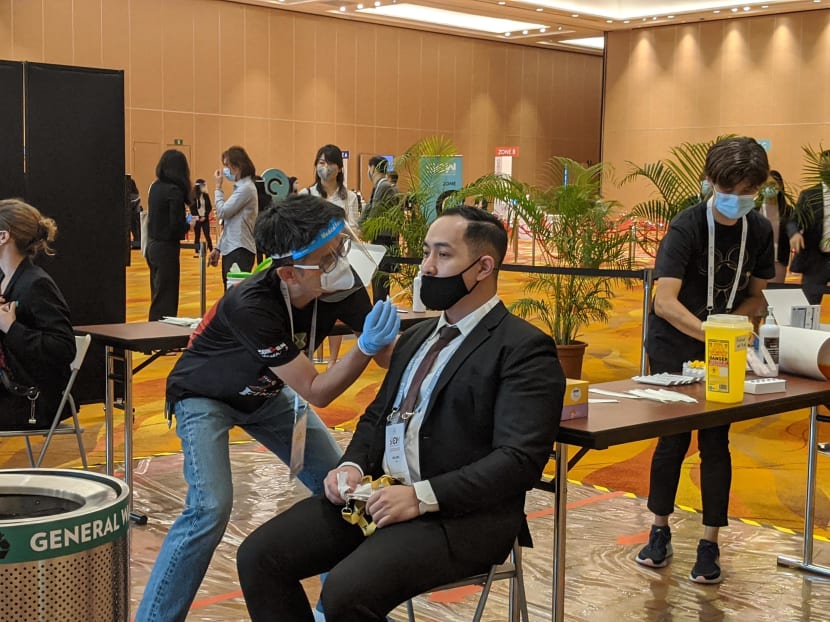 Taking an antigen rapid test was quick, painless and fuss-free
The result was out within 15 minutes and given through a phone text message
Attendees said that it was a small price to pay for the opportunity to interact face-to-face with other delegates
SINGAPORE — Attending conferences and seminars is part and parcel of being a journalist, but for months, they have been held virtually only. On Monday (Oct 26), I attended Singapore's first large in-person conference since the pandemic began — and that meant undergoing an antigen rapid test before being admitted.
So it was with equal parts curiosity and apprehension that I attended the Singapore International Energy Week, a conference on how energy stakeholders can create a low-carbon future, held in a convention centre at Marina Bay Sands.
After all, a business meeting held at the Grand Hyatt Singapore hotel in late January saw one British man picking up the coronavirus and infecting at least 11 other people.
And there was the ill-fated Chinese New Year dinner held at Safra Jurong club on Feb 15 that saw the emergence of 47 cases and a handful of fatalities.
However, after more than eight months since the emergence of the infectious disease, the authorities have moved to resume more social and economic activities — albeit with more safety measures in place, such as the use of the antigen rapid test.
While this conference was not the first to pilot a pre-event test, it is the first-large scale meetings, incentives, conferences and exhibitions (Mice) event since the pandemic started.
Unlike previous editions, the 13th Singapore International Energy Week was held in a hybrid format with both speakers and participants attending virtually or physically.
For myself, and around 150 in-person attendees, we had to arrive about an hour before the opening address by Trade and Industry Minister Chan Chun Sing, to obtain a negative result from the antigen rapid test before we were allowed into the ballroom.
Currently, the polymerase chain reaction (PCR) test, which usually takes a few days to process and involves more manpower and logistics, is the main method used to confirm Covid-19 cases.
The antigen rapid tests can be processed in only 15 minutes, the Ministry of Health has said previously. Although they are somewhat less accurate, they are also cheaper and easier to administer.
The ministry said that the antigen rapid tests will minimally meet the World Health Organization's recommendation of at least 80 per cent sensitivity and 97 per cent specificity.
This means that the tests pick up at least 80 per cent of individuals who are infected with the coronavirus, and show a result of 3 per cent false positives in healthy individuals, it added.
The test was fairly simple and fuss-free, and it took me just over a minute for the swab.
Once registered, I was ushered to a testing station where the attendant explained what was about to happen.
He was going to stick a nasal swab — a pliable stick with a cotton bud on it — about halfway up both my nostrils, and twirl it around for a few seconds.
It sounds a lot more intrusive than it really was. The sensation was ticklish and I had to suppress an urge to sneeze — though it was audibly evident that others were less successful in holding back a sneeze.
And that was it. The swab itself was sent for an onsite analysis, and I received my Covid-19 negative result by a phone text message within 15 minutes.
While waiting for the results, I was free to speak to other attendees who had just finished their tests as there was no holding area for those awaiting results. I just could not enter the ballroom. Overall, the routine did not feel all that different from a regular conference.
I have never undergone a PCR test, so I cannot make the comparison, but the antigen rapid test was a breeze, and I would do it again without hesitation.
In the event that someone does test positive, I was told during a pre-event briefing last week that the person would be isolated within the convention centre to undertake a quicker version of a PCR test.
While waiting for this PCR test result, which can take under two hours, the attendee can continue watching the conference virtually.
If the result is negative, the person can carry on with the conference. But if the result indicates that the individual has Covid-19, he or she will be taken to the hospital immediately.
Attendees at the Singapore International Energy Week conference making the most of face-to-face interaction. Photo: Low Youjin/TODAY
The attendees to whom I spoke, who were informed about the antigen rapid tests about a week before the event, said that they had no qualms going through it as it gave them peace of mind to be physically present at the conference.
A project manager from Nanyang Technological University's Energy Research Institute, who declined to be named, said: "It was very easy and straight-forward." 
Another participant, Mr Francois Van Houtte, 34, even described the entire process as very well-organised.
"It wasn't exactly the best time of my life… but it was worth it (to attend) the conference," the vice-president of business development at energy firm Fluxys Asia said.
Mr Van Houtte was one of several attendees who said that while they had the option to take part in the conference virtually, it just was not conducive for networking.
Mr Han Fook Kwang, 40, the chief executive officer of geothermal energy developer Uncharted Power, said that he has attended many webinars and found them to be too impersonal.
Mr Tan Wee Meng, 55, the chief technical officer of Jurong Port, agreed. He said that having a face-to-face discussion with someone makes a significant difference compared to a virtual one.
"The interaction is not as spontaneous when you're doing a Zoom video conference versus a physical meeting," Mr Tan said.
However, within the ballroom, interaction is limited because attendees can interact only with other delegates within the same zone as them. Each participant is assigned to one of three zones, where about 50 individuals are spaced out across around 10 tables.
Still, those participating said that it was a minor inconvenience to pay for the face-to-face contact, and an uninterrupted viewing of the conference.
Some virtual attendees this morning were unable to tune in to a livestream of the opening address by Dr Tan See Leng, Second Minister for Trade and Industry, and Manpower.