'I was really fortunate': Former security manager switched to financial services months before Covid-19 hit
SINGAPORE — When Covid-19 struck earlier this year and the economy hit choppy waters, Muhammad Helmy Razali counted himself lucky, as he had left his job as a security manager and was in the midst of a two-year traineeship as a security operation centre analyst at Deutsche Bank.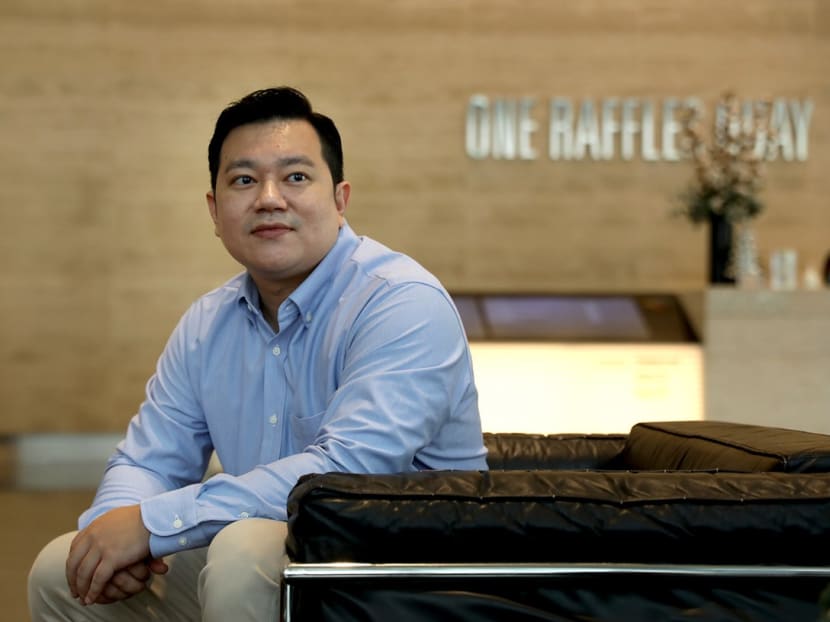 Mr Muhammad Helmy Razali wanted to make full use of his business IT degree
He got a traineeship at Deutsche Bank and was hired on a full-time basis as a cyber threat monitoring specialist
There are nearly 5,200 openings in financial services, the Manpower Ministry said
Across all sectors, nearly 60,000 jobseekers have been placed into opportunities under the SGUnited Jobs and Skills Package
SINGAPORE — When Covid-19 struck earlier this year and the economy hit choppy waters, Muhammad Helmy Razali counted himself lucky, as he had left his job as a security manager and was in the midst of a two-year traineeship as a security operation centre analyst at Deutsche Bank.
The 33-year-old had made the switch as felt his calling was in technology. He has a university degree in business information technology.
Mr Helmy attended a four-month course at the Singapore Management University last year for cyber security and in October that year, he took on the traineeship.
"I was really fortunate I made the change before that and went through Covid-19 without (having to worry about) the trouble faced by the security sector," he said.
While he was a trainee and as the pandemic wore on, he was unfazed by the fact that he did not yet have a full-time job lined up.
"I did not feel worried or nervous about the conversion as I was solely focused on attaining the skills to perform the job," said Mr Helmy.
It was not easy at first, and he soon realised that his new role was not the same as handling physical security, and his lack of experience in tech meant the learning curve was steep. 
He said that his team lead would regularly check in with him to review his performance, and this helped him to stay on track and understand his current abilities.
His hard work paid off, and Mr Helmy was offered a full-time role at the bank in November, just 13 months into his two-year traineeship programme. 
Now, instead of interacting with visitors on the ground, Mr Helmy sits in front of a computer to monitor and analyse online threats. Moving forward, he hopes to learn new skills such as malware analysis, forensics, and hacking.
OPENINGS IN FINANCE SECTOR
The Ministry of Manpower's (MOM) Jobs Situation Report showed that there were nearly 5,200 available openings in the financial services sector at the end of November.
Out of these:
96 per cent are for professionals, managers, executives and technicians (PMET) in areas such as compliance, risk management, financial analysis, software development, relationship management and data analysis

Almost 60 per cent or 3,010, are for jobs

About 2,110 are for company-hosted traineeships and attachments

Eighty are training opportunities
Some of the traineeships are offered by the Monetary Authority of Singapore (MAS) and the Institute of Banking and Finance (IBF) to help mid-career professionals such as Mr Helmy make career transitions into the financial services sector.
He is one of 260 individuals who have benefited from the Technology in Finance Immersion Programme (TFIP), which was launched in April 2019 by MAS, IBF, Workforce Singapore and the Infocomm Media Development Authority to help professionals start a career in areas such as cloud computing, cyber security and data analytics through training and attachments.
WHY IT MATTERS
The Financial Services Sector is a key contributor to Singapore's economy, accounting for about 13 per cent of Singapore's economy and employing more than 170,000 workers, MOM said.
While the economic recovery has been uneven and remains uncertain, MOM said that financial institutions here are expected to continue hiring.
Trade and Industry Minister Chan Chun Sing, who was speaking to the media during a visit to United Overseas Bank on Thursday morning, said that the financial services sector has achieved 4.7 per cent growth amid the challenging circumstances of Covid-19.
TRAINING OPPORTUNITIES
Other than traineeships such as the TFIP, the Government and industry players have put in place several initiatives which include:
MAS' Work-Study Support Programme, which encourages financial institutions to offer integrated learning through work-study degree programmes, so that students can gain work experience

Company-hosted traineeships and attachments to allow job seekers to build up their financial service skills

Professional Conversion Programmes for the financial sector, which have helped up to 1,900 workers to date, with another 3,400 undergoing the programmes or joining soon
HOW MUCH THE INDUSTRY PAYS
MOM gave some details on the monthly salary range for various roles within the financial services industry:
For compliance officers and risk analysts, the monthly pay ranges from S$7,500 to S$9,100

Software, web and multimedia developers can earn between S$6,250 and S$9,500 a month

Management and business consultants can earn between S$5,750 and S$10,500 a month

Financial analysts earn between S$4,850 and S$9,000 a month

Systems analysts' pay is between S$5,500 and S$8,250 a month
OPPORTUNITIES CREATED ACROSS ALL SECTORS
In its latest job situation report, MOM also gave an update on its overall efforts to match jobseekers with jobs and training opportunities across the whole economy.
It said that from April to October, nearly 60,000 jobseekers were placed into opportunities across various sectors under the SGUnited Jobs and Skills Package.
Of these, more than 80 per cent, or 47,400, were placed into jobs, exceeding the original target of 40,000.
Six in 10 of these — or 27,280 — were long-term positions, and more than 56 per cent, or 15,500, of them were in PMET roles.
Mature jobseekers aged 40 and above took up around half of the job placements and about 35 per cent of the company-hosted traineeships and attachments.
As at end-October, the top five sectors in which jobseekers and workers were placed were information and communications, healthcare, manufacturing, professional services and financial services.
The healthcare sector had the highest number of job placements, with the majority of new workers taking on long-term jobs, in both healthcare professional and executive roles as well as healthcare support and administrative support roles.