Disgruntled visitors to winter-themed event at Marina Bayfront complain of long queues, lack of winter wear for rent
SINGAPORE — A winter-themed pop-up event in the Bayfront area has been at the receiving end of numerous complaints since it was set up at the start of this month.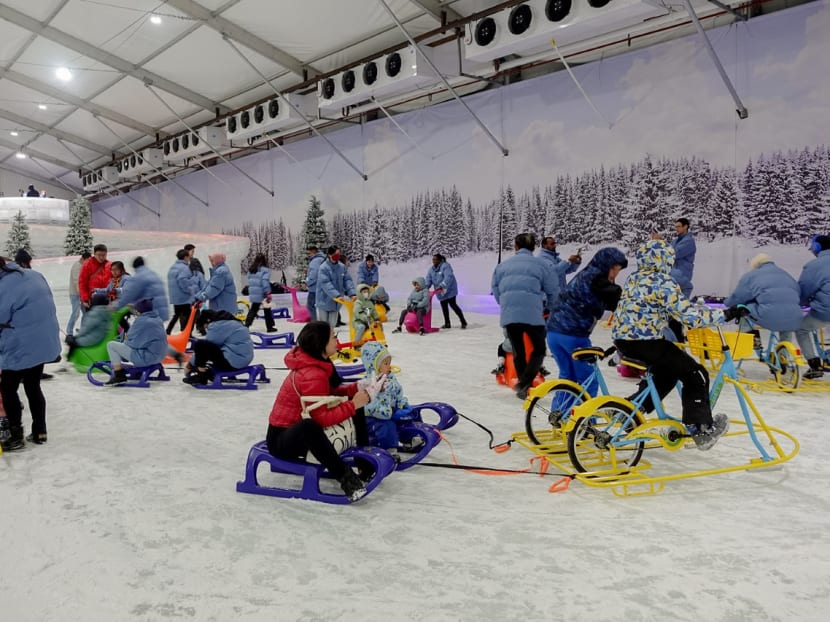 Ice Magic, a winter-themed event at Bayfront, has been the subject of complaints from several visitors
Among their grouses are long queues for entry and a lack of winter wear available for rent
However, there were also people who said they enjoyed their visit to the attraction
The organisers of the event said that they had extended the time that visitors can stay in the venue due to the long queues
There are safety precautions in place, the organisers said, but they advised guests to practise care when walking around Ice Magic
SINGAPORE — A winter-themed pop-up event in the Bayfront area has been at the receiving end of numerous complaints since it was set up at the start of this month.
Among the grievances that visitors to Ice Magic have raised are long queues and a shortage of winter gear for rent.
One visitor claimed that there was a lack of safety protocols.
Ice Magic, which runs till Jan 1 next year, is a 2,400-sqm area featuring ice and snow activities within an indoor tent at the Bayfront Event Space in front of Marina Bay Sands integrated resort.
It is organised by event management company Apollo Entertainment Media for the first time in Singapore.
The attraction is open daily from 10am to 10pm, with visitors allowed to enter at staggered timings. Tickets cost S$45 each for adults and S$35 for children. There are also family price bundles available.
However, several complaints have been raised by patrons who visited the event.
Ms Siti, a 33-year-old who works in the education industry, told TODAY on Wednesday (Dec 28) that there was a lack of safety protocols and medical assistance in place when she visited Ice Magic with her husband and young daughters at 5pm on Monday.
Ms Siti, who declined to give her full name, said that two children who had been riding a snow bicycle within the ice cycling rink had hit her from the back while she was in the compound. They had been riding at a high speed, she added.
Ms Siti claimed that no staff member attended to her when she fell and was in pain. It was other patrons in the area who came to her aid. 
She said that she later sought medical assistance from the crew at the counter, but was told that there was no first-aid kit on hand. Instead, they offered her a stool to sit on and hot tea.
No further help was rendered to her even though she was in pain, she added.
Since she was unable to return to the activity area due to the pain, Ms Siti said that she asked for a refund but her request was declined.
Ms Siti said that she visited Khoo Teck Puat Hospital later that night because she was unable to bear the pain.
She was informed by the doctor that she had a bad bruise and was given three days of medical leave. Her hospital bill came up to S$135.
Ms Siti told TODAY that she intends to write to the organisers to ask for compensation.
"I think the agency giving the licence (for this event) to run could have done a more thorough check of basic safety, since this is something that cannot be compromised," she added.
Another patron, Mr Alan Sim, said that there were no winter gloves available for rent for his children — his daughter, aged seven, and his son, five — when they visited Ice Magic last Tuesday.
The 41-year-old software developer said that he was advised by the crew there to buy winter gloves at the counter for S$20 a pair, but was then told that there were no sizes available for children.
He ended up getting the smallest adult size available for them instead.
The venue also did not have winter boots available for rent in sizes small enough for his son, Mr Sim said. He was worried that his son would slip and fall in the snow because his boots were too big.
Although staff members told him that visitors had already been informed in advance of a possible lack of winter gloves, Mr Sim said that the organisers should have been better prepared for the high demand.
"How am I expected to have children winter wear if I've never taken them to a wintry country before?
"These are things that if you want to hold an event in Singapore, you should have expected… and catered more for it," he added.
Several other similar complaints relating to overcrowding, lack of safety and inadequate winter wear were also posted by visitors on Ice Magic's Facebook page.
However, not all patrons said that they had a bad experience.
Miss Cabael Kyleen Friel Santos, a 20-year-old student from Singapore Polytechnic who visited the pop-up event last Friday morning, said that it was a "really fun and unique experience".
Although there were people who fell due to the slipperiness of the landscape, she said that staff members were present to help them.
When TODAY visited Ice Magic at 5pm on Wednesday, there were no queues for entry and the queues for activities within the tent, such as the ice slide, moved quickly.
However, there were not enough gloves, so people who wanted to rent them had to wait until somebody returns them. A sign at the venue stated that the wait would be an hour.
Patrons who spoke to TODAY on Wednesday said that they had a positive experience at Ice Magic.
Ms Jessica Mascaro, a 36-year-old teacher who was there with her husband and three-year-old son, said that she had a "good experience overall" even though she had to buy winter gloves for her son because there were none for rent available.
ORGANISER'S RESPONSE
In response to TODAY's queries, organiser Apollo Entertainment Media said that it had received complaints on Dec 10, which was a Saturday, especially regarding long queues around the 3pm entry time.
It said that in response to the complaints, Ice Magic had introduced more staggered timings for entry after 3pm and allowed patrons to stay for an extended time at the attraction.
This means that guests with a 3pm session ticket can come anytime between 3pm and 7pm, and stay until the 10pm closing time, instead of having to leave by 7pm as originally required.
"This is to help stagger entry and ease the long queues in the afternoon," the company said.
On the matter of safety procedures, the organiser said that it has taken precautions to ensure a "safe and enjoyable experience" for visitors.
This includes installing anti-slip plastic sheets within the premises to prevent slips and falls as much as possible.
"However, due to the ice and snow, we are also advising guests to practise care when walking around Ice Magic," it added.
In an additional statement in response to TODAY's queries, the company on Thursday apologised for the inconvenience caused and wait times for winter gloves, adding that it "will endeavor to get this resolved as soon as possible".
Apollo Entertainment said that the gear included with each ticket consists of a winter jacket and boots while the number of gloves available for rent and for sale are limited.
"We have been encouraging patrons to bring their own and have been bringing in more gloves as quickly as possible for patrons," said the company in its response.