Incoming SMRT CEO Neo Kian Hong hits the ground running – 3 months ahead of appointment
SINGAPORE – He may be three months away from assuming his new post, but SMRT's incoming chief executive officer Neo Kian Hong has wasted no time in making his presence felt.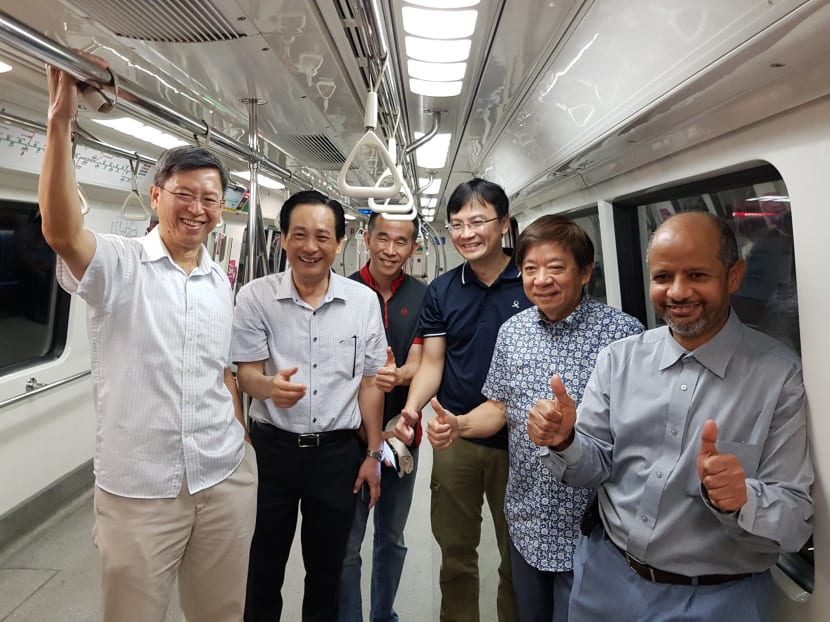 SINGAPORE – He may be three months away from assuming his new post, but SMRT's incoming chief executive officer Neo Kian Hong has wasted no time in making his presence felt.
Mr Neo, who takes over the hot seat from incumbent Desmond Kuek from Aug 1, joined Transport Minister Khaw Boon Wan and SMRT chairman Seah Moon Ming on Sunday (April 29) to visit station staff on the East-West Line (EWL) during the first full-day trial of the new signalling system.
It was Mr Neo's first appearance at a SMRT event. Mr Kuek was not present at the event.
The new signalling trials appeared to be smooth on Sunday, with no major incidents or glitches reported.
Commuter Leonard Tan said in a Facebook post: "Everything went smoothly and fine. Trains travel quite fast too under the new system."
The signalling trial on the EWL during operating hours will take place on five Sundays until May 27. Previously, the tests were done outside operating hours.
The new communications-based train control (CBTC) system will allow trains to run at closer intervals. At peak hours, passengers can expect to wait up to 100 seconds, instead of 120 seconds under the old system. This is expected to ease congestion and make for swifter commutes.
During the visit, teams from the Land Transport Authority (LTA) and SMRT were also gathering feedback from station staff on ground operational matters, said SMRT in a Facebook post on Sunday.
The rail operator added that, while they are "optimistic that the process will be smoother than the North-South Line testing", there may be "minor glitches and delays" during the Sunday trials.
The Sunday trials will wrap up on May 27, and daily trials will commence after that, with the new system on track for its rollout in June, announced the LTA and SMRT last week.
With services along the entire EWL running on the new system on the coming Sundays, services will also resume between Joo Koon and Gul Circle on the Tuas West Extension. Shuttle buses plying between the two stations will not run on those days.
The authorities halted services between the two stations — separating the four-station Tuas West Extension from Gul Circle to Tuas Link from the rest of the EWL — after two trains collided at Joo Koon MRT Station last November, injuring nearly 40 people.
The collision was traced to several "failure conditions" — including a software logic issue with the signalling system, which was not configured to cater for the conditions that contributed to the incident.
Since December, the authorities have curtailed operation hours on the EWL in an effort to speed up work to get the new system going by June, instead of by year's end as originally planned.
While the Sunday trials will not affect the EWL's operating schedule, the LTA and SMRT warned that commuters may occasionally encounter train and platform doors failing to open or shut promptly, trains holding at stations longer than usual, or halting momentarily between train stops.
The LTA, SMRT and signalling system provider Thales have despatched more crew during the tests to cut response times if issues arise and to help commuters.
Trials of the new signalling system on the EWL began during non-service hours in February.
Mr Chua Chong Kheng, the LTA's deputy chief executive for infrastructure and development, said last week: "Only after we were satisfied with its performance did we decide to commence trials during service hours."
Such tests allow issues which may surface only when the system runs under "real-world operational loads" to be identified and resolved quickly, said Mr Chua.
Mr Chung Swee Hiang, SMRT Trains' chief engineer for signalling and communications maintenance, asked for commuters' patience and understanding.
"Our engineering team will work closely with the operations team to quickly rectify any new faults which we may not have encountered during off-service trials, and make adjustments according to operational needs," he said.