Innovation the key as road map unveiled for social services sector
SINGAPORE — A non-profit organisation is trying to bridge the physical separation between incarcerated mothers and their children by getting them to read and record stories in prison which can later be played back to their young ones.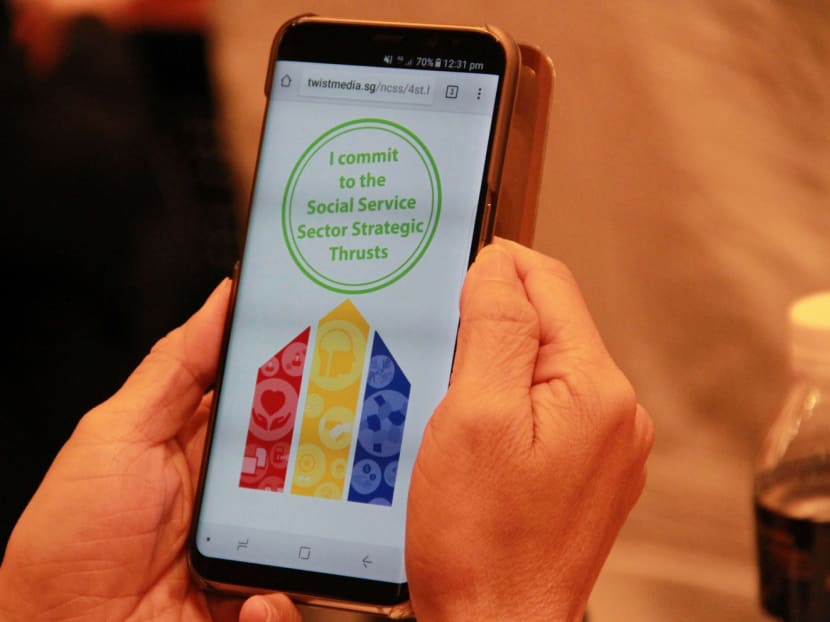 SINGAPORE — A non-profit organisation is trying to bridge the physical separation between incarcerated mothers and their children by getting them to read and record stories in prison which can later be played back to their young ones.
"When we look at innovation, it's not just about technology but about finding ways to develop innovative programmes," said executive director Saleemah Ismail, who co-founded New Life Stories in 2014.
The social service organisation is among those making headway in providing "quality, innovative and sustainable solutions" — a goal outlined yesterday in the five-year Social Service Sector Strategic Thrusts (4ST) 'road map' which was unveiled at the Social Service Summit.
The annual forum for the social service sector, held at Marina Bay Sands Expo and Convention Centre, was attended by 600 leaders and partners from the private and public sectors.
Other key areas in the plan include having more empowered individuals, families and communities, and encouraging a more caring and collaborative social service system.
Two of the groups which champion self-advocacy for their clients are the Movement for the Intellectually Disabled of Singapore (Minds) and Down Syndrome Association.
They will launch a two-year joint pilot project this month to train people with intellectual and development disability, so as to build their self-esteem and polish their public speaking skills.
Noting that their clients would usually turn to caregivers or social workers for help, Dr Jeffrey Chan, Minds' deputy chief executive officer, said the training would give these people a chance to "craft and tell their own life stories".
While it is important for organisations to embrace innovation Ms Peng Hai Ying, executive director of Sun-Dac — a day activity centre for people with disabilities — said it is also crucial for them to have the mindset of being ready to "fail in order to learn".
However, such a mindset, which will encourage them to make changes and experiment with effective solutions, is still not common in organisations here.
They are often "primed to fulfil our KPIs (key performance indicators) in funding agreements and do not actually think that much can be learnt from failures", she said.
"I hope to see organisations in the sector moving beyond asking 'is this going to work?' to 'if it works, would it matter to the people we are serving?' In this case, we will be constantly questioning ourselves and constantly thinking of ways to improve what we do to achieve greater impact," she added.
On the issue of developing a more collaborative system, Ms Debra Lam — co-founder of social enterprise Society Staples — felt that one of the biggest challenges is the lack of exchange of information among the various stakeholders.
This makes it tough for smaller organisations like hers to tap new collaborative opportunities.
Ms Lam noted that there is potential for meaningful partnerships with corporate clients wanting to do corporate social responsibility (CSR) programmes.
Social service organisations likes hers, which conduct team-building workshops and events to promote inclusion of people with disabilities, are looking to move away from the traditional ways of doing their CSR, which have included offering donations or doing cleaning.
Instead, they want to help corporate clients to be more engaged and involved in the sector, which in turn, might kick-start new initiatives to improve the sector or plug gaps.
However, she noted that corporate clients usually have — at most — just one day set aside for their CSR.
"Having such a short timeframe for social service organisations to design certain tasks for corporates could limit both parties' ability to contribute and make an impact.
"Despite striving towards a common goal, everyone is working (individually) with at best, short spans of collaborative efforts because there is no single driving force pushing for sustainable, value and purpose-driven collaboration," said Ms Lam.
Ms Peng said sticking to organisational "turfs" may also hinder effective collaborations, so both partners would also need to "look beyond the specific objectives of their own organisations towards bigger goals related to their missions".
Dr Victor Tay, president of the Association for Persons with Special Needs (APSN), felt that there is room for organisations to collaborate further via shared or co-located services.
However, he added that the "widely disparate and fragmented landscape", where different players have varying causes and levels of resources, serves as a hindrance to such collaborative efforts.