Iswaran, WP MPs lock horns over editorial independence, choice of former PAP chairman to head SPH's new media entity
SINGAPORE — Workers' Party (WP) Members of Parliament (MPs) on Monday (May 10) questioned the pick of former Cabinet minister Khaw Boon Wan to chair a non-profit spin-off of Singapore Press Holdings (SPH) and quizzed its editorial independence and accountability of public funds.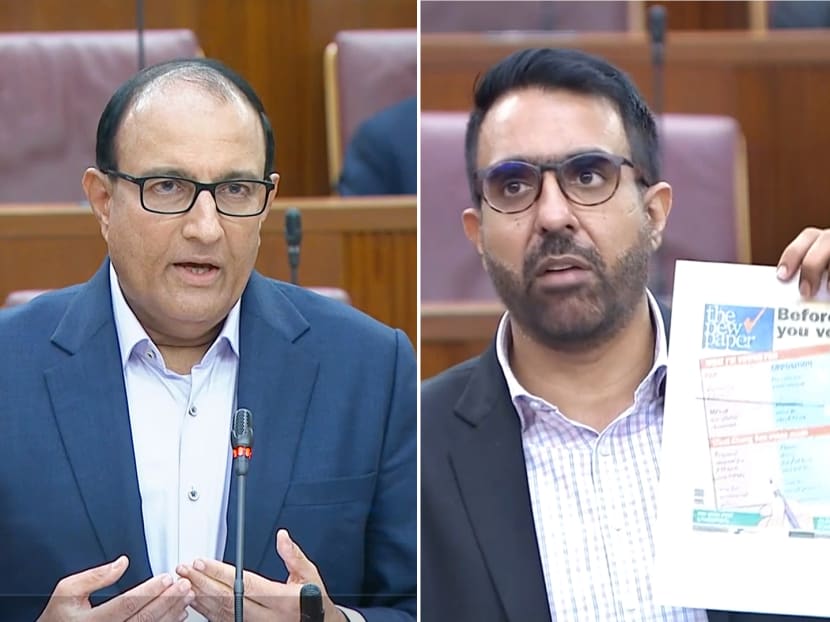 Several WP MPs brought up the issue of editorial independence related to SPH's restructuring
WP chairman Sylvia Lim took issue with the proposed appointment of Mr Khaw Boon Wan to chair a non-profit media entity
Mr Iswaran said Mr Khaw was picked because of his high standing and proven track record
Other WP MPs asked whether there would be key performance indicators, safeguards to prevent undue government influence
SINGAPORE — Workers' Party (WP) Members of Parliament (MPs) on Monday (May 10) questioned the pick of former Cabinet minister Khaw Boon Wan to chair a non-profit spin-off of Singapore Press Holdings (SPH), and quizzed its editorial independence and accountability of public funds.
This drew a retort from Communications and Information Minister S Iswaran, who pointed to studies and polls indicating that the media here was highly trusted by Singaporeans. He also said that he was disappointed with Leader of the Opposition and WP chief Pritam Singh for trying to politicise the issue.
"I would venture that the culture (of editorial independence) already exists in Singapore in the news media, and I think we do a disservice to our journalists and editors to suggest anything to the contrary," he said.
The exchanges in Parliament on Monday (May 10) with the WP MPs follow Mr Iswaran's ministerial statement on the proposed formation of a company limited by guarantee to operate SPH's media publications.
Aljunied Group Representation Constituency (GRC) MP Sylvia Lim first questioned the choice of Mr Khaw, noting that he was formerly chairman of the ruling People's Action Party (PAP).
Mr Khaw stepped down as Transport Minister and Coordinating Minister for Infrastructure ahead of the General Election last year, after about two decades in politics. 
Ms Lim, who is WP's chairman, also pointed out that Mr Iswaran had in the same speech announced the selection of Mr Khaw, while acknowledging that there could be implications on SPH newspapers' editorial direction due to the proposed change in funding.
"Does the minister not see this as a missed opportunity in the light of the major restructure that is coming up when (there has been) some concerns about what this would mean for newspaper content?" she asked.
"Is (this) not a missed opportunity where someone else who is not so closely linked to the Government could have been chosen to be the chair? Were any other candidates considered?"
To this, Mr Iswaran said that the current chairman of SPH is former PAP minister Lee Boon Yang, while the current chairman of Mediacorp is former senior civil servant Niam Chiang Meng. In the past, there were other former senior civil servants and politicians in leadership positions in both companies, too.
"We should therefore be very clear that what matters is not a perceived political hue in the appointment, but rather in the substance of the character and capability of the people who are involved," he said.
On how Mr Khaw's name was suggested to SPH's management shareholders, Mr Iswaran said that the Government had to decide on who would suit the requirements for the role.
"This is not the kind of position for which you have a very long shortlist, or that you have to do a global search. In the end, you have to decide on the basis of what is needed, what are the attributes we seek and how do we go forward, and that's what happened here."
In this regard, Mr Khaw has "gravitas", is held in high standing by Singaporeans and possesses a proven track record of tackling difficult issues, Mr Iswaran said.
"What a missed opportunity would be is if we allow political considerations to prevent us from making the right decision in terms of the right person for the job to get it done," he added.
Aljunied GRC MP Leon Perera from WP then suggested setting up key performance indicators that would be regularly measured so that the public has confidence in the editorial independence of the proposed company limited by guarantee.
Mr Iswaran responded that there are metrics already being used to track page views and how long people spend reading an article, among others.
"Various metrics can be used in order to measure the engagement of the audience. And this is certainly something that we would want to ensure is achieved. I think if people do not trust our local media as a credible source of information, these metrics will suffer," he added.
Mr Perera then asked if the Government influences senior editorial appointments, referring to a passage from a book by Mr Cheong Yip Seng, former editor-in-chief of SPH's English and Malay newspapers division, which said that the Government had veto power on these decisions.
Mr Iswaran said that such a decision rests with SPH's management shareholders: "The Government does not exercise a veto on those appointments."
DISAPPOINTED AT POLITICISATION OF ISSUE
WP chief Pritam Singh also sought to clarify if there will be any structures that would safeguard editorial independence that the Government would insist on.
Mr Singh then suggested that a parliamentary select committee be formed to allow Singaporeans to express the sort of editorial standards they would like to see in a taxpayer-funded entity.
Mr Iswaran said that editorial independence is already present in the news media here.
He repeated his point that Singaporeans trust the local media, according to polls, and that SPH news organisations have also grown their reach and readership in both the digital platforms and physical circulation combined.
"That would not be the case if Singaporeans did not feel that they could trust the news organisations. So I think the people have spoken and I think it's our job now to make sure the object of their trust continues to succeed." 
Seeking further clarification, Mr Singh acknowledged that one has to be fair to journalists because "there are good journalists".
He mentioned several good and bad commentaries, such as a Chinese-language article that he said had asked serious questions about the PAP's leadership succession, and an English-language article that concluded that "it's not the time to read the tea leaves" regarding the ongoing leadership transition in the Government. Mr Singh did not elaborate what made them good or bad in his books.
Mr Singh also held up a front page graphic published by The New Paper in 1997, which depicted a voting checklist that appeared to help readers decide how to vote.
The checklist essentially told voters to vote for PAP if they wanted estate upgrading or MPs of acceptable characters, he said, before Deputy Speaker Christopher de Souza interjected to ask him to keep his clarifications brief.
Mr Singh said: "There can be different views on the quality and the standards of journalism and it is for that reason that I put my earlier question to the minister about a select committee to try and get some understanding from the public of what they expect of a taxpayer-funded company limited by guarantee."
Mr Iswaran then said he was disappointed that Mr Singh decided to make political capital of the issue, which he said was fundamentally important to Singapore.
Referring to the commentaries that Mr Singh brought up, he said: "Isn't this the diversity that we want? Isn't that the diversity that the Leader of the Opposition has been talking about? So, I am not very clear why he thinks the current model is not succeeding."
He then challenged Mr Singh to find a model of a news industry that works perfectly and suits the Singapore context.
The minister said: "What we want at the end of the day is not posturing, but substance. If we can achieve that not just in the news media but also in this chamber, I think we would have gone a long way to building a stronger country and nation."