ITE educator who failed his O-Levels among recipients of President's Award for Teachers
SINGAPORE — Growing up, Mr Jeff Koh Hock Tong, 43, always saw himself as a failure. He barely passed his Primary School Leaving Examination and failed his GCE O-Level Examination.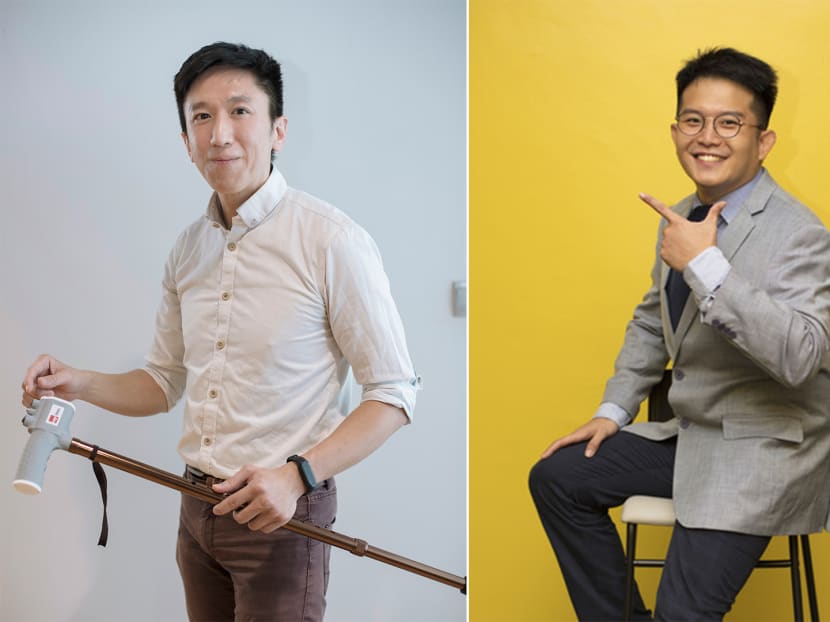 ITE educator Jeff Koh, who took two attempts to pass his O-Levels, inspires many students who are just like his younger self to not give up on their education
Another ITE lecturer, Mr Dennis Lim, created a number of tech tools to help learning easier, especially among disadvantaged students
They are among educators who stood out among more than 5,000 teachers nominated for the President's Award for Teachers
SINGAPORE — Growing up, Mr Jeff Koh Hock Tong always saw himself as a failure. He barely passed his Primary School Leaving Examination and failed his GCE O-Level Examination.
His parents, both primary school dropouts, did not help matters. They encouraged him to start working early so that he could supplement his father's meagre earnings as an air-conditioning repairman and ice-cream seller.
The oldest of three children then started working part-time — as a salesman, surveyor and a waiter — while studying to retake the O-Levels as a private candidate.
But it took just one polytechnic lecturer, who patiently sat down with him to break down complex problems into simpler parts, to turn his life around.
He eventually graduated as one of the top students in his electrical engineering course, then with a First Class Honours in university.
Today, Mr Koh, 43, a former process engineer who made a career switch to teaching, is inspiring many Institute of Technical Education (ITE) students who are just like his younger self — dejected, unmotivated and a little misdirected.
Now the section head for National ITE Certificate (Nitec) in Mechanical Engineering at ITE College Central, Mr Koh did this so well over the past 10 years that he was among seven educators to receive the President's Award for Teachers on Thursday (Sept 2).
He outshone more than 5,000 teachers who were nominated for the award, which recognises caring and nurturing educators committed to developing their students to their fullest potential and constantly adopting innovative approaches in their lessons.
Mr Koh's approach was born out of avoiding what did not work in his upbringing, he said.
"My parents say, 'If you don't study, you will be sweeping the floor.' But it does not make an impact on me. It doesn't show me anything."
So instead of making such negative statements, he helped his students — many of whom did not pick mechanical engineering as their first choice — see the value in education.
One way he has done this is to chart out how much they would earn in their lifetime if they were to go out to work first versus entering the workforce after focusing on their studies now.
The salary differential from this small exercise, drafted on a Microsoft Excel sheet in class, was enough to act as a wake-up call for many of his students, some of whom had already started picking up whatever odd jobs they could land their hands on in today's gig economy, he said.
Teaching effectively was also about changing the way that he spoke, he said.
Instead of asking students, "Do you understand or not?", for instance, he would say, "Have I made myself clear to you?". This is to not make it sound like it was their fault if they did not understand.
For some others who played truant, Mr Koh went out of his way to reconnect with them through sports such as football and basketball.
"It is a good chance to bond with them, then have a chat (about their studies)," he said.
Sometimes the convincing is with parents. Once he waited until about 9pm or 10pm to meet a parent, who works as a deliveryman, at a car park to talk about his son's progress and absenteeism.
"They may not have the knowledge of how education can help their children. They themselves might just be like my parents. But if we are very sincere in helping their child, they can see. They will also want their child to do good," Mr Koh added.
He also believes that many of the ITE students continue to falter in their studies as they were not motivated to do well since they had been doing badly so far.
That is why he would encourage his students to participate in competitions and organise makeathons — competitions where students form teams to solve a real-world problem — so they have opportunities to showcase their products.
"For some of them, it could be the first time winning an award… They feel like they achieved something, and they feel proud of their work and project," he said.
"We need to give them the confidence to progress in the later stages of their lives."
Before his students go for their six-month internship, he would also gather them for a half-day course where they are taught to identify "pain points" that the company may face, so that they can add value there instead of just going through the motions of a work attachment.
One student put this into action during his internship when he noticed that workshop tools were in a mess and technicians had trouble locating them. The teen suggested how the tools could be organised and how the tool cabinet could be marked — a simple idea the firm implemented.
At the same time, he pushed his students to think big by inviting major firms such as ExxonMobil to engage students about their sector. This is where students can see that their skill sets are of value and relevant to the industry, he said.
President Halimah Yacob, who handed out the awards at the Istana, singled Mr Koh out in a speech, noting that he and his fellow lecturers guided students to design and assemble face shields for care workers in nursing homes at the start of the Covid-19 pandemic when face masks and face shields were in short supply.
"Not only did he create an opportunity for his students to apply what they learnt in school to the real world, Mr Koh also taught them a valuable lesson on stepping up to help others in times of need," she added.
USING TECH TOOLS TO LEVEL THE PLAYING FIELD
Mr Koh was picked from 17 finalists contending for this year's award. Another of the 17 was ITE lecturer, ITE College West's service management lecturer-mentor Dennis Lim Chee Wei, 35, who created a number of tech tools to help learning easier, especially among disadvantaged students.
When the former Singapore Power engineer joined the college in 2014, he started a digitalisation drive to convert the bulk of his teaching notes and materials into a digital format so that his students could save money on printouts and buying textbooks.
He had noticed that the some S$50 needed to purchase the internally produced textbooks in a semester was a luxury for a sizeable group of students with financial difficulties at home.
In a class of 40, close to 70 per cent would have such issues — some come from single-parent households, some work part-time to support themselves, and some might not even have enough for meals and other necessities, he said.
Later, in 2019, Mr Lim was inspired by "Ask Jamie", the virtual assistant used on 70 government agency websites here, to develop "AskCher", a chatbot that helps answer the queries that his Higher Nitec students might have for specific modules.
This is in view of the mental barriers some students have in seeking help.
"In a class of 40, we have students with different personalities. Some are quiet and shy, so when they have doubts, they hesitate to ask questions in class. Students also prefer to message the teachers privately to clarify their doubts," Mr Lim said.
When the students could ask questions as and when they want, they not only gained an improved understanding of the basic module content; it freed up lectures to tackle more complex queries and issues, saving some 10,000 man-hours annually, he added.
He improved upon the chatbot last year and built Revision Buddy, which lets students revisit lecture notes and check definitions based on a keyword search.
There is also a text-to-voice function that allows them to listen to the content instead, which proved useful for dylexic students who face difficulty reading long chunks of text.
Mr Lim is now tapping virtual-reality technology to simulate a retail environment so that students may still learn about the key customer touchpoints despite pandemic-related uncertainties.
He is also working on another chatbot to help students rehearse common job interview questions and have their response recorded for feedback and development.
"I hope that by constantly innovating and leading by example, I can inspire my students to do the same for others," he said.