Raining on their parade, ungracious users put dampener on umbrella-sharing project
SINGAPORE – A case of disappearing umbrellas has put a dampener on a community sharing initiative almost a month after it was launched at Toh Guan estate.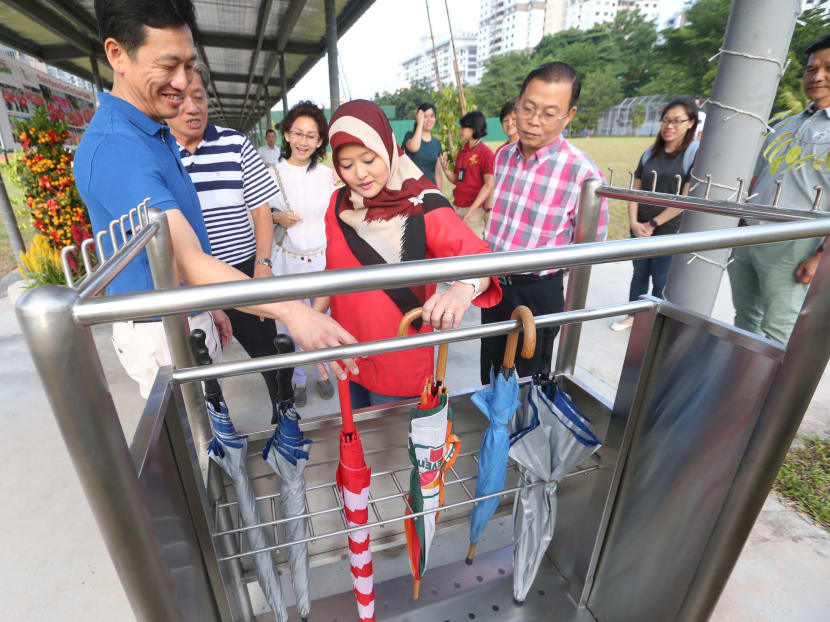 SINGAPORE – A case of disappearing umbrellas has put a dampener on a community sharing initiative almost a month after it was launched at Toh Guan estate.
Modelled after the Sharella or "Share an umbrella" project at the Sembawang Group Representation Constituency, the initiative was kicked off by Member of Parliament (Jurong GRC) Rahayu Mahzam last month.
Three umbrella deposit racks were set up by the Bukit Batok East grassroots organisations in locations such as the overhead bridge to IMM along Jurong Gateway Road. While the grassroots organisations supplied umbrellas at the start, residents are also encouraged to contribute their umbrellas for communal sharing.
However, some residents said that umbrellas have gone missing on some occasions due to ungracious behaviour by users. The residents spoke to TODAY during a ministerial community visit by Minister for Education (Higher Education and Skills) Ong Ye Kung to the Bukit Batok East Division on Sunday (Feb 11).
Housewife Jasmine Toh, 50, was one of those who could not find an umbrella to use on a rainy day, or for shelter from the hot sun, as they were "all gone". While she felt that it was a good idea and a "thoughtful gesture", Ms Toh suggested that installing CCTVs might help deter errant users.
She said: "The purpose of putting out (such umbrellas is for the community) to share…If it's not something that you own, you don't just take it."
Agreeing, clinic assistant and resident Tok Thiam Hong, 55, also felt that goodwill from such communal sharing efforts would be dampened by acts of ungracious behaviour.
However, there were others who felt that these were just teething issues that would eventually be sorted out.
"There's bound to be a certain group of people that (behave selfishly)," said a 30-year-old resident who only wanted to be known as Ms Jess.
"As with any other initiative, it depends on the person who is using it. More importantly, people need to learn to cherish and maintain (such communal items)."
Mdm Rahayu added: "You're not going to get everyone on board. It's going to take a while for that culture to develop, but that doesn't mean we stop trying and we stop putting in initiatives like this. I have faith in residents, and once it gets going, (they will) learn to use it."
She also noted that while they had lost some umbrellas since the communal sharing project started, some helpful residents had refilled the umbrella racks.
The umbrella sharing project at Sembawang was also hit by a similar problem of vanishing umbrellas when it started last year.
Mr Ong had previously told TODAY that the scheme would not be sustainable if the rate of loss was higher than the rate of contribution. However, he added that he hoped the project would "bring to light the importance of us being considerate and kind to others."
The umbrella sharing initiative is part of the community efforts by the Bukit Batok East grassroots organisations, which includes the "Belanja-A-Meal" programme at Block 265 De Tian Coffeehouse along Bukit Batok East Ave 4. Launched last month, it allows patrons to pay for an extra meal at participating food stalls which are in turn given to needy beneficiaries, such as elderly persons who live alone.