Ivory trafficking: S'pore a transit hub but 'actively working' to tackle problem, says Cites
SINGAPORE — Despite being labelled a country of "primary concern" last year for its role as a transit point for ivory trafficking, Singapore will not have to come up with a National Ivory Action Plan after efforts to convey its measures at tackling wildlife trafficking bore fruit.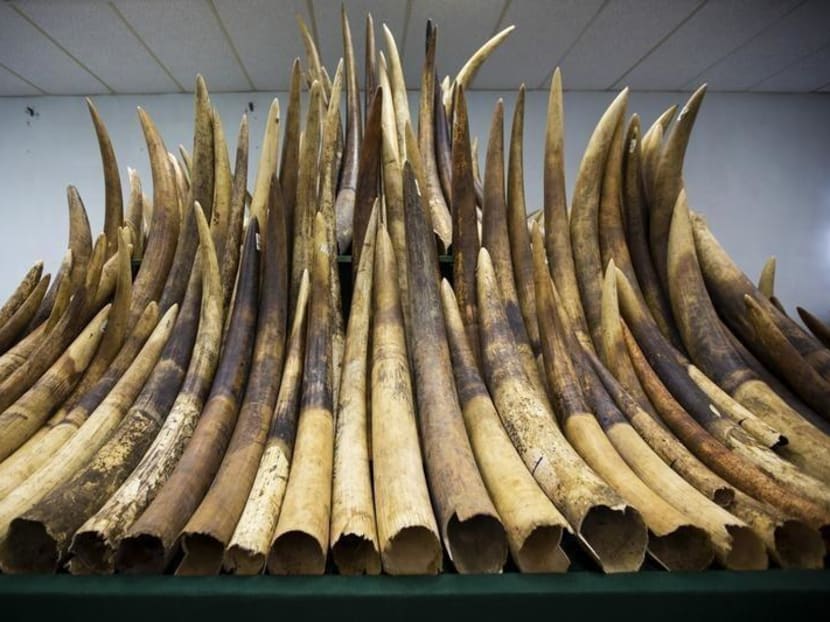 SINGAPORE — Despite being labelled a country of "primary concern" last year for its role as a transit point for ivory trafficking, Singapore will not have to come up with a National Ivory Action Plan after efforts to convey its measures at tackling wildlife trafficking bore fruit.
At the end of a meeting held in Geneva last week by the Convention on International Trade in Endangered Species of Wild Flora and Fauna (Cites), Singapore was excluded from having to come up with an action plan, which is a tool by Cites to get various parties to strengthen controls. Singapore is a party to Cites, a multilateral treaty to protect endangered wild plants and animals. According to Cites' website, Singapore is the only country of primary concern that is not participating in the National Ivory Action Plan process.
The Republic was named a country of primary concern by wildlife trade monitoring network Traffic last year in a report that stated illegal ivory consignments that went through Singapore grew far more prominent between 2012 and 2014.
Singapore has rejected the ignominious title and raised doubts on how the conclusion was made.
In the past year, Singapore authorities have engaged the Cites secretariat and examined the methodology of the report by the Elephant Trade Information System (ETIS) — managed by Traffic — which tracks illegal trade in ivory and other elephant products.
The Cites secretariat conducted a mission to Singapore in April where it visited land and sea checkpoints. It concluded that requesting Singapore to develop and roll out an action plan is unlikely to have any significant impact beyond measures which it is already taking. Singapore's "prominence in the ETIS report may be due to its role as a major transit hub, and less as a reflection of any lack of response to illegal ivory consignments", the secretariat found.
The agencies here are "well aware of the issue of wildlife crime and actively working to combat it", drawing upon established strategies, it added.
In September, some Cites standing committee members – which provide policy guidance to the secretariat – made a similar visit to Singapore.
The Republic also engaged a statistician from the National University of Singapore and an economist from the Singapore Management University to analyse the ETIS' report.
The academics' work "raised several questions about the methodology and conclusions of the ETIS report". For instance, the report has modelling assumptions that are "subjective, hard to justify, and raise doubts about the report's findings", Singapore contended in a document submitted for the Geneva meeting.
Singapore has asked Traffic to share the code or algorithm used in the ETIS analysis but has yet to receive information from Traffic. "To be credible, there is a critical need for transparency, objectivity and clarity in the process and approach (of the ETIS analysis)," the Republic said.
Countries, especially those that have been flagged, need more understanding of the methodology, relative weightage of proxy indicators and broad assumptions made. "Unfortunately, the current analysis does not hold up to such basic standards," Singapore said.
Last year, the Republic was grouped with Malaysia, Malawi and Togo as major transit hubs in the ETIS' report. Using data from 2012 to 2014, the report found these countries rarely made ivory seizures and were seldom implicated in seizures made by others. But where there were seizures, the cases tended to involve large quantities. These countries had the greatest proportion of seizures that weighed 800kg or more, suggesting the involvement of higher-level organised criminal activity, said Traffic.
Responding to TODAY, the Agri-Food and Veterinary Authority (AVA) – Singapore's Cites management authority – said it is heartened by Cites' decision not to include Singapore in the National Ivory Action Plan process.
Singapore's measures to combat wildlife trafficking include legislation, prosecution, intelligence and investigation, said AVA. For instance, the Endangered Species (Import and Export) Act allows Singapore authorities to take action against illegal wildlife consignments, even those in transit, which is over and above Cites obligations, said AVA.
Singapore regularly monitors retail outlets and online sources for the illegal sale of wildlife and wildlife products, said AVA. The authority works with online sites such as Carousell and Locanto to share information on relevant laws and investigate suspected cases of possession and sales of illegal wildlife.
Singapore formed a panel of expert advisers in June to advise AVA on policy directions for legislative reviews, environmental issues, biodiversity matters and enforcement efforts. The panel is made up of representatives from the Asia-Pacific Centre of Environmental Law, the Interpol Environmental Crime Unit, Lee Kong Chian Natural History Museum, the National Parks Board and Wildlife Reserves Singapore.
The Government has said it is looking into a domestic ban on the sale of ivory. "Singapore does not condone the illegal wildlife trade. We take a zero tolerance stance on the sale or keeping of wildlife, and the use of Singapore as a conduit to smuggle or engage in illegal trade of wildlife," AVA said.
However, not everyone was happy with the outcomes at the Geneva meeting.
Conservationists welcomed the fact that countries will be asked to report on efforts to close domestic ivory markets, but some were disappointed that Japan and South Africa were not included in the National Ivory Action Plan process and Singapore was let "off the hook".
"The standing committee has kept up the pressure for international cooperation to curb ivory poaching and smuggling, despite its reluctance to confront countries like Japan and Singapore which appear to be in denial about their own role. The big question now is whether the closure of other ivory markets will start to reduce poaching levels well below their current levels," said Mr Robert Hepworth, senior advisor to the United Kingdom-based David Shepherd Wildlife Foundation.
More than 20,000 elephants are reportedly slaughtered in Africa every year for their ivory.