Jade Circle nursing home project revived
SINGAPORE — The Jade Circle nursing home project, which was shelved in 2015, has been revived and is expected to be ready by the end of 2019.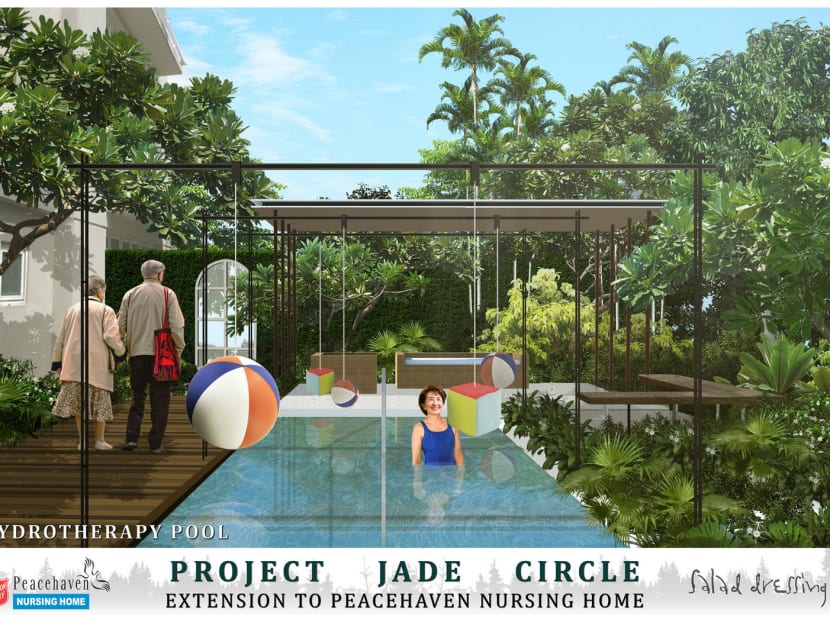 SINGAPORE — The Jade Circle nursing home project, which was shelved in 2015, has been revived and is expected to be ready by the end of 2019.
The announcement was made jointly yesterday by the three bodies responsible for the project: The Lien Foundation, Khoo Chwee Neo Foundation, and Salvation Army Peacehaven Nursing Home (Peacehaven).
The 22-bed facility for people with dementia, conceived to "usher in a new era in eldercare", will have eight single rooms and seven twin-sharing rooms. Residents will be divided into two "households", and a senior care associate will look after residents in each household.
The four-storey building will be built as an extension to Peacehaven in Changi.
Depending on the level of care, the estimated fees will range from S$2,000 to S$3,500 per month before means testing to assess if someone qualifies for subsidies.
The initial S$15 million project was unable to secure government subsidies and halted by the Ministry of Health (MOH), which said it would not be "financially sustainable" to provide subsidies to patients housed in spaces "designed to proxy private or A-class ward configurations".
Last year, after discussions with the ministry, Peacehaven agreed to build multi-bed rooms in its existing main building, which is not part of the Jade Circle nursing home.
The MOH is considering Peacehaven and Jade Circle as a single entity in terms of eligibility for subsidies.
It will leave Peacehaven to decide who it will admit into Jade Circle.
SENIORS' CREDIT CARE CARDS
The number of beds in Jade Circle has also been reduced from 60 in the initial proposal to 22, and the project cost is down to S$14 million.
The MOH told TODAY: "Taken as a whole, Peacehaven Nursing Home's development project will now meet the ministry's requirements for an increased capacity in nursing-home beds, providing a good mix of bed options for patients, as well as in day-care services."
It said it is prepared to work with Peacehaven to provide funding support on the expansion works to the main building and operating subsidies for the new bed capacity.
The MOH added: "In our development of nursing-home capacity, (we) will continue to provide a mix of room types to meet the diverse needs of our seniors."
Jade Circle will house a two-storey day-activity centre and lifestyle club, with a hydrotherapy pool, cafe, hair salon and a gym equipped with elder-friendly, strength-training machines.
Using a "credit care card", the seniors can earn points after completing an activity, and spend the "credits" on a massage, haircut or snacks.
Lien Foundation chief executive officer Lee Poh Wah stressed that even as the project has evolved over time, its original vision "remains unchanged" and it did not "compromise" on its goal in ensuring enhancing autonomy, dignity and a sense of well-being for seniors.