Jail for 23-year-old who kept shooting upskirt videos of women near schools, MRT stations
SINGAPORE — Some eight months after completing a probation stint for taking upskirt videos, Marcus Phua Xie Yi went back to his old ways of filming women near tertiary schools and at MRT stations.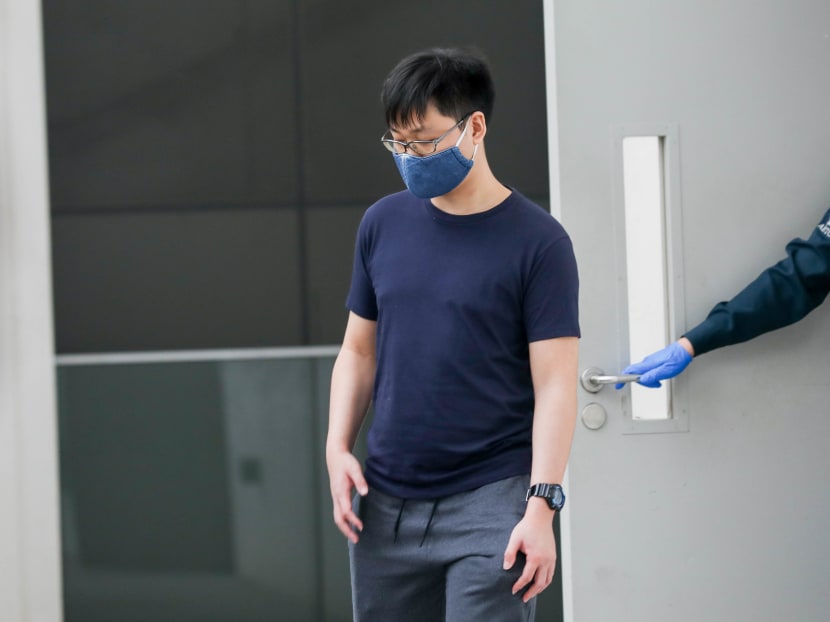 Marcus Phua Xie Yi was given 18 months' probation in 2016 for offences of filming upskirt videos
Eight months after completing his probation, he began taking more videos again
He was caught when he trailed a woman up a pedestrian overhead bridge 
SINGAPORE — Some eight months after completing a probation stint for taking upskirt videos, Marcus Phua Xie Yi went back to his old ways of filming women near tertiary schools and at MRT stations.
At the time of his offences between May and October 2018, Phua was 21 years old.
He was eventually caught near the Singapore University of Social Sciences (SUSS) at Clementi by a male student, after having targeted a woman he saw while on the bus to Maju Camp for his National Service duties.
The Singaporean was jailed 15 weeks on Thursday (May 6) after pleading guilty to 15 counts of insulting a woman's modesty.
Twenty-eight other similar charges were taken into consideration for sentencing.
The court heard that in addition to SUSS, he filmed women near the Singapore Institute of Management and Ngee Ann Polytechnic as well as Clementi and Dover MRT stations.
He typically trailed his victims to take the videos, doing so on escalators and while walking up staircases, for instance, and also filmed their faces.
He was finally nabbed on Oct 12, 2018 at the pedestrian bridge in front of SUSS.
A 26-year-old student was walking up the stairs there when he noticed Phua behaving suspiciously in front of him.
The student noticed him walking close to a victim before placing his mobile phone near her skirt.
Phua then angled his device to record the victim's face when he reached the top of the stairs.
The student and his other classmates decided to call the police after noticing Phua trailing another female up the stairs.
They also confronted Phua who deleted the videos he had taken that day.
JUDGE REJECTS COMMUNITY-BASED SENTENCE
Deputy Public Prosecutor (DPP) Lim Shin Hui noted in her sentencing submissions that Phua was given 18 months' probation in April 2016 for similar offences when he was about 18 years old. He faced a total of 18 charges back then.
Asking for at least 18 weeks' jail this time, DPP Lim referred to a report from the Institute of Mental Health.
A psychiatrist who examined Phua stated that his major depressive disorder did not impair his judgement or impulse control and that he used the voyeuristic thrill of taking upskirt videos to momentarily cope with personal tragedies.
Phua's lawyer Cory Wong gave more details on his family history, saying that his younger brother had died from hydrocephalus at age 10 — when Phua was 12 — and his father died from cancer in 2016. His parents were separated at the time.
"It was a shadow of early deaths in the family… When the offences took place, was he at the age and emotional maturity to handle all this? I think it speaks for itself," Mr Wong added.
DPP Lim responded that he was given a chance during probation but re-offended less than a year later.
In sentencing, District Judge Marvin Bay rejected Mr Wong's proposal for a mandatory treatment order suitability report. A mandatory treatment order is a community sentencing option offered to offenders suffering from mental conditions that contributed to the offence.
The judge said that there was no basis for a mandatory treatment order given what the psychiatrist said.
"His modus operandi involved not just the taking of upskirt videos but he also brazenly attempted to record the faces of victims in the majority of his charges… There is a need to ensure girls and women feel free to use public transport and public thoroughfares without any fear their privacy is being surreptitiously intruded upon," District Judge Bay added.
Phua could have been jailed for up to a year or fined, or both, for each charge.
His crimes took place before amendments to the Penal Code kicked in on Jan 1 last year. Voyeurism is now a specific offence and those convicted of secretly filming others can now face up to two years' jail or a fine, or both.