Jail for former Koufu manager who pocketed S$48,000, used money to buy gifts for livestreamers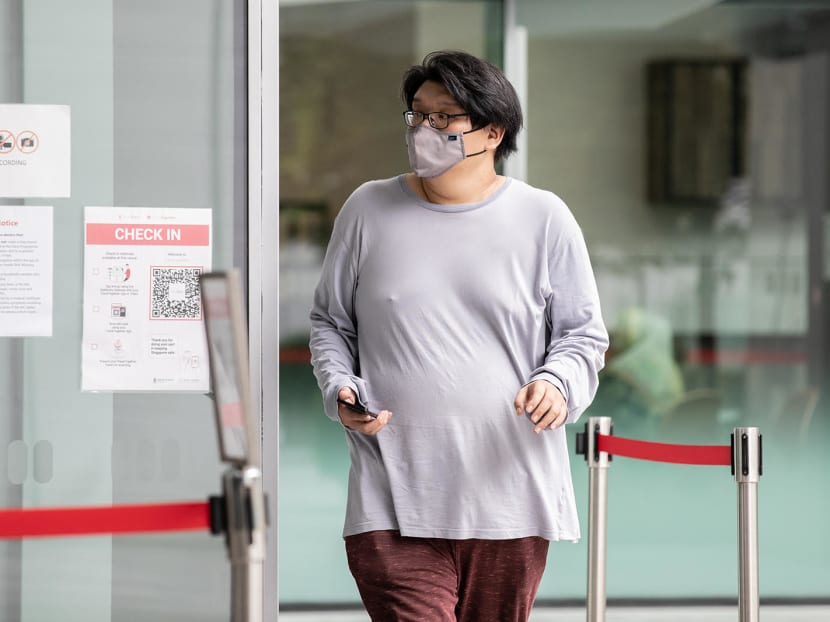 Joel Ang Jun Xian led food-court operator Koufu to believe that patrons had used CDC vouchers to pay for their meals
He misappropriated the cash that the patrons used
In order to cover his tracks, he then overstated the number of vouchers he collected from the food court vendors
He spent his ill-gotten gains on buying gifts for "attractive" online livestreamers
SINGAPORE — While working as a food-court manager for the Koufu chain, Joel Ang Jun Xian exploited a government scheme meant to help low-income families defray their cost of living during the Covid-19 pandemic.
After he managed to misappropriate S$48,000 from his employer, Ang spent the money on buying gifts for overseas online livestreamers whom he found attractive.
Ang, 35, was jailed for eight months on Monday (Feb 14) after pleading guilty to a charge of criminal breach of trust.
He had taken advantage of the Community Development Council (CDC) voucher scheme that was launched by the Government in June 2020 to help up to 400,000 lower-income families, the court heard. The vouchers were meant to defray daily expenses as well as support neighbourhood shops and hawkers affected by the Covid-19 pandemic.
Koufu, which operates more than 30 food-court outlets islandwide, began accepting CDC vouchers as payment for food and beverages at these eateries. When patrons redeemed their vouchers, the food stalls would record them as "cash purchases" and collect the vouchers from the patrons.
As part of Ang's job managing a Koufu branch at Block 478, Tampines Street 44, he was entrusted to collect the daily cash sales proceeds and CDC vouchers from the various stalls.
He was also entrusted with managing Koufu's cash float monies, which were kept in a safe drawer.
He would then deposit the sales proceeds into Koufu's bank account by the next working day and get the deposit receipt from the bank.
On the receipt, he had to give a breakdown of the various payment methods used — cash, CDC vouchers, Nets, debit cards or credit cards.
He also had to hand over the vouchers he collected from the food stalls on a weekly basis to Koufu's area manager for accounting purposes.
In May last year, Ang realised that the manager had not been asking for the vouchers, and that the manager did not seem to notice if there were discrepancies between the actual daily cash sale amounts and the proceeds Ang had put into the chain's bank account.
Ang then decided to employ two methods to take money:
Overstate the number of CDC vouchers used as payment. This way, he could keep a portion of the daily cash proceeds for himself and deposit a lower amount into Koufu's bank account
Fail to bank in amounts he wanted to pocket, without accounting for where the money had gone
This way, he managed to pocket S$48,517 in total between May 1 and June 30 last year. He has not made any restitution.
He used the money to buy gifts for livestreamers through the mobile application "Morein Live".
Deputy Public Prosecutor Dhiraj G Chainani sought the sentence imposed, saying that Ang had significantly abused his trust as seen from the large amounts of cash he was allowed to handle on his own.
The prosecutor added: "Such acts may have the undesirable effect of food-and-beverage establishments not accepting the use of CDC vouchers, since they may find it hard to account for such transactions, and there may be loopholes in the processes of these establishments in accounting for use of physical CDC vouchers that individuals like the accused may take advantage of."
In mitigation, Ang — who did not have a lawyer — said that he had surrendered himself at the police station and asked for a lower sentence as he was the sole breadwinner of his family.
"I did it out of craziness but not that I'm mentally unsound. I will not commit (the offence) again — I know this is a big mistake. I will accept the punishment I have to face," he added.
He could have been jailed for up to seven years or fined, or punished with both, for criminal breach of trust.