Ex-flight steward jailed after allowing human smuggling ring to use his boarding pass, forged passport
SINGAPORE — Jobless and in need of cash, Thasrathan Jegatheson allowed an acquaintance to forge his passport and give the fake document to a Sri Lankan who had paid people to smuggle him into Germany.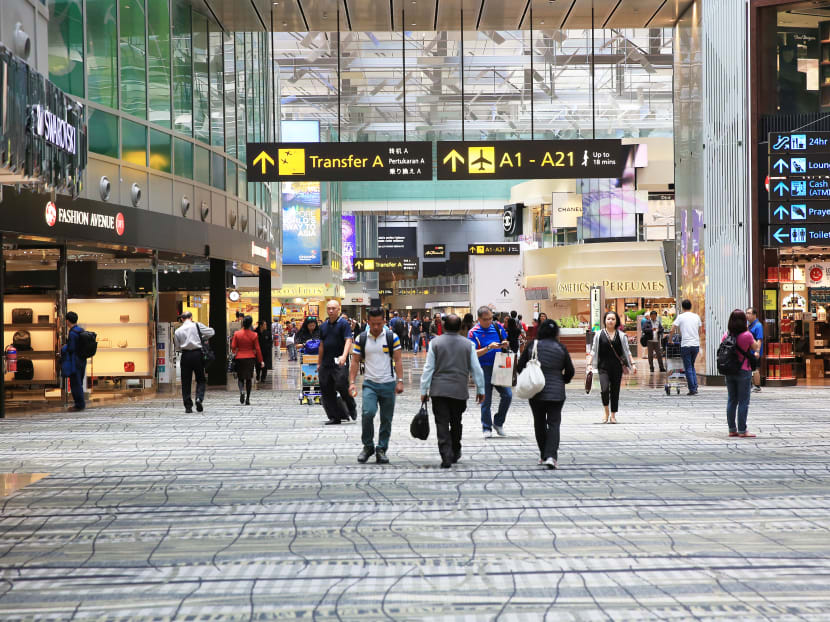 Thasrathan Jegatheson agreed to help a people-smuggling syndicate get a Sri Lankan man into Germany
Thasrathan allowed his passport to be forged and handed over his boarding pass at a transit area in Changi Airport
Thasrathan received US$1,000 and was promised a two-day stay in Bangkok
The other man was arrested before he could board a Scoot flight from Singapore to Berlin
SINGAPORE — Jobless and in need of cash, Thasrathan Jegatheson allowed an acquaintance to forge his passport and give the fake document to a Sri Lankan who had paid people to smuggle him into Germany.
Thasrathan, a former flight attendant, also flew down from Malaysia and met the man in a transit area at Changi Airport to illegally hand over his boarding pass.
For his crimes, the 49-year-old Malaysian was jailed for four months on Thursday (March 24) after pleading guilty to a single charge of abetting cheating by personation.
He had been a steward at Malaysian Airlines but was retrenched in 2016 and remained unemployed at the time of his offence earlier this year.
WHAT HAPPENED
The court heard that around 2013, Thasrathan met a man known as Raja on a flight where he was working. The two men stayed in touch.
In February this year, Raja called Thasrathan and asked if he wanted to participate in a "job arrangement". This involved Thasrathan handing over his boarding pass, for which he would receive more than RM3,000 (S$965) and get to spend two days in Bangkok, Thailand.
Thasrathan knew this was illegal but agreed out of a need for money.
He complied with Raja's instructions to provide his personal details including his name, passport number, Malaysian identity number, place of birth and the passport's serial code.
Thasrathan was meant to complete the job on Feb 6 but his Covid-19 polymerase chain reaction (PCR) test was invalid.
Raja then rescheduled him to fly from Kuala Lumpur in Malaysia to Singapore on Feb 10 instead. He received a new set of documents, including his flight itinerary and hotel bookings, and took another PCR test.
When he left Kuala Lumpur on a Scoot Airlines flight, Thasrathan obtained a connecting boarding pass from Singapore to Berlin.
He was told to hand over his boarding passes to Mohanathas Kaniyamuthan, a 26-year-old Sri Lankan man.
Investigations revealed that Mohan, who wanted to leave Sri Lanka for better employment opportunities, engaged a transnational human smuggling syndicate to help smuggle him into Berlin.
Court documents did not state why Mohan did not want to enter Germany by legal means.
His family paid the equivalent of about S$13,300 to an "agent" to facilitate this, and he would have paid the same sum again if he successfully made it to Berlin.
Mohan was given a forged passport bearing Thasrathan's details. Only the photo, year of birth, identity number and serial code were changed.
On the day of Thasrathan's flight, Mohan flew into Singapore from Sri Lanka.
He was told to collect Thasrathan's boarding pass and other travel documents while transiting here and to hand over US$1,000 (S$1,360) in cash to Thasrathan.
Both men were told not to talk to each other but to communicate only by gestures. Thasrathan received a photo of Mohan, a description of his attire and his approximate location at Changi Airport Terminal 3.
When Thasrathan spotted Mohan, they went to a toilet where Thasrathan handed over his boarding passes and travel documents, including the results of the PCR test he had taken. Mohan handed Thasrathan the US$1,000 in cash.
Thasrathan then left. Shortly after, the Immigration and Checkpoints Authority (ICA) arrested Mohan before he was able to board the plane. Court documents did not state how the ICA officers became aware of Mohan's illegal plan.
Officers found Thasrathan's documents and the forged passport in a special compartment of his luggage.
Thasrathan remained at the airport and was on a phone call with Raja, who was arranging his flight details to Kuala Lumpur, when he was arrested by ICA officers.
The authorities could not retrieve his phone text messages with Raja because he had complied with Raja's instructions to delete their messages. He cooperated with the authorities after being arrested but could not provide more information on Raja beyond his phone number.
Mohan was earlier convicted under Singapore's Passports Act and jailed for eight months.
'BRAZEN' EXCHANGE
Deputy Public Prosecutor Chong Kee En sought four to five months' jail, while Thasrathan's lawyer Malcolm Tan asked for four months of imprisonment.
Mr Tan told the court that his client was at the lowest end of the food chain in the smuggling ring and that his only point of contact was with Raja. The lawyer said that Thasrathan had even shared details with the authorities that was not expected of him, such as what happened in the airport toilet.
Senior District Judge Bala Reddy noted that there was no specific evidence of the syndicate having any direct links to terrorism, or whether it funded or smuggled terrorist groups. This would have been an aggravating factor.
The judge agreed with the prosecution that the illegal exchange of travel documents had taken place "quite brazenly" in the transit area and the "entire operation was well-planned and premeditated".
It was also evident that Thasrathan flew into Singapore specifically to commit the offence, the judge added.
Thasrathan could have been jailed for up to five years or fined, or punished with both.