Man jailed for role in hiring others to assault ex-Joo Chiat MP Chan Soo Sen, throw chilli powder at him
SINGAPORE — When an acquaintance told Khoo Tsu Peng in 2019 about his suspicion that his wife was having an extramarital affair, Khoo agreed to recruit others to assault the suspected paramour.
Khoo Tsu Peng helped to recruit others to assault former Joo Chiat MP Chan Soo Sen
An acquaintance suspected that his wife was having an affair with Mr Chan
Mr Chan suffered bruises from the attack which happened in public at a bus stop
Khoo also used his connections to help another friend assault someone else
SINGAPORE — When an acquaintance told Khoo Tsu Peng in 2019 about his suspicion that his wife was having an extramarital affair, Khoo agreed to help recruit others to assault the suspected paramour.
Upon locating Mr Chan Soo Sen at a bus stop in Pasir Panjang, the hired assailant struck him on the back several times with a wooden stick, threw a packet of chilli powder at him and shouted: "You know what you have done" before fleeing the scene.
On Monday (May 9), Khoo was sentenced to 14 weeks' jail after pleading guilty to conspiring to voluntarily causing hurt to Mr Chan, now aged 65.
The victim is a retired politician who was Member of Parliament (MP) for Joo Chiat Single Member Constituency from 2006 and 2011. He was also a Minister of State of various ministries between 2001 and 2006.
The assault on Mr Chan was not related to his former political career.
Khoo, now aged 68, was jailed for another 12 months for a separate offence of conspiring to voluntarily cause grievous hurt, as well as jailed four months and two weeks and fined S$20,000 for illegal gambling.
District Judge Jasvender Kaur ordered the sentences for these two offences to run consecutively, while his sentence for plotting to assault Mr Chan will run concurrently.
That means Khoo will serve a total of 16 months and two weeks behind bars.
He was defended by lawyers Josephus Tan, Cory Wong and Josiah Zee from Invictus Law Corporation.
ASSAULT ON MR CHAN
The court heard that in October 2019, Khoo's acquaintance Ho Soo Fong, 64, said he was enraged that his daughter or his friend's daughter was allegedly having an affair with Mr Chan.
Ho suspected that it was his wife who was having the alleged affair, but he was too embarrassed to tell Khoo.
Court documents did not reveal if this was true. The Straits Times had reported in 2013 that Mr Chan's wife died that year from a rare genetic disease.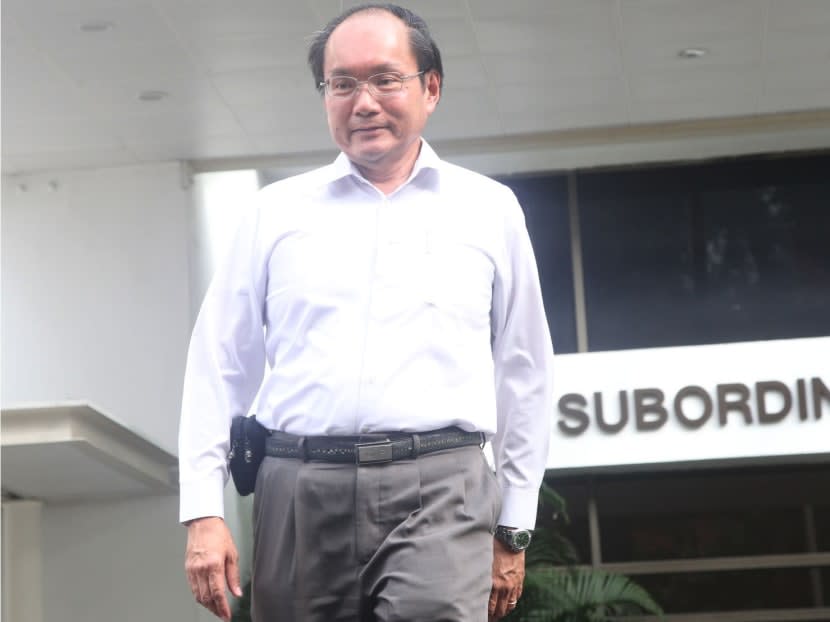 When Ho said he wanted to teach Mr Chan a lesson by getting someone to assault him, and offered a five-figure sum for the job, Khoo agreed to find someone to pull it off.
Khoo then relayed the plan to Mohamed Hussain Shah Abdullah, 46, who belonged to the Omega secret society. Hussain recruited an unidentified man to carry out the attack after Ho agreed to pay S$25,000.
They plotted to assault Mr Chan at a restaurant but eventually decided the location was not appropriate. The assailant was subsequently arrested.
Because of this, Khoo decided to offer the job to another man — Mohd Ali Osman, 59 — for the same price.
Ali teamed up with his former prison acquaintance, 30-year-old Raimi Saharudin, to carry out the attack. The two men scouted the area near Mr Chan's residence in Pasir Panjang after learning that he usually took the bus at a nearby bus stop.
Close to midnight on Dec 26, 2019, they decided to strike.
When Mr Chan alighted from a bus, Raimi recognised him from a photograph and approached him, throwing a packet of reddish-orange powder at the other man before hitting him on the back with a wooden stick several times.
The powder was later analysed and found to contain capsaicin, a chemical compound found in chilli peppers.
Mr Chan fell to the ground. Raimi then shouted: "You know what you have done" before fleeing on his motorcycle.
He discarded the wooden stick at a petrol station and told Ali that the job was completed.
Mr Chan lodged a police report and also sought medical treatment at the National University Hospital. He had sustained bruises on his elbow and knee, as well as a contusion on his back.
Raimi was sentenced to three months' jail for his role in the attack, while Ho and Ali have been charged. Their cases are pending before the courts.
OTHER ATTACK
Following this incident, Khoo separately introduced Hussain to a good friend, Low Eng Pah, who was embroiled in a dispute with someone else over alleged gambling winnings.
Khoo had suggested hiring someone to assault the other man and recover his gambling winnings. Low agreed and promised to give Khoo 40 per cent of the purported winnings.
Hussain, who was on court bail at the time, decided to get younger members of his secret society to attack the victim.
The assailants wore motorcycle helmets to conceal their identities and beat the victim up near a Hougang coffee shop before fleeing in a private ambulance.
The court heard that this impeded the authorities' efforts to identify them. It was only after the ambulance driver implicated the assailants that all of them were arrested.
The victim suffered a broken nose and injuries to his face, scalp and collarbone. He was given three days of hospitalisation leave.