Jail for man who posed as ICA officer to get free sex, money from masseuse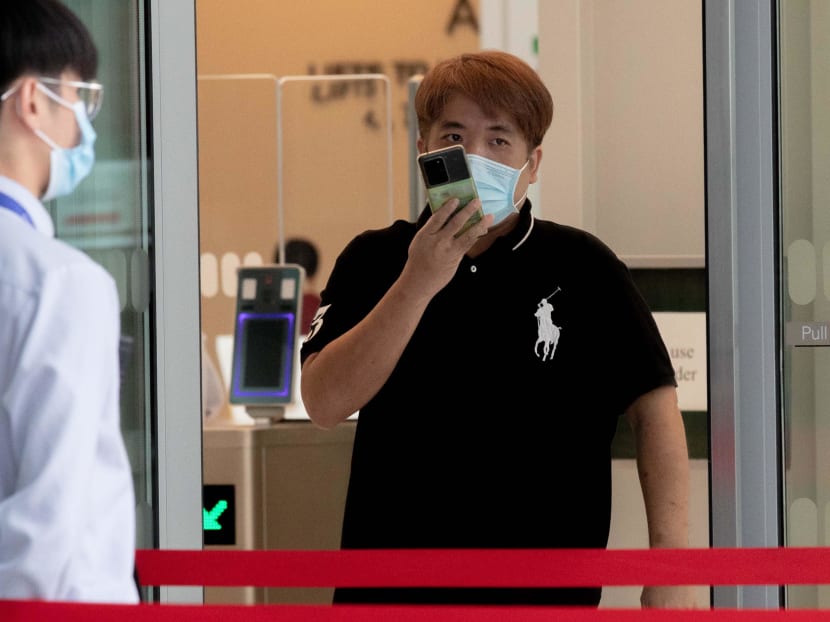 Kelvin Lim Chee Wee, 44, lied to his masseuse in 2019 that he was a former ICA officer
She told him she was about to be repatriated
He said he could help her to secure a special pass and extend her stay here
She gave him free sex on eight occasions and almost S$10,000 in cash
She was charged alongside him in November 2020 but committed suicide later
SINGAPORE — When Kelvin Lim Chee Wee's regular masseuse told him she would be repatriated soon, he solicited bribes from her by lying that he could help her to secure a special pass and extend her stay here.
Lim claimed that he used to work for the Immigration and Checkpoints Authority (ICA) and still had friends that could help out.
Through their arrangement, he got Cheng Wenjuan to give him free sex on eight occasions, as well as cash totalling almost S$10,000, which he used on his personal expenses and debts.
Lim, 44, was jailed for 23 weeks on Thursday (March 24). He was also fined S$6,500 for a separate offence under the Massage Establishments Act.
The vehicle workshop manager pleaded guilty to five counts of corruption and another charge of providing massage services without a licence or exemption.
District Judge Janet Wang considered nine other similar charges for sentencing purposes.
The court heard that Lim got to know Cheng, a 34-year-old China national, around March 2019. He became her regular customer and they mainly communicated through the WeChat messaging application.
In May that year, Cheng told him that she was arrested for vice-related offences and anticipated that she would be repatriated soon. He then lied that he used to work for ICA and would be able to assist with the issuance of a special pass.
Special passes are issued by either ICA or the Ministry of Manpower. They allow foreigners to stay in Singapore for specific purposes, such as to assist in investigations and attend court proceedings.
However, Lim was never employed at ICA and did not know anyone there.
Afterwards, he had sexual intercourse with Cheng for the first time. He had previously sought and received massages and other sex acts from her, paying S$100 for her services, but did not offer to pay her for sex this time round.
Cheng also did not ask for payment because she believed that he could help her.
He told her it would cost S$5,000 to get a special pass. He would then use the cash to pay an ICA officer who would arrange for the pass, he added.
Cheng wanted to hand over the money after getting the pass but Lim told her that the ICA officer wanted to receive payment before providing any help.
On May 20, 2019, the pair met and she gave Lim S$3,000.
INCREASED 'COST' OF SPECIAL PASS
He visited her at her workplace again eight days later where they had sex. That same day, she told him that she wanted to be arrested, so that she may then apply for a special pass.
Lim said that he could arrange this but asked for more money to arrange for a suitable location for her arrest, adding that the cost of the special pass would also increase to S$15,000.
This angered Cheng and she told Lim to pay for the sexual services she had rendered. However, she relented later and agreed to pay S$8,000 when he threatened to stop helping her.
Shortly after, Cheng gave him S$2,000 out of the remaining S$3,000 she owed him.
Around this time, Cheng's friend Lei Guoxiang was also arrested. When Cheng asked Lim if he could help Lei, he said that he would need to give his "ICA friend" S$2,000 to secure a special pass.
Cheng then gave him S$2,000.
Lei was released from custody the same night Cheng was arrested and when Cheng learned that Lim had not intervened, she angrily asked for her money back.
Lim lied that he had already paid his friend and the other man would not refund anything.
Cheng was charged alongside Lim and was also accused of offering a legitimate ICA officer Teo Hwee Peng a S$500 bribe that he rejected. She allegedly gave him a free massage and performed a sex act on him as well.
She has since taken her own life.
Separately, Lim ran a massage parlour known as Marrie Bella Massage. The authorities conducted a check on it in November 2020 and found three customers in individual rooms.
Under the Massage Establishments Act, massage services cannot be given in private.
A customer told the police that he had received sexual services at Marrie Bella on two prior occasions.
Deputy Public Prosecutor David Menon asked for 30 to 32 months' jail and a fine of S$7,000.
He pointed to aggravating factors such as Lim posing as a former public servant, which had damaged ICA's reputation and had the potential of leading to a loss of confidence in Singapore's public administration.
The prosecutor added that Lim had solicited the bribes on several occasions and initiated the scheme.
In mitigation, Lim's lawyers, Mr Paul Loy and Ms Clarissa Soon from WongPartnership, noted that he had made restitution to Cheng in February 2020 before they were first hauled to court in November that year.
The defence counsels also objected to DPP Menon's submission that Lim's actions had resulted in significant media publicity. They argued that it was merely because his case was linked to Teo, the ICA officer.
Teo has claimed trial to his charges and the case is ongoing.
Another China national, Liang Qinglan, was jailed for 25 weeks and fined last year for bribing Teo to similarly secure a special pass.
Those convicted of giving or taking gratification can be jailed for up to five years or fined up to S$100,000, or given both penalties.