Older PMETs hardest hit as layoffs increase across sectors
SINGAPORE — Older workers and those with higher educational qualifications took longer to find jobs after they were retrenched last year, compared to other groups.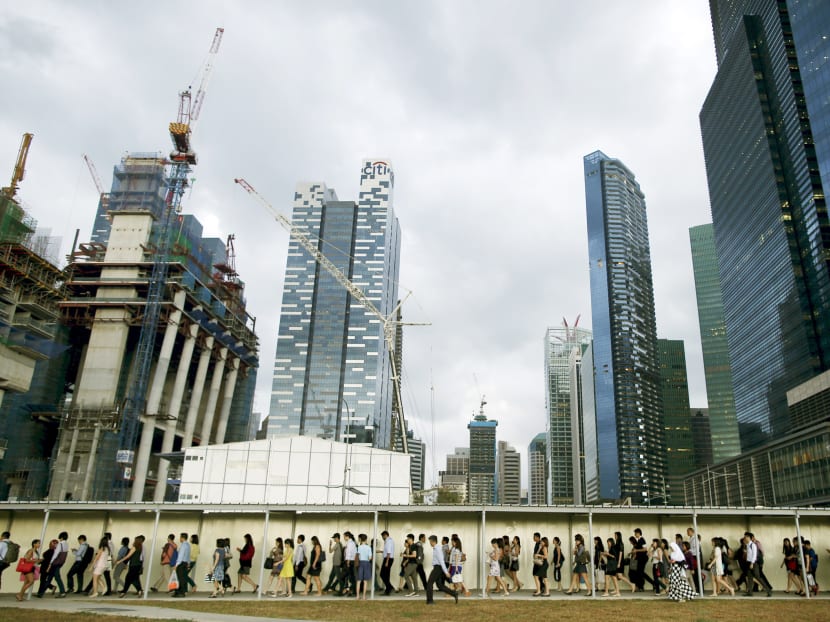 SINGAPORE — Older workers and those with higher educational qualifications took longer to find jobs after they were retrenched last year, compared to other groups.
And the relocation of companies overseas, mainly from the services sector, is at its highest since 2004, resulting in more workers being laid off. Last year, 94 private establishments relocated overseas, leading to 1,990 workers being retrenched, 110 more than in 2014.
These trends were revealed in the Ministry of Manpower's (MOM) Redundancy and Re-entry into Employment report for 2015 released on Wednesday (April 20).
Overall, lay-offs rose last year to 15,580 workers. But the unemployment rate remained low, and vacancies continued to outnumber job seekers, noted the MOM.
Residents — Singapore citizens and permanent residents — were hit less hard than foreigners, but analysts TODAY interviewed said it added urgency to the drive to train workers here with the right skills to meet the needs of the evolving economy.
Residents made up 58 per cent of those laid off, which is lower than their share of the workforce (66 per cent excluding foreign domestic workers). Foreigners make up about a third of the workforce, but comprised 42 per cent of those laid off last year.
Among the retrenched who returned to the workforce, the majority (70 per cent) took on jobs in a different industry, most likely in the wholesale and retail trade industry, and the administrative and support services industry.
And among residents, those above 30 years old took between 2.2 and 2.3 months to secure new employment. In particular, those 50 and over took 2.19 months, up from 2.05 months in 2014.
Those below 30 years old, on the other hand, took 1.85 months to land new jobs.
Those who held secondary qualifications and below found it easier to find jobs, doing so in less than two months. Those with post-secondary qualifications took between 2.1 and 2.5 months.
In line with labour trends, older Professionals, Managers, Executives, and Technicians (PMETs) were the hardest hit in terms of job losses and re-entry into employment.

Among the 9,090 residents made redundant last year, more than seven in ten were PMETs and about 40 per cent of those laid off from PMET jobs are in their 40s. Concern over the employability of older PMETs has prompted the Government to roll out schemes to help this group, including enhancements to Career Support Programme, which provides a wage subsidy to to employers who hire older PMETs.
Among the reasons for axing workers, business restructuring remained the top-cited factor. However, more companies (from 12.3 per cent in 2014 to 30.8 per cent last year) pointed to the economic slowdown as their reason for trimming manpower.
Layoffs rose across all sectors last year, although the number remains below the high of 23,430 workers retrenched during the financial crisis in 2009.
The manufacturing sector saw the sharpest spike, from 3,970 in 2014 to 5,210 last year (31.2 per cent). The services sector laid off 8,510 workers last year, compared with 7,260 in 2014 (17.2 per cent). In the construction sector, 1,780 workers were laid off, compared with 1,690 in 2014 (5.3 per cent).
The MOM noted that the decline in oil prices affected jobs in the marine and offshore-related industries. Likewise, slowing demand for marine and construction affected industries such as fabricated metal products and engineering services. This saw 940 workers in architectural and engineering services axed last year, nearly triple the 350 in 2014.
HR experts such as Mr Adrian Tan, director of CareerLadder, believed that redundancies will continue to rise considering the bleak economic outlook, with even the Monetary Authority of Singapore moderating the Singapore currency appreciation to support economic growth.
The rising cost of production here will only spur more firms to relocate their operations, and those in the manufacturing sector will need to train in new skills and move to another industry, he said. "As we want to go into upmarket (manufacturing), that requires a lot of innovation to maintain cost … so there will be no replacement on headcount as (technology) takes over," he added.
Dr Kang Soon-Hock, head of Social Science Core at SIM University, reiterated the need for mindset shifts among both older workers and employers.
For example, older workers will have to look at their current skills set and take on new roles that are more fitting with the company or industry's needs, said Dr Kang, who looks at re-employment issues. Employers can leverage the rich experience of older employees' by stretching them further through job rotation, he added.