Jumping on the Bandwagon
SINGAPORE — His passion has always been music, but 25-year-old Ilyas Sholihyn acknowledges self-deprecatingly that he's just "not good enough to be a full-time musician".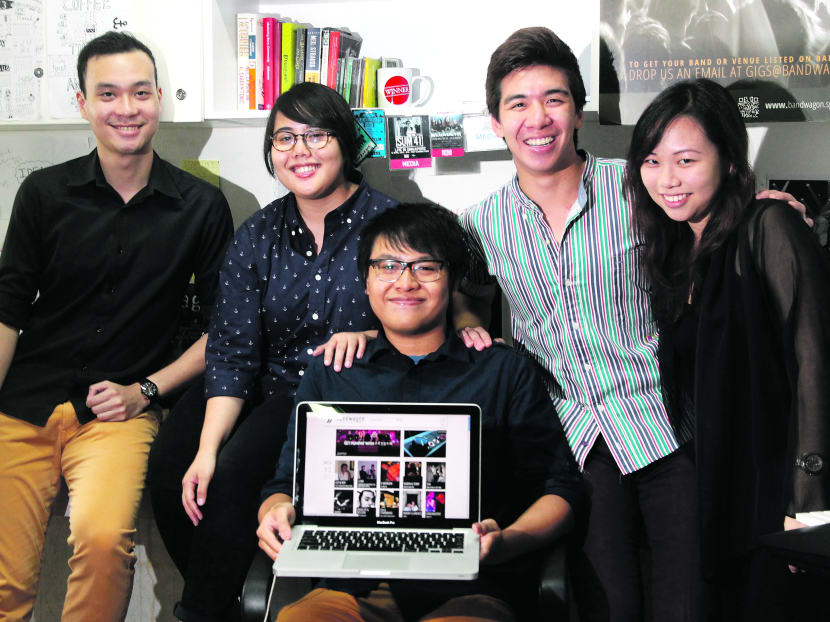 SINGAPORE — His passion has always been music, but 25-year-old Ilyas Sholihyn acknowledges self-deprecatingly that he's just "not good enough to be a full-time musician".
So the vocalist and bassist decided to combine his interests in writing and music — and ended up as the editor of Singapore's first live local music gig finder website, Bandwagon.sg.
"I was already part of the local music scene, so I figured if I join Bandwagon, why not use my knowledge and experience to spread the word about local music?" says Mr Ilyas, who now dabbles in electronic music as a laptop musician.
Mr Ilyas and Ms Delfina Utomo, also 25, joined the five-member Bandwagon.sg team last year, months before the site was officially launched.
Other than offering a comprehensive listing for live gigs, the website aims to deliver in-depth editorials on the music scene in Singapore. "We go down to the live gigs, we interview the bands, the audience and the fans — all the elements in the music scene," enthuses Mr Ilyas.
And here's where Ms Utomo plays a key role. As the site's lead editor, she's in charge of building the editorial division; a challenge pitched to her by Bandwagon.sg founder Clarence Chan, which she readily took up.
"When I returned to Singapore after eight years in Melbourne … I was helping out at a local festival where I met Clarence and he pitched his editorial ideas to me," recounts Ms Utomo, an accomplished cello player and artist.
"I did see a lack of music journalism, the type that makes music sound fun. I thought I might try this out while I figure out what to do."
She worked as a part-timer for six months, while going for job interviews, and then stayed on full-time. "Clarence gave me the freedom to build the editorial division from scratch, and what excites you is that you do want to start something new instead of joining something existing," she explains.
The duo's decision to venture into a start-up was met by scepticism.
"My family were concerned, because after eight years of studying and two degrees they wanted me to be holding perhaps a S$4,000-a-month job," confesses Ms Utomo, a Monash University graduate, who holds a Master of Journalism.
"I may not get the best pay at Bandwagon.sg, but I'm passionate about what I do and every day I come to the office with new ideas," she says.
"The thing about parents is that they have a traditional mindset: They don't understand start-ups and they think we should work for a proper company in a proper job that offers proper benefits," adds Mr Ilyas, who graduated from Oklahoma City University with a degree in Liberal Arts and Mass Communication.
"What they don't get is that start-ups take time, but if you invest your time in it, there's a huge pay-off. We may not get the best pay, but after a hard day's work, you feel satisfied with what you've done and you feel that you've made a change."
Indeed, the team's efforts have borne fruit. Bandwagon.sg was officially launched in October last year, and two months later, it won JUICE Magazine's Best Contribution to the Scene 2012 award.
The site now lists about 800 local bands, 170 live music venues and 1,000 gigs a month, living up to its motto: Connecting People to Live Music.
"It was a slow process," says Mr Ilyas. The site's founder, Mr Chan, started by listing out all the gigs on a basic Excel sheet, which was then posted online.
"Eventually, it evolved into something more. We partnered venue owners — people in bars, the Esplanade — and got them to send in their band schedules," Mr Ilyas added.
The team has painstakingly developed its own website, which the duo stress is constantly being improved.
The website generates revenue by helping live music venues and concert promoters conceptualise and promote their live music offerings, as well as selling concert tickets on its ticketing page.
It also works with brands that want to be associated with live music, such as Fred Perry, Rockstar (by Soon Lee) and Moleskine.
For Rockstar, the team produced a fortnightly playlist on 8tracks — an Internet radio service that allows users to upload their playlists — in accordance to the cities that matched the brand's city-specific collections.
The team's plans reveal some healthy ambition. "We want to replicate the Bandwagon model in Malaysia, Indonesia and so on," says Mr Ilyas.
They are also working on syndication and have a deal with a few websites and publications to share Bandwagon.sg articles on their platforms. A mobile application is to be launched this month.
"We actively look for up-and-comers in the scene on the Internet — Facebook is quite a hotbed for buzz bands," he says. "We also go to live shows across the island, even on weekends."
While similar competing sites have sprung up, Mr Ilyas remains confident that what Bandwagon.sg has is the "most comprehensive" live gig finder with the "biggest database of all live music in Singapore".
He says: "We are connecting thousands of live music goers a month to more than 1,000 gigs taking place all across Singapore each month."