With kaya toast and kopi, Singapore food brands went all out to woo foreign media
SINGAPORE — With all eyes on the Republic playing host to the Trump-Kim summit, a number of homegrown food and beverage companies took the opportunity to showcase brand Singapore to the international media in town to cover the historic event.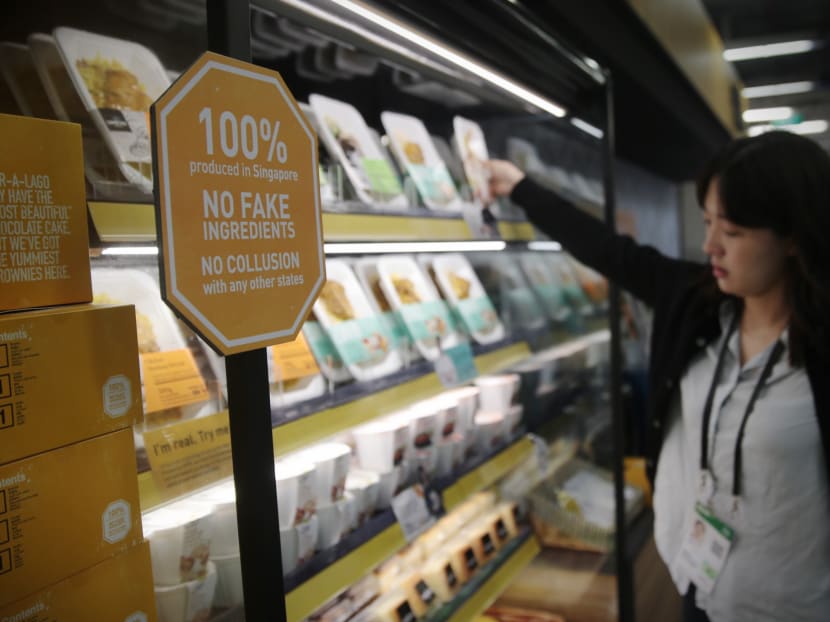 SINGAPORE — With all eyes on the Republic playing host to the Trump-Kim summit, a number of homegrown food and beverage companies took the opportunity to showcase brand Singapore to the international media in town to cover the historic event.
Thousands of local and international media descended upon the International Media Centre set up at the Formula One pit between Sunday (June 10) and Wednesday (June 13) to cover the meeting between United States President Donald Trump and North Korean leader Kim Jong-un, the first between a sitting American president and his North Korean counterpart.
Eight in 10 of the 2,500 media personnel accredited by the Government to cover the summit were not from Singapore.
To feed the hungry hordes, Sats — Changi Airport's in-flight catering service provider — was appointed as the main caterer. Besides the main buffet spread, which included local delights such as chicken rice and laksa, household names like PastaMania, The Soup Spoon and food vending machine Chef-in-Box offered to-go grub.
Local snack chain Old Chang Kee doled out curry puffs from a food truck, while Ya Kun Kaya Toast dished out local kopi and teh alongside its signature kaya toast with soft-boiled eggs. There was also ice cream, to help those from cooler climes beat the tropical heat, supplied by homegrown names Udders, Sogurt and Sugalight.
Over four days, the media consumed more than 3,500 cups of ice cream, 4,000 cups of coffee and tea, 3,900 slices of toast, 900 hard-boiled eggs, 2,000 pieces of mixed curry puffs and skewer items, and 1,000 boxes of ready-to-eat meals from vending machines.
However, the food and beverage companies involved got nary a cent. In fact, the Government had asked them to sponsor their offerings.
Approached by Enterprise Singapore only five days before the event, the Common Good Company, the consortium behind brands such as Udders and PastaMania, told TODAY it spent about S$60,000 on its food offerings, manpower and logistics.
Old Chang Kee spent about S$10,000, while Ya Kun, a 78-year-old chain, did not disclose the amount they spent. Ya Kun's branding and market development director Jesher Loi, however, told TODAY nine members of its staff — all store managers — were deployed at the media centre, pulling close to 12-hour shifts to dish out the much-coveted beverages and toast.
When TODAY arrived at the centre at 7.30am on Tuesday, the long queue at its booth had spilled over to outside the dining hall, and journalists that TODAY spoke to said it was probably the food stall with the biggest crowd.
Despite the short notice and costs involved, the participating vendors told TODAY it was an "honour" to share a slice of Singapore, especially with those from far-flung countries.
Judging by the lengthy press releases and boxes of name cards made available at their respective booths, however, it was clear the companies involved recognised the event as an enormous publicity platform, even while they were performing "national service".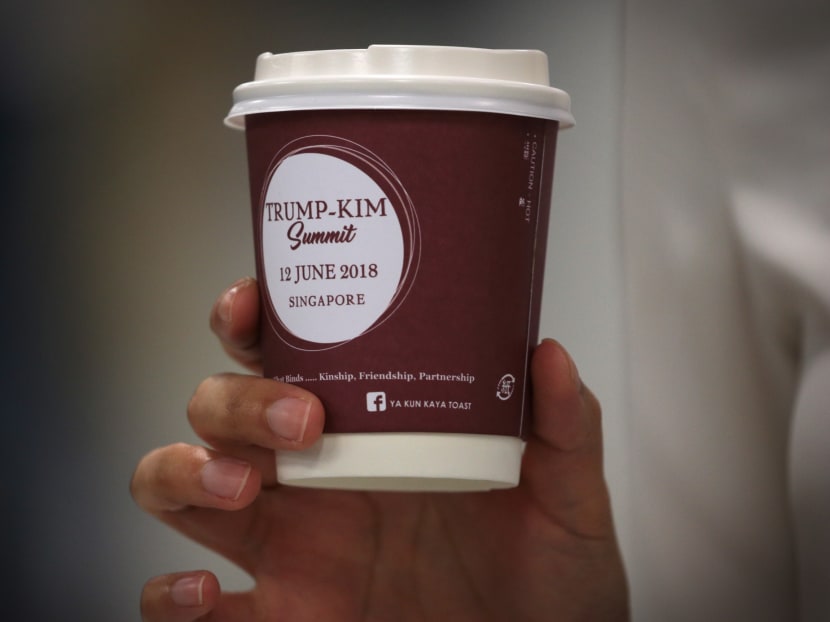 Indeed, some jumped at the chance to put some of their new flavours through a taste test. Udders, for instance, launched its kimchi-flavoured ice-cream, which has been a work-in-progress for about a year, at the media centre.
Others like Chef-in-Box offered Korean cuisine such as bibimbap, beef bulgogi with rice, soy chicken with glass noodles via food-vending machines.
And the effort did not end there. Most of them even went to the extent of customising their utensils for the summit. For example, Ya Kun printed 20,000 takeaway cups that read "Trump-Kim summit, 12 June 2018". These cups were also used at eight of its outlets in the Central Business District and the Orchard Road shopping belt.
Udders also put up posters with cheeky taglines that read, "Always easier to talk peace with alcoholic ice cream", while the other said, "Durians may be thorny but relations needn't be".
"We know this is a very serious summit, but thought we could have a bit of fun in the dining hall, amidst intense deadlines," said Ms Wong Peck Lin, director of The Common Good Company.
Sogurt founder Lee Li Ping said the effort just goes to show that everyone is proud of being a Singaporean brand.
"There was a sense of camaraderie among not just the food vendors, but also the cleaners and security guards, in wanting to ensure that this event goes well and leaves a positive impression," Ya Kun's Mr Loi added.
And impressed the foreign media certainly were, with the spread put up by food paradise Singapore.
The "strong and flavourful" coffee from Ya Kun emerged as one of the top hits.
"The coffee is delicious, strong… A much-needed perk-me-up for my body which is still functioning in a different time zone," said Mr Maciej Woroch, a reporter for Polish broadcaster TVN.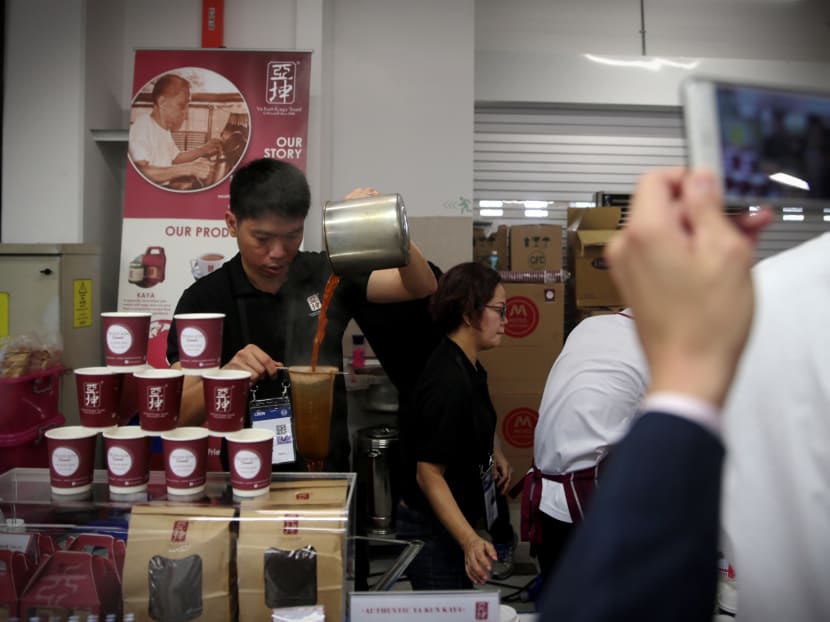 When TODAY spoke to him at noon on Tuesday, the 41-year-old who is based in London — seven hours behind Singapore — had already had three cups of coffee.
Mr Claus Blok Thomsen, Asia correspondent for Danish newspaper Politiken, said: "The food is excellent. We got to try so many different cuisines … The coffee was really good too. I have about two to three cups each day."
Ms Kahty Giles-Diaz, a public affairs officer for the US State Department, said she was "impressed" by the spread and thought the kimchi ice cream was a good touch in line with the summit.
But the question of whether this new kimchi flavour will make its way onto Udders' main menu remains to be seen.
Ms Wong said: "(The journalists) were definitely very interested to try it… But whether they liked it, I'd say it's 50-50."