Lack of funds, so socio-political sites IQ, Six-Six close
SINGAPORE — Two socio-political websites, one of them less than a year old, have called time on their operations.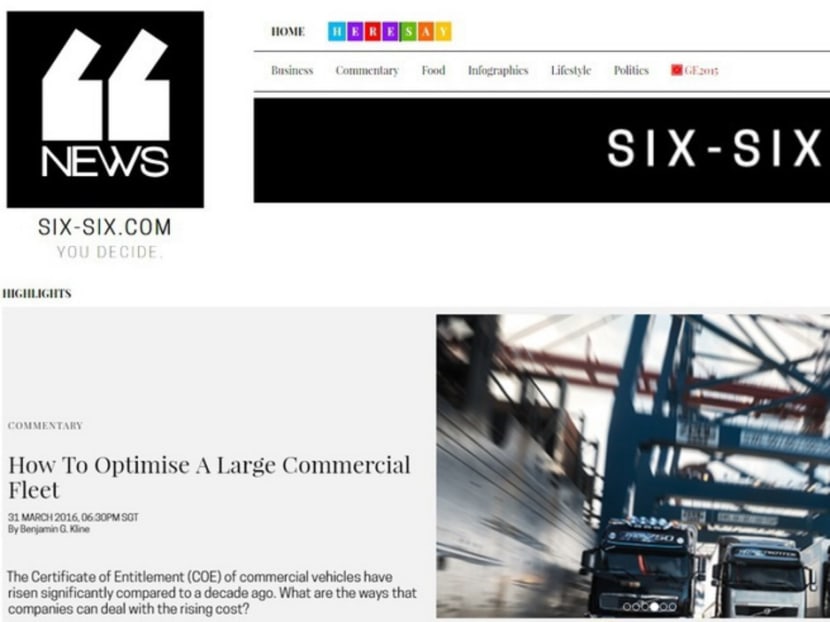 SINGAPORE — Two socio-political websites, one of them less than a year old, have called time on their operations.
Inconvenient Questions (IQ), launched in January last year by former Nominated Member of Parliament Viswa Sadasivan, will cease operations next Saturday. Meanwhile, Six-Six News, which went live last June, shut down early last month.
The lack of funds was behind the sites' decisions to close, with investors unwilling to continue dishing out money to keep the websites, which offered content and commentary in areas including politics and social issues, running.
Mr Sadasivan, the founder and editor-in-chief of IQ, told TODAY that the site had hoped to obtain funds from the same donors who had contributed in its first year of operations, and there was an understanding that they would do so into its second year.
"But I believe given the economic situation, that didn't work out," he said. "So for the past few months, I've been trying to negotiate some kind of a deal, but it didn't quite work out."
At Six-Six News, media consultant Ian De Cotta, who was a contributor to the site, said its publisher, Mr Kannan Chandran, had told him early last month that it was shutting because "investors were re-evaluating their commitment to the site".
A former Six-Six News employee, who declined to be named, confirmed that the site shut down officially on April 1. Mr Chandran had cited a "lack of funding", the employee said.
Mr Chandran could not be reached for comment.
Nevertheless, activity on the site did not cease completely. On May 5, the site published an article written by political commentator Derek da Cunha on the Singapore People's Party's account of 2011 meetings with the Singapore Democratic Party.
Mr Sadasivan said the decision to close IQ, which was made several weeks ago, was regrettable and sad. On top of money from his own pocket, the site is funded by a "major donor" as well as other contributors. "Basically, the funds have dried up," he said.
Pointing out that it was "rewarding" that viewership had been climbing and the site had been receiving good feedback from viewers, he said: "There's a regret that it had to come to this, but I don't regret starting it. It has been an incredible learning journey … to put out the kind of content that we managed to put out in a very short space of time."
He said he was taking a "six- to 12-month" hiatus, and might subsequently consider the possibility of setting up another platform focusing on issues of global impact, such as Islamophobia and climate change.
Professor Ang Peng Hwa, from the Nanyang Technological University's Wee Kim Wee School of Communication and Information (WKWSCI), said the small media market here — where the pool of viewers is likely to be small — could have been a factor. "If IQ had been in a larger country, population-wise, then it might actually be sustainable," he said.
The concept of news sites, Prof Ang added, appeared to be unsustainable in the Republic. "The news market in general is a challenge and … socio-political (content) is a niche within that — it's serious, it's not entertainment, so it becomes a greater challenge," he said.
Saying that such sites need to have more sustainable business models, Prof Ang, who pointed to overseas examples including the United States news satire programme The Daily Show, suggested that they could combine news or socio-political content with an entertainment element.
Assistant Professor Liew Kai Khiun, also from WKWSCI, said that the digital space has seen the proliferation of socio-political websites, with the situation compounded by the presence of mainstream media outlets. He felt that Six-Six News and IQ found it hard to develop a niche, and said prospective entrants must enter the market with an awareness of changing socio-economic and technological trends.