What land transport will look like in 2040
SINGAPORE — Over the next 20 years, there may be fewer cars on Singapore's roads, but there could also be more personal mobility devices (PMDs) on its pavements.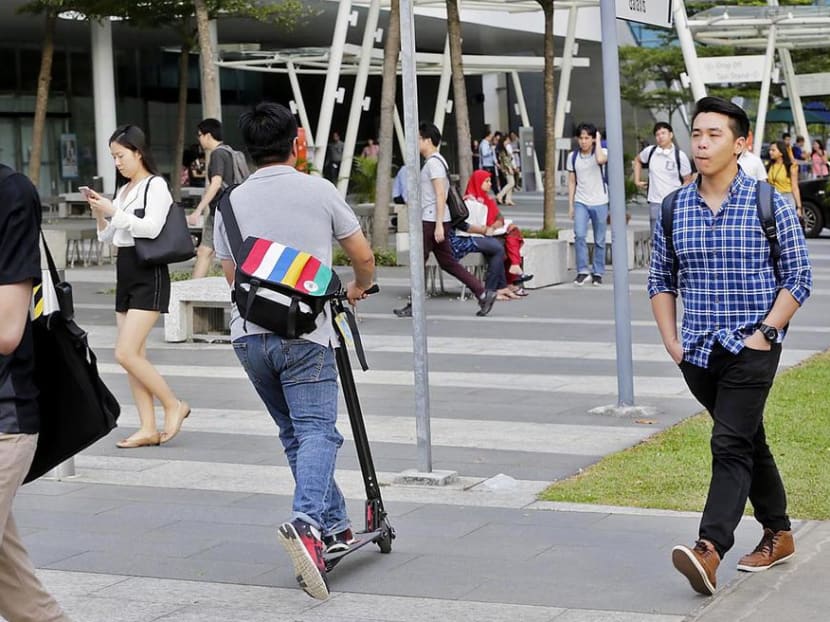 SINGAPORE — Over the next 20 years, there may be fewer cars on Singapore's roads, but there could also be more personal mobility devices (PMDs) on its pavements.
Analysts said this is the future as mapped out by the Land Transport Master Plan 2040 released by the Land Transport Authority (LTA) on Saturday (May 25), even as Senior Minister of State for Transport Lam Pin Min said the Government is working with the town councils to look into banning PMDs from accident-prone areas within housing estates.
Adjunct Associate Professor Gopinath Menon, a transport researcher from Nanyang Technological University, noted that private cars are barely mentioned in the master plan, indicating that Singapore is moving towards becoming a car-lite nation.
Instead, the master plan focuses heavily on plans to improve public transportation and encourage "active mobility", including via the use of PMDs.
Urban transport expert Park Byung Joon from the Singapore University of Social Sciences said he was unsure if this sent the right signal.
"If three-quarters of the population are using PMDs, then basically it will be chaos everywhere," he said.
"Pedestrian pavements will be like the streets of Hanoi," he added.
"Is this something that we want? If the answer is no, then I think it shouldn't be part of the master plan."
In the section on active mobility, the master plan notes that the LTA has rules to guide the use of PMDs on footpaths but that some are using these devices in an unsafe manner.
Nevertheless, PMDs feature again in a section titled "A Vision Of The Future", in which a 10-year-old girl named Tania is admiring drones cleaning covered linkways and thinking to herself that she would get her parents to buy her a new hoverboard.
MORE RULES, PATHWAYS FOR PMDs TO COME
Speaking to reporters at the launch of the master plan on Saturday, Dr Lam said that PMDs were included as LTA is "looking into improving active mobility", but noted concerns that have been raised regarding conflicts arising from sharing of pavement with PMD users.
"Whenever possible, we will try to have dedicated pathways for cyclists and PMD users, separate from pedestrians," he said.
He added that the Government is working with town councils to identify areas that are prone to conflicts or accidents.
"In time to come, maybe we can define some of these areas as red zones where PMD users and cyclists have to dismount."
Last week, TODAY reported that town councils under the People's Action Party could ban PMDs from void decks of public housing blocks.
Dr Lam said that the Attorney-General's Chambers have confirmed that town councils already have appropriate by-laws to do so.
"The town councils are currently discussing how to proceed moving forward," he added, urging town councils to develop common regulations so that PMD users and cyclists would not be confused as to when they have to dismount.
BRINGING JOBS CLOSER TO HOME BY BUS
As part of moves to make Singapore car-lite, the LTA also announced in the master plan that more Transit Priority Corridors (TPCs) would be built in the near future, featuring sections of bus-only roads and bus signal priority.
In some areas, existing roads will be reclaimed as shared spaces for active mobility.
Many of the other areas slated for TPC implementation are in districts that will be redeveloped as business and commercial hubs, specifically in Woodlands, Punggol, Jurong and Jurong Lake.
This is a bid to draw companies out of the Central Business District, bringing jobs closer to home and shortening daily commutes, the LTA said.
With faster buses and shorter commutes allowing for active mobility options, the notion that more MRTs would always be the answer to transport woes may evolve, said Assoc Prof Menon.
Citing the East Coast and Marine Parade areas as examples, he said that extensive bus connectivity could sometimes be the solution.
"I'm glad to hear that they are giving priority to buses. That's very encouraging to hear," he added.