Landmark laws, fiery exchanges mark second session of 12th Parliament
SINGAPORE — It has only been 15 months, but should the Parliamentary sitting earlier this week turn out to be the last before the polls are called, the second half of the 12th Parliament would not have been short on style or substance.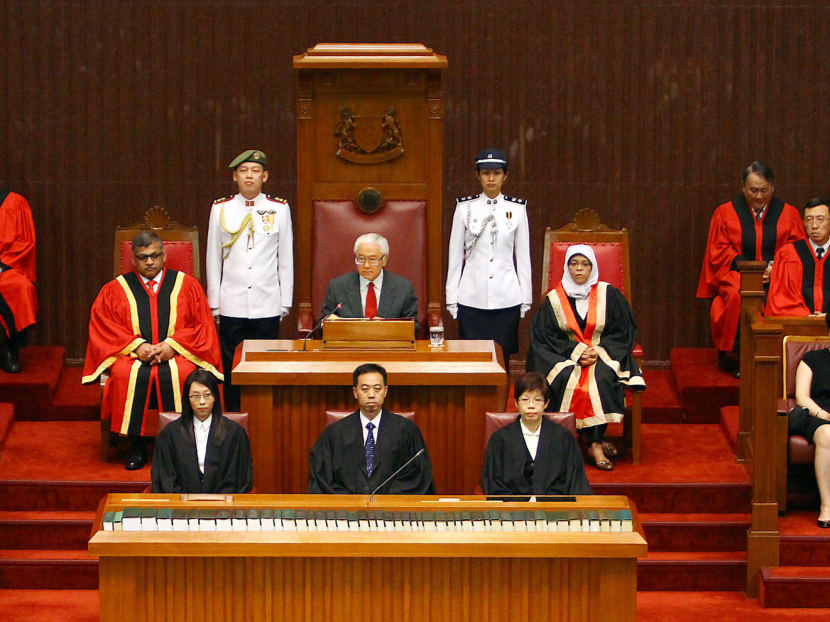 SINGAPORE — It has only been 15 months, but should the Parliamentary sitting earlier this week turn out to be the last before the polls are called, the second half of the 12th Parliament would not have been short on style or substance.
A total of 58 Bills were passed, including several landmark legislations and there were plenty of fireworks between the People's Action Party (PAP) Members of Parliament (MPs) and their opposition counterparts — particularly over the Aljunied-Hougang-Punggol East Town Council (AHPETC) saga, which saw PAP and Workers' Party (WP) MPs cross swords several times.
Among the Bills passed, several centred on public order, such as laws to combat human trafficking and organised crime. The Liquor Control Act, aimed to regulate alcohol supply and consumption in public places and minimise disamenities arising from drinking in public, was also passed in January, more than two years after the review of liquor-control measures first started.
Since Parliament reconvened in May last year, healthcare and retirement-adequacy issues took centre stage in the legislature, with the MediShield Life Scheme, aimed to provide universal healthcare coverage for Singaporeans for life, written into law in January.
A Bill on the new Silver Support Scheme, which disburses between S$300 and S$750 each quarter to needy elderly people, was among the slew of legislations passed at the two-day sitting earlier this week, as the 12th Parliament drew to a busy close. The only unfinished business — should the polls be called soon — is the review of the Town Councils Act, which has taken more than two years and counting.
Associate Professor Reuben Wong, a political scientist at the National University of Singapore, noted that, in particular, several "productive" debates centred on healthcare, such as on medical bills, the Central Provident Fund and whether Singaporeans should get support from the state in their old age. He added: "It is about time that we use more of our reserves and Budget to alleviate the burden on older Singaporeans and their families. So I think it makes a lot of sense, now with more aged ... Singaporeans."
Singapore Management University (SMU) law don Eugene Tan said the past year or so saw diverse views on policy issues involving single mothers, people with special needs and victims of human trafficking, for example.
As the WP's management of AHPETC continues to draw rigorous debates in Parliament — right up to the most recent sitting and beyond, political observers and analysts were split over whether the AHPETC tinderbox sparked more heat than light.
Nevertheless, they agreed on one thing: The debates on the topic, which were at times acrimonious, stood out in the second half of the 12th Parliament, which began with a fiery exchange between Senior Minister of State (Education and Law) Indranee Rajah and WP chief Low Thia Khiang over what constitutes "constructive politics". Assoc Prof Tan said: "Too often, the debates on AHPETC took on the flavour of verbal wars, where scoring political points seemed to be the order of the day."
Assoc Prof Wong felt too much airtime had been given to the issue. "I thought that was a lot of hot air, and Parliament time could have been better spent debating issues that would affect Singaporeans' quality of life."
But former Nominated MP Calvin Cheng disagreed as he felt the AHPETC debates were very important. "Because MPs have two responsibilities — one is to manage the town council and the other is their performance in Parliament. So if an opposition party can't even manage a town council properly, how can it manage a country? There are no jibes, I see those as very important questions."
QUALITY OF DEBATE
The analysts and observers whom TODAY spoke to were also divided on whether the record number of opposition MPs had raised the quality of parliamentary debates.
Assoc Prof Tan felt the stronger presence of the Opposition had added a sharper edge to the debates. "That meant that the front bench and MPs had to come better prepared for sittings. As a consequence, the quality of debates was generally high."
Political scientist Alan Chong of the S. Rajaratnam School of International Studies noted that several MPs who had made strong interventions came from the Opposition, including the WP's Mr Low, Ms Sylvia Lim and Mr Gerald Giam. "Perhaps, if the number of opposition MPs is doubled, the quality of debate will also be enhanced," he said.
Assoc Prof Wong also singled out Mr Giam for his performance. Describing the Non-Constituency MP as the WP's designated "transport man", he said: "He speaks up a lot and gets air time in the papers, so the public gets to understand the alternatives proposed to alleviate public transport issues."
However, other analysts criticised the WP MPs for not living up to its billing. Mr Cheng, for instance, felt their performance was "tame". "I was surprised that for a party that campaigned for a First World Parliament, they did not put in a single full parliamentary motion for debate," he said.
For the PAP, the analysts and observers were impressed by the officeholders — in particular, Social and Family Development Minister Tan Chuan-Jin, Ms Indranee and Minister of State (Health) Lam Pin Min. However, they felt the first-term MPs could do better. Assoc Prof Wong said: "I'm afraid I didn't notice any of the first-term backbenchers."
The first half of the 12th Parliament, which lasted 30 months, between October 2011 and April last year, was marked by spirited debates on the Government's White Papers on Ministerial Salaries and Population, and scandals that forced two MPs — PAP's Michael Palmer and WP's Yaw Shin Leong — to vacate their seats.
A total of 89 Bills were passed before the House took a mid-term break. The laws covered a range of areas and sought to address hot-button issues such as public transport and imported labour, which came to the fore during the 2011 General Election hustings.
As Singapore gears up for the coming GE, there has been some discussion on an MP's dual roles — looking after his or her constituents and their estate, and being a voice for them in Parliament by raising their concerns and contributing to policy debates.
Assoc Prof Tan said: "Neither should take priority over the other. While most MPs get elected or re-elected on the basis of their role in the constituencies and town councils … their contributions to the law-making and policy-making process should not be shortchanged."