Larger dine-in group size for Bloomberg forum delegates subjected to stricter rules than events like weddings: Gan Kim Yong
SINGAPORE — Delegates attending the Bloomberg New Economy Forum next month will be subjected to stricter Covid-19 protocols than those for weddings, for instance, and when dining in groups of up to five, they will do so at venues not open to the public, Trade and Industry Minister Gan Kim Yong said.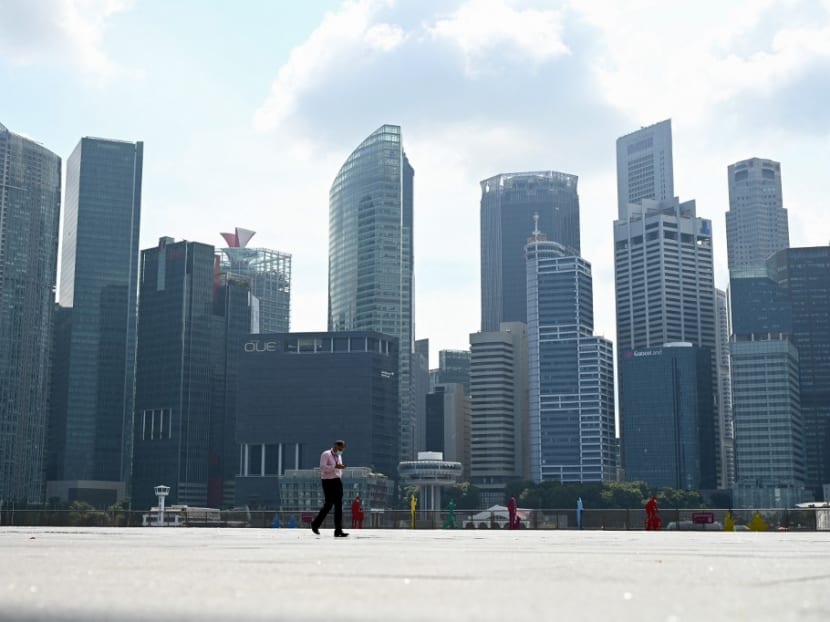 All delegates of the the Bloomberg New Economy Forum will be subjected to protocols that are stricter than weddings
They must all be fully vaccinated and undergo daily routine tests
Concessions were made to allow them to dine in designated restaurants in groups of up to five for networking purposes
Mr Gan Kim Yong does not expect any major outbreaks of Covid-19 to occur
SINGAPORE — Delegates attending the Bloomberg New Economy Forum next month will be subjected to stricter Covid-19 protocols than those for weddings, for instance, and when dining in groups of up to five, they will do so at venues not open to the public, Trade and Industry Minister Gan Kim Yong said.
He was unable to give more details, but Mr Gan said on Monday (Oct 25) that these venues will likely be restaurants located in hotels where the delegates are staying, or those within the vicinity of the forum venue, so that it will be "easier for them to travel within that limited time that they have in Singapore".
The forum is being held at Capella Singapore hotel on Sentosa Island.
Mr Gan said that participants who attend meals or meetings in these venues or restaurants must also be vaccinated or undergo a mandatory pre-event test and obtain a negative result before they are allowed to attend.
"This ensures that the venue is 'bubble-wrapped' and safe for everyone," he said.
Mr Gan's comments came after some Singaporeans expressed unhappiness that the delegates will be permitted to dine in groups of up to five, while household members across the wider community are not permitted to do so under the existing restrictions.
He said that the forum, to be held from Nov 16 to 19, will be no different from most meetings, incentives, conferences and exhibitions (Mice) events that have been allowed to continue during the ongoing pandemic, or even weddings.
Mr Gan, co-chair of the Government's Covid-19 task force, told reporters during a virtual press conference that up to 250 wedding reception guests do not need to undergo a pre-event test if they are fully vaccinated.
In contrast, the more than 300 Bloomberg forum participants from 51 countries — including current and former heads of states and global chief executive officers — will be subjected to "very strict protocols" such as daily pre-event Covid-19 tests and a requirement that they are all fully vaccinated.
On Sunday, a report in The Straits Times disclosed that the Bloomberg forum delegates will be able to dine in groups of five at specific venues.
This incurred the ire of many people, who questioned why these concessions were made when the general public have been told that it is still too "risky" to permit members of the same household to dine together in groups of up to five due to pressure on the healthcare system.
Mr Gan said that one of the key objectives of the forum is business networking and meeting as many people as possible.
To that end, entire venues and restaurants have been designated and must be occupied solely for the event and participants.
"In order for the Bloomberg forum to be effective... we will need to ensure that they have a space to be able to interact with one another... Not just one-to-one, but carry out discussions in a group setting," he said.
"Therefore we have allowed them to have a larger group when they are dining."
In any case, Mr Gan added that "eating is not a key feature" in these events, but rather the ability for the delegates to continue their discussions.
The Economic Development Board and the Singapore Tourism Board are holding talks with the forum's organisers on which restaurants will be designated dining venues for only the forum's delegates and invited guests who are taking part in the forum.
The forum is unlikely to see a major outbreak of Covid-19 since every delegate is required to be tested every day, and they will be picked up early before there is a chance for the virus to spread, Mr Gan added.
"It is possible we will pick up isolated cases…(but) we will have the capacity to manage them."
STAYING CONNECTED
When asked why the authorities had allowed the forum to take place, given the tighter restrictions the public is facing due to higher Covid-19 case numbers and fatalities, Mr Gan said that Singapore needs to remain "connected to the rest of the world".
"It is important for Singapore, as a hub city, to remain open. This is not only for purposes of business, it's also important for some of our own communities' social needs."
For example, the need to bring in workers to construct Built-To-Order public housing on time, as well as migrant domestic workers to look after seniors.
"The Bloomberg forum is taken in this light," he said. "It is part and parcel of our opening, and we need to re-establish our connection with the rest of the world.
"This forum is an endorsement of our strategy; it provides a very important platform for business leaders from all over the world to come together in Singapore, to have a physical meeting to discuss with one another, and to make sure that they have an opportunity to re-establish connection among the business community."
Mr Gan was asked whether similar concessions could be made for members of the public, if they are vaccinated and test negative for Covid-19. He replied that this may not be feasible at the moment.
The scale and potential of the risks of allowing the general public to dine in large groups are "quite different", he said, because it would mean applying to more people across Singapore and not just a limited number as in the case of the delegates.
As for whether a pre-event test requirement can be imposed to allow for larger groups to dine together, he said that the task force has to consider whether that is practical.
Unlike the Bloomberg forum, which is held for a specific period, it would not be a good solution if it were to be a requirement for anyone who goes for a meal, he added.
Still, he said that the authorities are "monitoring the situation" and looking into whether the dining rules can be relaxed for those from the same family or household.