Law to counter foreign interference passed after long debate over its extensive powers
SINGAPORE — Members of Parliament (MP) raised questions on what sort of communications over electronic devices would be considered clandestine and whether organisations, especially non-profit ones, are able to accept money from foreign donors.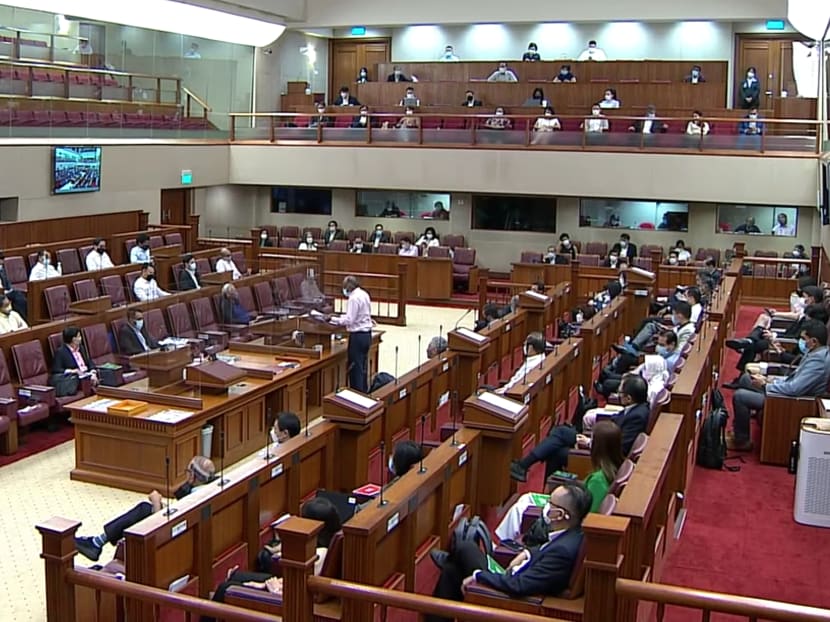 Parliament debated the Foreign Interference (Countermeasures) Bill for almost 11 hours and voted to pass the new law
Opposition party member Leong Mun Wai said the Government rushed to pass the legislation without much consultation with the public
Mr Leong irked Law Minister K Shanmugam with his questions and comments about the law
Members of Parliament sought answers to how powers given to Home Affairs Minister would not be abused
They also raised other concerns such as the law making Singapore seem less welcoming of foreigners
SINGAPORE — Members of Parliament (MP) raised questions on what sort of communications over electronic devices would be considered clandestine and whether organisations, especially non-profit ones, are able to accept money from foreign donors.
They also debated over the extensive powers accorded to the Minister of Home Affairs in the Foreign Interference (Countermeasures) Act (Fica). 
Non-Constituency MP (NCMP) Leong Mun Wai criticised the Government for rushing to pass this legislation without much consultation with members of the public. He tabled a petition earlier at the start of session on Monday (Oct 4) for the Bill to be debated another day.
However, the petition was not successful in delaying the debate, with Deputy Leader of the House Zaqy Mohamad proposing that the petition and the Bill be debated together, and it was eventually passed almost 11 hours later, with a few amendments proposed by the Workers' Party (WP) included.
Before its final voting, Mr Leong tried, once again, to delay the Bill's passage by asking Speaker of Parliament Tan Chuan-Jin to refer it to a select committee if he thinks that the legislation is a hybrid Bill, that is, one that prejudicially affects individual rights and interests. 
However, Mr Tan said that the Foreign Interference (Countermeasures) Bill applies to the public and not to an individual and therefore, is not a hybrid bill. Therefore, he cannot refer it to a select committee. 
Four political office-holders and 16 MPs from both sides of the House spoke during the debate, ending with Leader of the Opposition Pritam Singh calling for a division when the time came to vote past 11pm. 
The division bell was rung twice, at the second and third readings. In a division, the vote of each MP is collected and tabulated to ascertain whether the motion has the support of a simple majority of the MPs who are present and voting.
The votes cast were the same at both instances, with 75 MPs voting "yes", 11 MPs voting "no", and two Nominated MPs Tan Yia Swam and Shahira Abdullah abstaining from voting. 
All 10 WP MPs and Mr Leong of the Progress Singapore Party (PSP) voted against the Bill. 
Absent during the voting session were 16 MPs. 
Mr Louis Ng, MP for Nee Soon Group Representation Constituency (GRC), and Chua Chu Kang GRC MP Zhulkarnian Abdul Rahim brought up the matter of defining what sort of communication over digital platforms would be considered "covert" or "clandestine". 
Clandestine or covert online activities or operations where foreign agents seek to interfere in Singapore's political affairs will be deemed an offence under the new law.
Dr Shahira and Dr Tan, the NMPs, also raised the point about how the Minister of Home Affairs would have considerable powers, to the extent that he or she would be able to issue directives even if just based on a suspicion that a person or entity is acting on behalf of a foreign agent. 
"It is a lot of power in one man's hands. How can we protect it from future abuse?" Dr Tan asked. 
Dr Tan and Mr Ng also asked how organisations that sometimes depend on foreign funding will be affected by the new law.
Mr Ng said: "If they receive a grant from a foreign principal, would it suffice to state on their website the dollar amount received, the name of the grant-maker, and the terms of the grant? Would they need to print this material on all marketing material? Would it need to be in their Facebook posts and their Twitter profile?"
Bukit Panjang MP Liang Eng Hwa said that there may be some people who feel that this new law would make Singapore seem less welcoming of outsiders, a point echoed by Dr Shahira as well. 
Given the recent parliamentary debates on foreign manpower and the Singapore-India free trade agreement, known as the Comprehensive Economic Cooperation Agreement, Dr Shahira said that this legislation could be potentially discriminatory in nature. 
"This may have unintended effects on Singapore's reputation as a hub for global trade and investments that upholds its constitutional values of equality and fairness, and is something we should always be vigilant about," she added. 
Addressing some of the concerns raised by the MPs, Law and Home Affairs Minister K Shanmugam once again tried to allay these concerns and said that Singaporeans can discuss government policies or political matters, including with foreign individuals or organisations, "as long as they are done in an open and transparent manner and not part of an attempt to manipulate our political discourse or undermine public interest". 
He also said that the law does not cover members of the public expressing their own views on domestic politics. 
As for how the Government will determine what is covert behaviour, he said that it will look at indicators such as attempts to mask one's tracks or misrepresent one's identity, though the list is not exhaustive. 
REVIEW TRIBUNAL MEMBERS TO BE SCREENED
Addressing questions relating to a tribunal that will review appeals against a directive issued under the new law, Mr Shanmugam said that members of the tribunal will be selected based on their areas of expertise, and they have to undergo security vetting since they will be receiving highly classified and confidential information. 
These members will be given the same protection and privileges as a Supreme Court judge and they must also protect secret information under the Official Secrets Act. 
Mr Shanmugam particularly singled out Mr Leong during the debate and said that Mr Leong's comments on Fica in his speech were untrue.  
Mr Leong had called for the Bill to be put through a select committee so that it will be scrutinised closely. 
He argued that the Government already has extensive powers to counter internal security threats and prevent the spread of misinformation online, so there is no need to restrict the citizens' freedoms further. 
The provisions provided in Fica look worse than those in the Internal Security Act, Mr Leong remarked.
"Just look at some of the frightening implications on paper of an accused person under Fica. It is possible that you may inevitably commit an offence because the definition of an offence is broad and vague.
"There is no need (for the authorities) to give you a reason to arrest you. And if evidence is offered later, the Government does not need to reveal the source. And detention is non-bailable. You cannot choose your own legal counsel and can be trialled in absence. And to cap it all, there is no judicial review for all the actions that are taken against you," he said. 
In response, Mr Shanmugam said: "Of all the things that have been said today, this one takes the cake. I don't know if he has read the Bill, or if he has read it, I don't know if he has understood it, because I think we are talking about two different Bills". 
"I specifically said so in my speech… there is no detention without trial in this Bill. So, to suggest that someone can be detained, tried in absence, no judicial review? All of that is utter nonsense. I don't know where he got these ideas from," Mr Shanmugam countered. 
'BLOOD PRESSURE WENT UP'
When posing supplementary questions, Mr Leong said that Mr Shanmugam has not explained the reasons for rushing to pass the law. He also questioned the effectiveness of the legislation in countering foreign interference and asked why a judicial review is not part of the process, unlike other countries. 
Mr Shanmugam again berated Mr Leong for his comments that people can be detained without trial and said that his "blood pressure went up" while listening to the NCMP. 
He also chastised Mr Leong for dismissing examples of influence operations in Australia and Taiwan as "jokes". 
The PSP member had asked Mr Shanmugam to give examples of foreign agents influencing the politics of other Asian countries in a substantial manner and said that earlier examples given seemed to be like "jokes" since the foreign influence was discovered before any permanent damage was done. 
And as for why a judicial review is not conducted here while other countries do so, Mr Shanmugam said that there are trade-offs with each legislation. 
He raised the example of how New Zealand does not have an Internal Security Act. Thus, it was not able to act before a supporter of terrorist group Islamic State attacked members of the public at a supermarket, even though the authorities had information about him being a potential danger for years.