Leader of the House Grace Fu rejects renewed calls for live streaming of Parliament proceedings
SINGAPORE — Leader of the House Grace Fu has rejected renewed calls from two Members of Parliament (MPs) to live stream parliamentary sessions, which can now be convened in different locations to ensure safe distancing after a Bill was passed on Tuesday (May 5).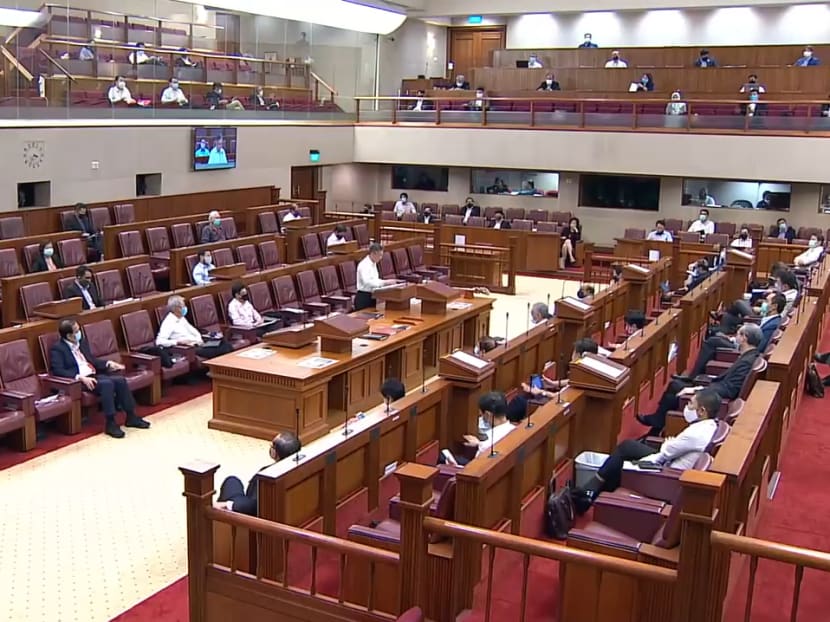 SINGAPORE — Leader of the House Grace Fu has rejected renewed calls from two Members of Parliament (MPs) to live stream parliamentary sessions, which can now be convened in different locations to ensure safe distancing after a Bill was passed on Tuesday (May 5).
Responding to Non-Constituency MP Leon Perera and Nominated MP Anthea Ong, Ms Fu noted that the issue had been discussed in the House before. She said: "There are channels available for members of the public, including students and overseas Singaporeans to easily access full parliamentary proceedings online in a timely, comprehensive and easily accessible manner."
She added: "They can view the complete set of footage of Parliament speeches, as well as questions and answers from each sitting on the parliament microsite (of news channel CNA). Parliamentary highlights are loaded onto this microsite within three hours of broadcast. In addition, the public has access to the full written record of parliamentary proceedings, via (the) online Hansard."
In 2017, Mr Chee Hong Tat, then Senior Minister of State (Communications and Information), said in response to Mr Perera, who is from the Workers' Party (WP), that there is low demand for a live feed of parliamentary proceedings.
Repeating what he said to WP MP Pritam Singh during a debate on the ministry's budget earlier that year, Mr Chee said that viewers who tune in to a major parliamentary speech such as the national Budget via a live feed is about 10 per cent compared with what was shown on free-to-air television news that same evening.
The latest calls from Mr Perera and Ms Ong came during a debate on Tuesday on the proposed constitutional amendments to allow Parliament to convene at two or more places appointed by the President if it becomes "impossible, unsafe or inexpedient for members" to meet at one place.
Presently, it is required by law for all members to meet in one place.
The changes were proposed in light of the Covid-19 pandemic, which also saw MPs wearing masks during the Parliament sitting on Monday and Tuesday. The measure came after safe distancing was first introduced during the March 25 Parliament sitting, when MPs were required to sit at intervals.
On the Bill, Ms Fu, who is also Minister for Culture, Community and Youth, said that it will enhance Parliament's ability to function even in exigencies such as the Covid-19 crisis.
The physical separation will limit contact and reduce the chance of the infection spreading among MPs, she added.
"During such exigencies, it is even more critical for Parliament to carry on its constitutional functions of legislating and holding the Government to account.
"We have seen the critical role played by this House in the last two months, when members passed the Covid-19 (Temporary Measures) Act, as well as the Resilience and Solidarity Budgets," Ms Fu said.
The presence of MPs at any of the appointed places will count for "attendance, quorum and voting purposes", and the powers, immunities and privileges of Parliament will be extended to apply to these arrangements.
REMOTE PARTICIPATION NOT AN OPTION
Ms Fu said that other options have been considered, such as remote participation that is being tried out by the House of Commons in the United Kingdom.
But Singapore need not go to that extent, she said.
"Singapore is a small country, and members should be able to travel to alternative sites for Parliament," she added. "We also wanted members to be physically and fully present to apply our minds together to the important business of Parliament, even if we co-locate (among) several places."
Mr Christopher de Souza, MP of Holland-Bukit Timah Group Representation Constituency, asked what would be deemed as "inexpedient" under the Bill.
In response, Ms Fu said that it could be "a health threat, a virus of another kind, a security threat, or even a natural disaster".
"So we need a broadly framed provision to capture all possible scenarios," she added.
Mr de Souza then said that bringing MPs together in a single location, regardless of their political party or affiliation, provides them the opportunity to feel the tone and nuance of fellow MPs speeches.
Nominated MP Walter Theseira said that technology cannot replace the need for human connections, which is an integral part of Parliament.
"We can certainly email any other honourable member and minister. Some of us may even feel comfortable calling or video conferencing at any time, but others will not," he said. "The discussions that we have in person on the grounds of Parliament, whether by design or by accident, form an important basis for trust, relationship building, and even national decision making."
Weighing in on Monday at the start of the Parliament sitting, Speaker of Parliament Tan Chuan-Jin said that the Bill was "timely and significant".
"In the current climate of uncertainty brought about by Covid-19, it is imperative that we prepare for exigencies… So we must be primed and ready to swiftly respond should such exigencies happen," he said.
He added that the "essential and fundamental role of Parliament continues" regardless of the challenging circumstances facing the nation.
"All over the world, other parliaments are similarly doing their best to persevere despite the extraordinary Covid-19 times we are living in," he said. "And our Parliament in Singapore can do no less."
Ms Fu said that there was no immediate need for the new arrangement to be put in place for the next Parliament sitting, which is expected to take place next month, since the average numbers of new cases in the community and cases with unknown sources of infection have decreased, as compared to the week before the circuit breaker was introduced on April 7.
After the Bill comes into force, it will be active for six months and can be deactivated at any time. "We hope there will be no need to activate these continuity arrangements but we cannot be certain how events will unfold," Ms Fu said.