At least 20 seats needed for a more effective Opposition, says WP
SINGAPORE — Workers' Party (WP) chief Low Thia Khiang has put a figure on what would make for a more balanced Parliament: At least 20 seats to the Opposition, to scrutinise the various government policies more effectively.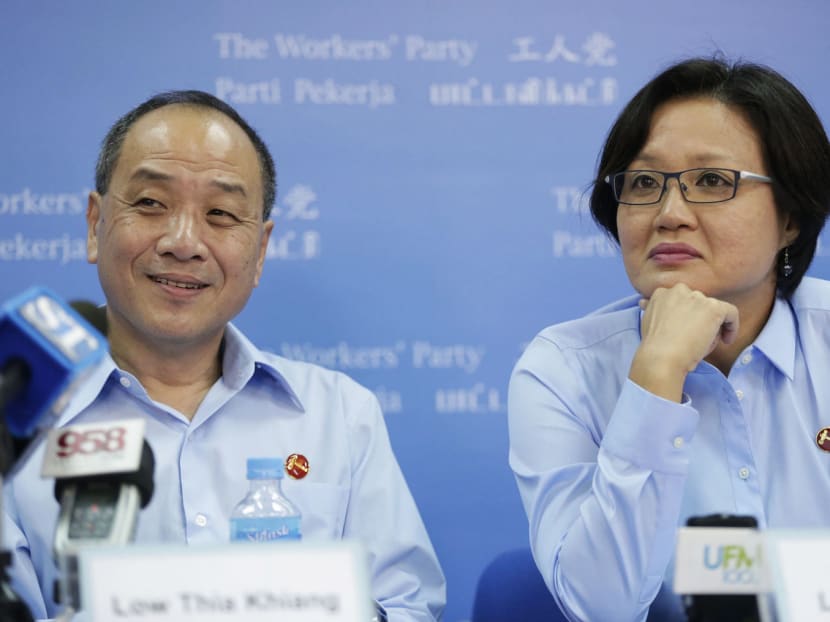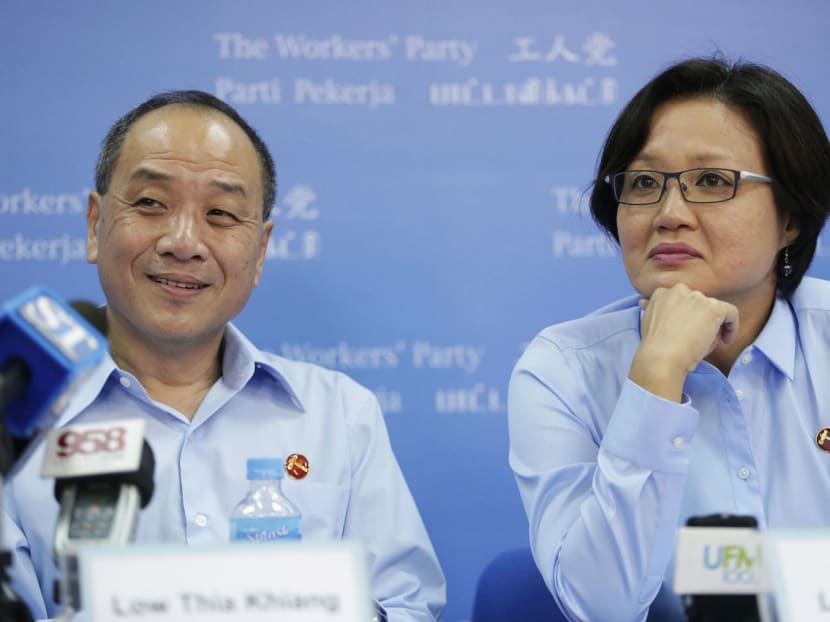 SINGAPORE — Workers' Party (WP) chief Low Thia Khiang has put a figure on what would make for a more balanced Parliament: At least 20 seats to the Opposition, to scrutinise the various government policies more effectively.
"For the Opposition to have enough resources ... you need to have at least 20 Members of Parliament to have enough people to keep watch on the Government," he said in response to a question as the WP began introducing its election candidates yesterday.
The WP's press conference was also an opportunity for its party leaders to frame, for the first time in this election season, the significance of the coming polls from their perspective.
Tracing the WP's progress in recent elections — from providing Singaporeans with a choice in 2006 to a First World Parliament in 2011 to its latest campaign theme, "Empower your future" — Mr Low said it was about reminding people that they were "masters of the land" through their vote.
Asked how fielding only 28 WP candidates would convince voters about empowerment, he said: "Empowerment is a process … If you look at the history of elections here, in 2001, people didn't even have a chance to exercise their right to vote."
At this turning point in the nation's history — acknowledged by both the People's Action Party (PAP) and, yesterday, the WP — Mr Low's message to voters was to think about the best way forward for Singapore.
"What we have ... relied on to succeed in the past 50 years may or may not necessarily be the same model or formula for us needing to succeed in future," he said.
And the question he posed to voters was whether it was a good model for Singapore if government leaders "cast a long shadow" on every aspect of life, versus a model where Singaporeans can be liberated to make their own judgments as the society matures with a larger talent pool.
"You might want to think about whether or not to continue to allow the PAP to decide your future rather than you ... participate in the decision-making process and have a say in the future that we want," said Mr Low. He further questioned if the largely one-party system of the past could be an obstacle to Singapore's future growth.
Mr Low's bottom line: There is a need to entrench the Opposition's presence in Parliament, and for Singaporeans to be aware of their powers to keep a check on the Government.
"Let's keep the Government on its toes for the benefit of Singaporeans ... If you want, then you have to entrench the process, so that you'll be in power ... (and) have a secure future, rather than wait for the next election and you're not sure how the results will turn out," he said.
Dismissing the notion that the WP is using the fear factor to get support for the Opposition, Mr Low pointed to the 1997 polls, when the ruling party reclaimed Opposition-held seats in Nee Soon Central and Bukit Gombak, and the unpredictability of election outcomes.
He also cited the importance of a "system of continuity" and not taking "one step forward and three steps back".
"We need to build ... people confident of themselves ... rather than taking a cue from the Government," he added, referring to this as psychological baggage from the past that is "curtailing" Singaporeans' thinking.
The party's stance, elaborated WP chairman Sylvia Lim, is that the passions and talents of Singaporeans should be tapped to move the country forward. "It's about people being able to run things themselves. We don't see the need for Government involvement in everything," she said, citing sports associations as an example.
As to what impact the Opposition has made on policies here, the WP leaders said the party would be elaborating in the coming days on the Opposition's contributions in Parliament since 2011, against a backdrop of some criticism of the WP's lacklustre performance.
When asked about Emeritus Senior Minister Goh Chok Tong's comments that there is a "certain arrogance" about the WP, Mr Low said he did not know what Mr Goh meant.
He added, however, that Mr Goh once said there was no need for the Opposition to check the Government because the PAP could check the PAP. "Is that not arrogance?" said Mr Low.
The WP's Yee Jenn Jong, who is tipped to be running in Marine Parade Group Representation Constituency (GRC), also hit back at Mr Goh's remarks that opposition parties were like "nomads".
Posting on Facebook, Mr Yee said that, based on his visits to different parts of the GRC, some residents recalled how they used to be in a different electoral constituency: "I think some even described themselves as nomads, moving constituencies without moving their actual house."