Local firm develops meat alternative from plants
SINGAPORE — With a protein-rich offering derived from plants, but which tastes like chicken, a local start-up has set its sights on pleasing meat eaters while incurring a smaller environmental footprint.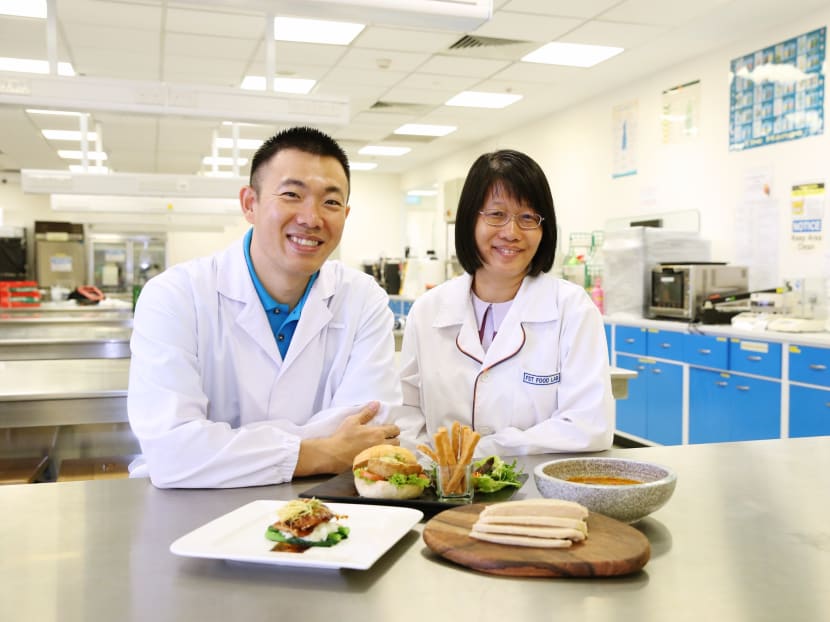 SINGAPORE — With a protein-rich offering derived from plants, but which tastes like chicken, a local start-up has set its sights on pleasing meat eaters while incurring a smaller environmental footprint.
Mr Ricky Lin, 35, founder of food technology start-up Life3 Biotech, is looking to attract about S$1.5 million in funding to set up a production facility for his plant-based protein.
Tentatively called Veego, it is possibly the closest made-in-Singapore product to "clean meat", which has generated excitement abroad among high-profile investors.
"Clean meat", or cultured meat, is grown from animal cells without the farming and slaughtering of animals. Its close cousin is plant-based protein that tastes like real chicken or beef.
Last month, it was reported that Singapore investment fund Temasek led a US$75 million (S$101 million) investment in American company Impossible Foods, which produces plant-based protein that tastes and looks like beef. The company genetically modifies yeast and uses fermentation to produce an iron-containing molecule called heme, which gives the patty its red colour.
Separately, billionaires Richard Branson and Bill Gates were among the investors who pumped US$17 million into "clean meat" company Memphis Meats in August.
Mr Lin has been working on Veego since June last year with a small team, zeroing in on the ingredients and processes that would deliver the taste, texture and nutritional content he wanted.
Working out of the food science and technology lab at the National University of Singapore (NUS) and advised by NUS senior lecturer Leong Lai Peng, Mr Lin believes he has a product that consumers will enjoy.
Unlike tofu, which disintegrates more easily, Veego can be sliced like real meat. It can be braised, steamed, stir-fried, deep-fried, and cooked in curry or teriyaki-style. After rounds of experimentation, it has gone from "yucky to tasty", said Mr Lin.
While the exact blend of ingredients is a trade secret, he said they include legumes, grains and soya beans.
"The product can go even further … to Version 2.0. Right now, it's about Version 1.5," said Mr Lin, who goes meat-free on Wednesdays.
"We've had a panel of analysts and business owners who have tested our product and they were happy, so we decided to launch with this first."
Even in a less evolved state last November, Veego (then called Veyotein) won two awards — the first runner-up and Most Functional awards — at the Food Innovation Product Award, organised by the Singapore Food Manufacturers' Association and supported by various government agencies.
Mr Lin, who will be speaking at a food innovation panel session at the TechInnovation industry event on Wednesday, said it could be fortified with more iron in future. TechInnovation is organised by the Ministry of Trade and Industry's Intellectual Property Intermediary.
According to him, Veego contains at least 18 grams of protein per 100g (tofu has about 8g while chicken breast has about 26g) and is high in fibre and low in saturated fats. It contains Vitamins A, B and C, and magnesium. Unlike mock meat, which is often made of soya bean skin and wheat gluten, Veego is gluten-free. Mr Lin has approached catering companies, restaurants and social enterprise NTUC Foodfare to taste his product.
Executive Chinese chef Brian Wong of Wan Hao restaurant at Singapore Marriott Tang Plaza Hotel has tried Veego a few times and said the product is versatile. Its nutritional content is a selling point, he said.
"I would not compare it to meat because if we compare it to chicken or pork, people would taste it with certain expectations," said Mr Wong in Mandarin.
"If it were up to me, I would (introduce it at the restaurant) because we have customers who are vegetarian, but who do not want mock (meat) because of the starch and chemicals."
Veego has garnered interest from food and beverage firms as well as institutional caterers that supply to nursing homes and athletes, and Mr Lin is hopeful that investors will come on board by end of next month.
He reckoned that with a 3,000 sq ft to 5,000 sq ft production facility, Life3 Biotech would be able to produce 25 tonnes a month for a start.
There is currently no government-funded research on "clean meat". Asked if it sees research and development potential, Dr Benjamin Seet, executive director of the Agency for Science, Technology and Research's (A*Star) biomedical research council, did not comment specifically on "clean meat".
A*Star is looking at how biotechnology can safely meet consumer demand for "clean labels" and natural ingredients in food, said Dr Seet.
Meanwhile, in a sign that consumer demand for meat alternatives may be growing, NTUC FairPrice outlets and RedMart recently began selling products from British brand Quorn.
The meat substitute is made from fermentation using a nutritious fungus. FairPrice's director (fresh products) Peter Teo said Quorn is the first plant-based protein available at the supermarket chain and has a "very similar texture to meat".
Consumers are more environmentally conscious, and FairPrice saw potential for Quorn products as they generate 90 per cent less greenhouse gas emissions and use 10 times less water than beef, he said. Four products began retailing last month at S$5 for a 300g pack and more will be available soon, said Mr Teo.