Locked out of rental flat the day he left prison, man reoffends and is jailed again for over 10 months
SINGAPORE — He became homeless after he was released from prison on Sept 19 and found that he had been locked out of his rental flat for failing to pay rent.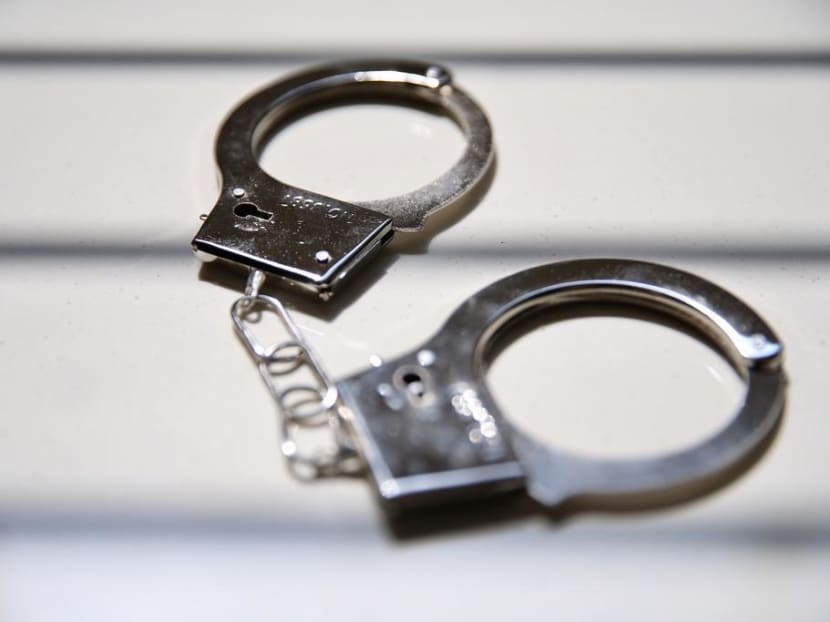 SINGAPORE — He became homeless after he was released from prison on Sept 19 and found that he had been locked out of his rental flat.
Moo Chee Kien, 48, then started sleeping at void decks of public housing blocks, and four days later, he found himself in handcuffs again after he was caught sniffing glue at one of these blocks.
Things got worse when he refused to provide a blood specimen and appeared at the State Courts on Sept 24 to be charged with that offence: He spat at a prison officer who asked him to stop playing with his shackles noisily. And this has put him behind bars again. 
On Tuesday (Nov 12), Moo was sentenced to six months' jail for spitting at the officer, and another three months' jail for failing to provide the blood sample. He will need to spend another 43 days in jail since he had committed the offences while he was released from prison on remission.
He pleaded guilty to both charges.
The court heard that Moo, who was not represented by a lawyer, had a 19-year history of abusing intoxicating substances and a 13-year history of committing violence against public servants.
His most recent prison sentence was 20 weeks for the same offence: Spitting at a public servant — that time a police officer.
So before sentencing him on Tuesday, District Judge Eddy Tham asked if he was going to continue living a life of crime. When Moo replied with just, "I am sorry, Your Honour", the judge said: "Is that all you're going to say? Just sorry?"
Moo then said: "I was emotionally unstable on that day as I had not consumed my medication. Please give me one last chance. I am sorry for what I have done."
Referring to a psychiatric report, District Judge Tham then asked about his homelessness. Moo told the court that he had been sleeping at void decks, adding: "I had not been taking a shower. I did not have money for my meals."
Upon hearing this, the judge asked for a Community Court Conference to be convened to address his "basic survival needs" among other areas of his life, highlighting that he will continue to have a high risk of committing other offences if these are not addressed.
"Give yourself another chance to lead a meaningful life," the judge told him, noting that glue sniffing has a "very damaging effect" on mental health.
The court heard that the police arrested Moo at Block 78, Redhill Lane at about 3pm on Sept 22 as he was suspected of inhalant abuse.
The police found on him a plastic bag containing a substance that was believed to be glue.
At that time, he also had several cuts on his forehead, and was taken to Singapore General Hospital where he refused a police officer's request for him to provide a blood specimen.
This amounted to an offence under the Intoxicating Substances Act, which could have put him in jail for up to three months or fined up to S$2,000.
He was hauled to court on Sept 24 to face that charge. And while waiting for hearings to be completed at a holding bay, he made loud metallic noises with his shackles, which disrupted court proceedings.
Prison officer Mohamed Rafi Mohamed Basiron, 40, entered the holding bay and got him to quieten down, but he started making loud noises again a short while later.
This time, when confronted, Moo shouted "I don't want" before he spat at Mr Rafi's face.
For this act of using criminal force to deter a public servant from discharging his duty, he could have been jailed up to four years, or fined, or both.
CLARIFICATION:  A previous version of this article said Moo became homeless after he was released from prison and found that he had been locked out of his rental flat for failing to pay rent. This was what was stated in the court documents. However, the Housing and Development Board (HDB) has clarified that on May 28, officers from the Neighbourhood Police Centre were responding to a resident's feedback when they saw that the door and gate of Moo's rental flat was left open and no one was inside. After confirming that Moo had been arrested by the Police earlier that day, the officers closed the door and secured the gate with a padlock to prevent unauthorised entry. A note was left outside the flat for the occupiers to contact them. Hence, it was not a case where his rental flat was locked out because he failed to pay the rent. In addition, HDB says its records show the rent had been paid punctually. There were no subsequent records of anyone approaching the NPC or HDB for assistance to access the rental flat. HDB added that it does not lock up rental flats of tenants who are in arrears.