Longer work attachments give SIT graduates an edge in securing jobs
SINGAPORE — His university days at the Singapore Institute of Technology (SIT) was when accountancy graduate Larry Liauw, 26, survived two trying periods auditing through the busiest seasons between January and April for two consecutive years with Deloitte, before he landed a job with a "Big Four" accounting firm.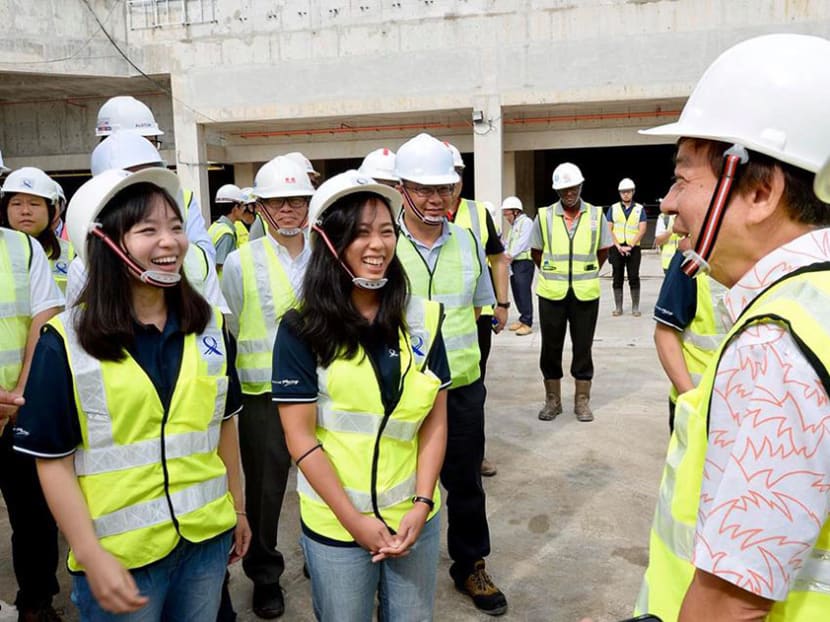 SINGAPORE — His university days at the Singapore Institute of Technology (SIT) was when accountancy graduate Larry Liauw, 26, survived two trying periods auditing through the busiest seasons between January and April for two consecutive years with Deloitte, before he landed a job with the "Big Four" accounting firm.
That was also when engineering graduate Lim Wei Xin, also 26, spent one uninterrupted year putting in late nights testing train systems as an intern with the Land Transport Authority (LTA). Upon graduation, she received an offer to work as a project engineer in its rolling stock department.
The two undergraduates' employment experiences are not exceptions. They typify what many graduates of SIT's autonomously offered degrees go through, as they are required to have longer-than-usual work attachments of between eight and 12 months.
As a result of the compulsory work-study programme — which was introduced in 2014 — more than four in five SIT students were offered a job before graduation.
This, the university said, is the secret to how last year's batch of SIT graduates were ranked Singapore's most employable graduates across five autonomous universities here.
In the latest Joint Graduate Employment Survey (GES) released on Monday (Sept 10), 92.3 per cent of last year's SIT batch secured a job within six months of completing their final examinations. The employment rate was 3.3 per cent higher than the 2016 cohort, while employment numbers for last year across National University of Singapore (NUS), Nanyang Technological University (NTU), and Singapore Management University (SMU) fell by 0.6 percentage points to 88.9 per cent.
Graduates who went through SIT's work-study programme are also doing well when it comes to salaries as compared with those from other universities.
The first batch of 134 accountancy students from SIT who graduated last year were paid the highest median gross monthly salary of S$3,088 when compared with the GES findings of like-for-like three-year courses offered by NUS, NTU and SMU. The median salary was S$3,025 for NUS graduates, and S$3,000 for graduates of NTU and SMU.
All 134 of these graduates last year went through either an eight-month work attachment or two four-month work stints with the same firm.
WHAT EMPLOYERS LIKE
Employers told TODAY that SIT graduates were able to hit the ground running as they did not require the six to 12 months of orientation typically undertaken by graduates from the other universities.
"Big Four" accounting firm Ernst & Young observed that the programme gave SIT graduates the opportunity to develop more in-depth skills.
Mr Christopher Wong, the firm's Singapore head of assurance, said: "This is a real plus for both graduates and employers. Such internship has enabled us to impart some of the required skills earlier rather later in the graduates' development programme."
Mr Liauw told TODAY that he had an "added advantage" of being able to jump right into handling clients and performing tasks without much supervision when he started full-time work with Deloitte as a year-one associate.
"We know what we are supposed to do as a year-one associate, because whatever we do during internship is similar to what a year-one associate does in terms of responsibility and scope," said the accountant of two years, who now manages a few junior staff members within the audit team he belongs.
Preliminary findings from SIT's surveys also show encouraging employment figures for this year.
Ninety-four per cent of the first batch of 67 graduating students from its new Sustainable Infrastructure Engineering (Land) programme — the degree Ms Lim pursued — who are not furthering their studies have found a job before graduating next month. Two in five will be employed in either LTA, SMRT or SBS Transit, said the university.
All the students went through year-long work attachments in the third year of their studies.
In an interview with TODAY, Associate Professor Ivan Lee, SIT's vice-president of industry and community, revealed that it is planning some changes to a few of the degree programmes together with its overseas university partners in order to arm students with more relevant skills when they enter the workforce.
For instance, SIT plans to make the aerospace systems programme offered under the University of Glasgow a joint degree, "to tailor it to suit economic needs" by shifting its focus from airline design to one that equips students with maintenance, repair and overhaul knowhow. The joint degree will also allow for SIT to make its flagship work-study programme a compulsory part of the curriculum.
Assoc Prof Lee said: "In the United Kingdom, this programme focuses on the design of aircraft systems, but in Singapore, we don't have such an industry. We have the maintenance industry, companies that make parts for aircraft.
"So, while it is a very good programme in (UK), there are no employment opportunities that directly fit this programme."
Twelve of such joint degree programmes have been part of SIT's offerings since September 2015. Together with the 12 degrees it offers autonomously, 24 of SIT's 43 degree programmes now include compulsory work attachments.
OTHER UNIVERSITIES OBSOLETE?
Human resource experts told TODAY that the GES results do not mean that the models adopted by NUS and NTU are obsolete. The addition of SIT students into the fray means the talent pool here is becoming more diversified to meet different industrial needs, they said.
Mr Erman Tan, president of the Singapore Human Resource Institute, said the two universities give students a better academic foundation, which puts them in good stead to perform more research-based tasks in the workforce.
In contrast, SIT students' strengths lies in how they require "less training time and orientation" as they are given a combination of practical and academic training to meet specific market needs, he said.
"(NTU and NUS students remain) relevant to the job market, yet the market gets talent with different types of grooming and talent-building models," added Mr Tan. He noted that tertiary education here is now more "complete and well-rounded".
"This is a very good sign, showing that we will be able to improve the future talents based on different types of business models as well as economic structure."