Looking Ahead to 2018: More disruptions in store for taxi industry
SINGAPORE — Roiled by the most aggressive moves yet by ride-hailing operators Grab and Uber in the past year, the seven taxi firms here are in for a period of reckoning, experts said.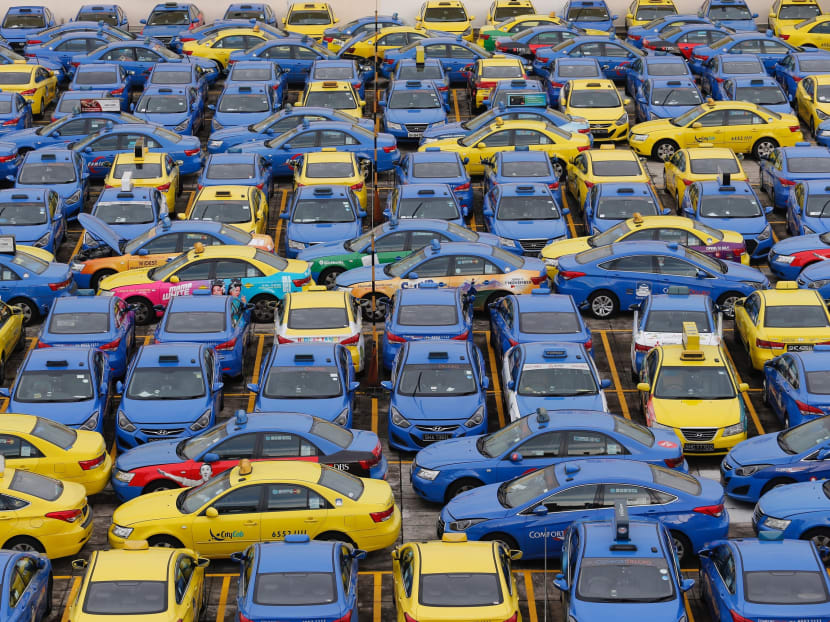 As the year draws to a close, TODAY kicks off a series looking at key issues on the local and foreign front in the next 12 months. In Singapore, we look at what lies ahead in areas ranging from political succession, climate change and the terrorism threat, to electronic payment, the property market and sports. Beyond our shores, the focus will be on the Malaysian general election and Singapore's chairmanship of the Association of Southeast Asian Nations. In the fifth instalment of the series, we focus on issues surrounding public transport — the impact of the mishaps on the rail network and how the taxi industry will have to navigate the disruption from ride-hailing. 
SINGAPORE — Roiled by the most aggressive moves yet by ride-hailing operators Grab and Uber in the past year, the seven taxi firms here are in for a period of reckoning, experts said.
Their business model, centred on picking up street hails, has been rendered obsolete as commuters turn to the greater convenience and affordability of private-hire cars, and as things stand, they could become little more than vehicle providers, transport experts predicted.
Meanwhile, Grab and Uber are poised to expand horizontally, into payments, for instance, now that they have firmly established a level of market dominance.
"Over time, the reactive and stodgy pace of development in customer-centricity and innovation left taxi companies quite vulnerable, and they have been in a dwindling and catch-up mode since the (private-hire) players entered the market," said Dr Zafar Momin, an adjunct associate professor at Nanyang Technological University's Nanyang Business School.
How the taxi industry fares amid the intense pressure from its ride-sharing rivals will hinge on "how much (it is) hungry to stay relevant", added transport consultant Tham Chen Munn.
TURNING UP THE HEAT ON CAB FIRMS
More so than ever since they landed here four years ago, Grab and Uber cranked up the pressure on taxi operators, from wooing drivers by improving employment terms and slashing vehicle rentals, to continuously doling out discounts for commuters to build up loyalty.
Grab, in particular, took things up a notch when it introduced a fixed-fare service subject to dynamic pricing called JustGrab in March, in the process growing its supply of rides through the fleets of five taxi operators — Trans-Cab, SMRT Taxis, Premier Taxis, Prime Taxi and HDT Singapore Taxi.
As the months passed, photos of idle cabs bearing long-time taxi giant ComfortDelGro's bright yellow and blue stripes languishing at the CityCab building in Sin Ming became the metaphor for the dire state of the industry. From January to August, the average proportion of cabs that sat idle rose to 9.8 per cent, nearly five times that in 2014.
In October this year, there were fewer than 24,000 taxis on the roads, unseen since 10 years ago. The same month, only 69 taxi driver's vocational licences were issued, a historic low — the highest ever was 555, in July 2011.
That the largest taxi population of 28,792 was seen just one-and-a-half years earlier, when ride-sharing was already available, illustrated the ground taxi operators have lost.
Their dominance cemented, the ride-hailing players could be looking at diversification, said analysts.
THE NEXT MOVES FOR TAXI AND RIDE-HAILING OPERATORS
Transport economist Walter Theseira from the Singapore University of Social Sciences said both Grab and Uber may be exploring business streams beyond that of ferrying passengers as a source of growth.
Grab, for instance, has pinned high hopes on its GrabPay e-payment platform. As for Uber, Dr Theseira noted that it has been investing heavily in developing self-driving cars in the United States.
Mr Tham, the transport consultant, felt that Grab and Uber could go "deeper into Mobility-as-a-Service as a means to make travel more seamless". Mobility-as-a-Service combines options from different transport providers into a single mobile service, eliminating the need for multiple planning.
"They may even collaborate with bike-sharing companies so that transport choices are (more) open to commuters," Mr Tham ventured.
Dr Zafar, meanwhile, predicts more collaboration among ride-hailing players, the Government and the transport ecosystem, as a whole, to leverage the potential benefits the private-hire industry brings.
"With the imminent inclusion of autonomous (and) electric vehicles, high-speed rail, seamless digital payment systems ... into the transport ecosystem, such collaborations would become even more critical in order to design and deliver continually more efficient, flexible and cost-effective services for commuters," Dr Zafar noted.
What does this augur for taxi operators?
Dr Theseira pointed out that taxi operators have gradually been converting their business model to being a fleet operator of vehicles for-hire. Grab mounted a campaign to lure ComfortDelGro's drivers over in October, claiming more than 3,000 joined its platform, with the bulk switching from being cabbies to private-hire drivers.
"They have largely ceded the role of matching passengers and drivers to the (private-hire) platforms. Only Comfort is really left as a booking provider, and (even then) their application is struggling to compete with (the likes of) Grab and Uber," Dr Theseira told TODAY, adding that the trend is likely to continue in the coming year.
Early analysis by experts in the aftermath of the S$642 million ComfortDelGro splashed out to buy over 51 per cent of Uber's car-rental arm — Lion City has a fleet of about 14,000 vehicles — was that it was inadequate to stem the taxi giant's bleeding business.
But Dr Zafar said the tie-up "may be a good way forward to jointly leverage their competencies and assets". He stressed though, that "the incumbents may not have too many cards left to play".
WHAT IT MEANS FOR COMMUTERS
With the ride-hailing companies gaining a commanding lead, some analysts said it was possible, though not very likely, that the landscape might return to the days of a duopoly, or monopoly, with one or both of them having control of the market.
Dr Theseira noted that the aim of both Grab and Uber would be to establish a monopoly. "Once a company establishes a dominant market position, it is likely that they will seek to use that position to generate profits. In such a case, only the threat of market entry, or the threat of regulation, will restrain them," he said.
Dr Zafar told TODAY that should such a scenario occur, "commuters could potentially stand to lose out in terms of cost and service", as they would have to "bear the brunt of this as they have little to no choice in monopoly or oligopoly situations to procure alternative means of transport services when they need it".
Transport specialist Terence Fan from Singapore Management University said the ride-hailing operators may "try to subtly raise prices to test the stickiness of their products" in the coming year.
Anecdotal evidence from commuters TODAY spoke to is that this has already happened.
Sales manager Olivia Yip, 39, who takes private-hire vehicle rides almost daily, said it was "more difficult to get (promo codes for discounts) these days".
Others report longer waits for their rides.
Drivers also stand to lose should one player become overwhelmingly dominant, said Dr Theseira.
"Market dominance (might not) necessarily mean higher prices for commuters, because sustaining demand is very important, but it will likely mean worse working conditions for drivers," he said. "Today, drivers have an alternative; with one player only, drivers will be forced to obey that company on everything or risk termination and being unable to earn a living driving."
Read: After a trying year that saw some unprecedented mishaps, how the MRT system holds up in 2018 will have a big say in whether the car-lite vision gets back on track, experts say.
*On Friday (Dec 29), look out for our report on Singapore's efforts to mitigate the effects of climate change.
Missed the earlier reports from our Looking Ahead to 2018 series?