GE2020: Low Thia Khiang's absence unlikely to significantly impact Workers' Party's chances, say analysts
SINGAPORE — The absence of former Workers' Party (WP) chief Low Thia Khiang from the coming General Election (GE) is unlikely to have a significant impact on Singapore's main opposition party's chances, political analysts said.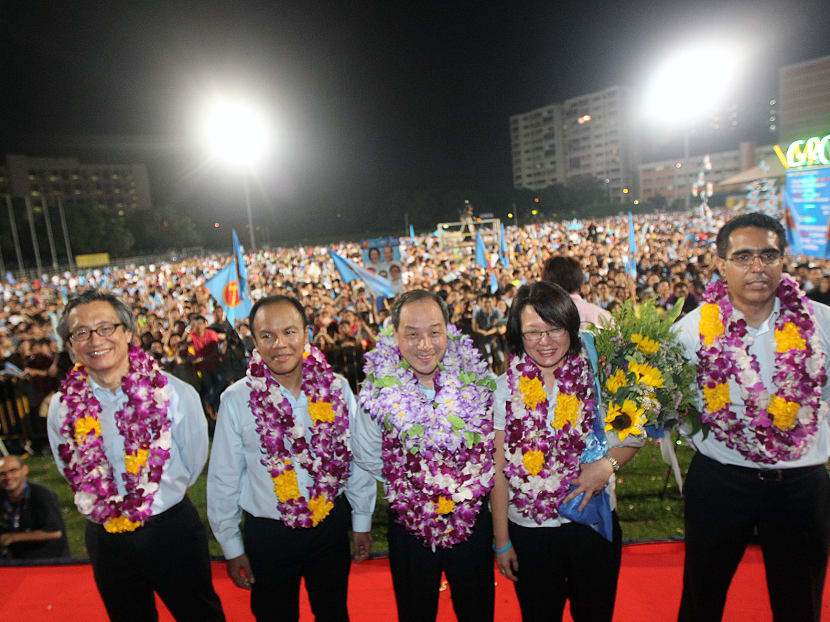 Ex-WP chief Low unlikely to remove himself completely from politics, say analysts
WP has nurtured younger leaders with extensive experience on the ground
Exit of WP's 'talisman' may galvanise support for party
SINGAPORE — The absence of former Workers' Party (WP) chief Low Thia Khiang from the coming General Election (GE) is unlikely to have a significant impact on Singapore's main opposition party's chances, political analysts said.
This is because Mr Low, 63, is unlikely to pull back completely from the political arena and the party has nurtured a slate of battle-hardened younger leaders with deep connections to the grassroots, they added.
But one analyst said that Aljunied Group Representation Constituency (GRC) — which the WP retained with a wafer-thin margin of 50.96 per cent in 2015 — is the party's biggest risk and Mr Low's exit could erode some of its voter base there.
WP chief Pritam Singh announced Mr Low's decision to step down as a Member of Parliament (MP) on Thursday (June 25).
Singapore's longest-serving opposition MP, Mr Low was MP for Hougang for 20 years before he led a team to wrest Aljunied GRC from the ruling People's Action Party (PAP) in 2011. It was the first time a GRC fell to an opposition party.
Mr Singh said that Mr Low, along with fellow outgoing WP MPs Chen Show Mao and Png Eng Huat, had expressed their wish to step down at the end of their term.
He said that they were not retiring and it was a collective decision based on three considerations: Broadening WP's leadership base, allowing senior WP leaders to mentor younger members, and ensuring that the party remains relevant to Singaporeans.
Most political analysts whom TODAY interviewed said they do not expect Mr Low's departure to affect the party's electoral chances.
Dr Gillian Koh, deputy director for research at the Institute of Policy Studies, a Singapore-based think-tank, said Mr Low would not be far from the political scene and would likely continue to lend his political capital to his successor, Mr Singh.
"Mr Low still has the confidence of his WP team, not least the current secretary-general, Mr Pritam Singh," said Dr Koh.
Political commentator Eugene Tan, a law lecturer at the Singapore Management University, said that Mr Low's decision to step aside might even make it "slightly less difficult" for WP to retain Aljunied GRC and Hougang.
The move, he said, may galvanise support for WP.
Calling Mr Low the party's "talisman", Associate Professor Tan said that his stepping aside would likely spur voters to consider what that means for the future of the elected parliamentary opposition in Singapore.
"That could result in a Low Thia Khiang dividend for his colleagues who are contesting," he added.
"Voters there will have to confront the issue of the place of the WP, the leading opposition party, in our system of government."
Political analyst Alan Chong of Nanyang Technological University said that the younger leaders who are replacing the outgoing MPs have had a demonstrated record on the ground and are familiar faces to the public.
Former Non-Constituency MPs Leon Perera and Gerald Giam will contest in Mr Low and Mr Chen's place in Aljunied GRC. Mr Dennis Tan, another outgoing Non-Constituency MP, will be WP's candidate in Hougang, taking over from Mr Png.
Assoc Prof Chong said the three men were "up-and-coming second-echelon leaders" who gained prominence in the last few GEs. Mr Gerald Giam, for instance, was part of a team that nearly won East Coast GRC in 2011, with 45.17 per cent of the vote.
Political analyst Woo Jun Jie said that WP's latest slate of candidates in Aljunied GRC was "about the best-line up" the party could muster.
Apart from Mr Giam and Mr Perera, the other three WP candidates in the GRC are incumbent MPs Sylvia Lim, Mr Singh and Mr Muhamad Faisal Manap.
ALJUNIED GRC WP'S 'BIGGEST RISK'
But Dr Woo cautioned that the Aljunied constituency was the party's biggest risk.
With its razor-thin victory in 2015, Dr Woo said the party runs the risk of some support there being eroded, especially among those more attuned to Mr Low's brand of campaigning and politics.
He noted that WP's messaging appeared to be shifting to a younger and more professional crowd.
"What remains to be seen is how many young voters can be pulled over and whether some of the older voters may be lost because they are not used to this new style," said Dr Woo.
As for Hougang, Dr Woo said that there are residents who are loyal to the WP brand and the party's image and messaging, and Mr Low moving aside will not change this.
Agreeing, Assoc Prof Chong believes that Mr Tan, WP's candidate in Hougang in the coming polls, is established enough to retain the seat.
In 2015, Mr Png clinched the Hougang seat with 57.66 per cent of the vote. He first occupied the seat after winning a by-election there in 2012 with a 62.1 per cent majority.
Mr Tan has been helping Mr Png in the ward for three years.
"Whoever starts out on the grassroots in Hougang would generally enjoy having some of the initial aura of legitimacy, favour and popularity of the incumbent," said Assoc Prof Chong.
"Mr Png also performed spectacularly well despite his somewhat low-key personality. I would expect this kind of continuity."
IMPACT OF GOH CHOK TONG'S RETIREMENT
WP is set to field 21 candidates in four GRCs and two single-member constituencies (SMCs): Aljunied GRC, Marine Parade GRC, East Coast GRC, Sengkang GRC, Hougang SMC and Punggol West SMC.
Mr Low is not the only political veteran making way for new blood in the coming election.
PAP stalwarts Goh Chok Tong, prime minister from 1990 to 2004, and Mr Khaw Boon Wan, the outgoing Transport Minister, will retire as MPs.
Asked if Mr Goh's exit from Marine Parade where he has been an MP for 44 years would increase WP's odds in the constituency, Assoc Prof Tan said that voters who supported the PAP in the last election would not stop backing the ruling party just because Mr Goh is retiring.
He noted that Mr Goh's successor, general practitioner Tan See Leng, was handpicked by Mr Goh and has understudied him for at least two years.
Concurring, Dr Woo said that Mr Goh was staying on as chairman emeritus of the PAP's Marine Parade branch and would likely still be involved at the grassroots level.
WP's electoral odds also depend on who it decides to field there, he said. The party has not revealed this.
Even so, WP would suffer a greater loss from Mr Low's exit than the PAP would from losing its party stalwarts like Mr Goh and Mr Khaw, said Dr Woo.
"For the longest time, WP has been associated with Low Thia Khiang," he said.
"He has been driving the leadership of the party for a much longer time, whereas the PAP has been systematically shifting new members into leadership positions and systematically moving down the older stalwarts."