Lower 3-5% growth forecast for 2022 due to high base in 2021, say economists, who expect F&B, services rebound
SINGAPORE — Economists are generally upbeat over Singapore's continuing economic rebound even though the official forecast is for slower 3 to 5 per cent year-on-year growth in 2022 after this year's projected 7 per cent expansion.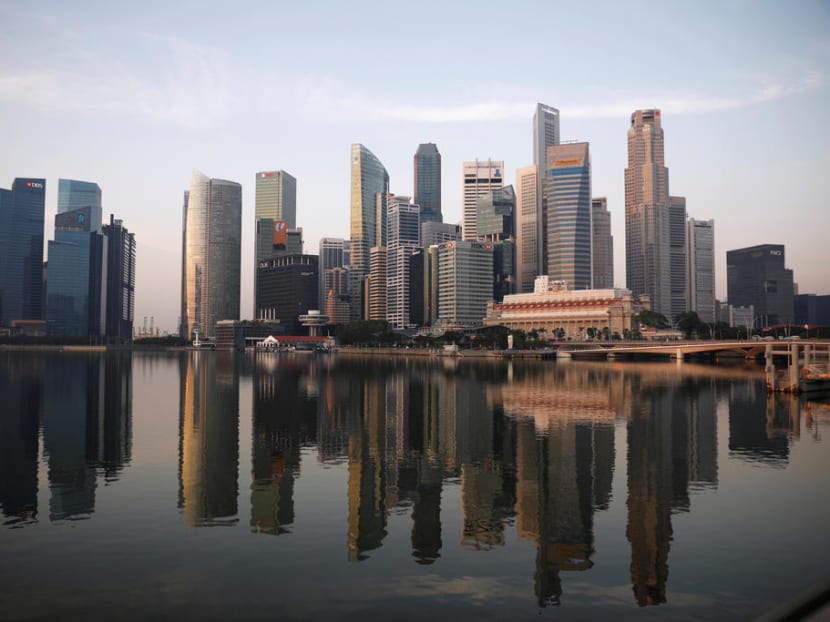 The growth in 2022 is lower than the 7 per cent growth projected this year.
This lower growth is due to the higher base in 2021, buoyed by the poor showing in 2020
The uneven recovery is led by the F&B and services sector, which will be boosted by the resumption of more in-person activities
China, however, remains a key economy to watch, as its zero-Covid policy could continue to hurt Singapore's economy
SINGAPORE — Economists are generally upbeat over Singapore's continuing economic rebound even though the official forecast is for slower 3 to 5 per cent year-on-year growth in 2022 after this year's projected 7 per cent expansion.
They noted that the lower figure is to be expected given the high base created by the bounceback this year after a grim year in 2020.
Commenting on the figures released by the Ministry of Trade and Industry (MTI) on Wednesday (Nov 24), the economists pointed to an upswing in activity ahead for in-person sectors such as food and beverage (F&B), services and retail trade.
However, they cautioned that the uneven economic recovery could be held back by key sectors such as manufacturing that rely on overseas demand, adding that policy decisions in China over its "zero-Covid" stance will be crucial.
The economists told TODAY that because year-on-year economic growth measures the size of the economy in one year against the previous year, the above-average 7 per cent projected growth figure for Singapore this year as the economy began to reopen reflected that it was compared to a challenging economic year in 2020.
This in turn means that 2022 will be measured against a stronger year in 2021, leading to the moderation of the growth rate for the year ahead.
As the Covid-19 pandemic took hold last year, Singapore's economy shrank 5.4 per cent, reflecting measures such as the two-month circuit breaker period when much economic activity was put on ice.
Senior economist Irvin Seah from DBS bank said that the 7 per cent growth figure projected for this year is a "rebound" from the low base last year.
He also said that the main impetus for 2021 growth came from a 15.2 per cent year-on-year expansion in the second quarter.
The strong growth was due to the low base in the corresponding quarter of 2020 when the economy contracted 13.3 per cent due to the circuit breaker from April to June that year.
He added that the growth expected next year will represent a return to "normalisation in growth".
UNEVEN GROWTH ACROSS SECTORS
The economists said that the key driver of growth will be the gradual reopening of the economy leading to increased demand and hence, the creation of more jobs.
However, this will lead to an "uneven" recovery across different sectors.
While there is an expected pick up in in-person activities as Covid-19 restrictions ease, the economists acknowledged that it may not have as much of an impact on the relatively larger external-facing sectors such as manufacturing, which may not see such strong growth.
Mr Song Seng Wun, an economist from CIMB Private Banking, is forecasting 4 to 6 per cent growth next year, as he is "upbeat" about the contribution of in-person activities to an uptick in the economy.
"I would be looking for more significant growth and contributions from the services side to our economy as there are more in-person activities such as concerts, sports events, business meetings." 
He said that for sectors such as F&B, they would begin seeing growth starting December, with the holiday season around the corner coinciding with the increase in social gathering sizes from two to five.
"Hopefully, (this surge) will carry on through the first quarter (next year)." 
MTI said in its statement on the forecast, however, that consumer-facing sectors such as retail trade and F&B are unlikely to return to pre-Covid levels by end-2022 due to the dine-in and event restrictions that could remain in place and weak visitor arrivals.
Agreeing, Mr Song said that the growth of these sectors will be dampened by the absence of tourists — there were 1.6 million tourists visiting Singapore a month before the pandemic.
"We won't be seeing that yet," he projected.
Ms Selena Ling, head of treasury research and strategy at OCBC bank, said that an uptick in consumer demand for these sectors will also create more jobs.
She is forecasting that the economy will grow 3 to 5 per cent next year.
"These have been the lagging sectors, so a recovery to pre-Covid levels would be a boost, especially from the employment angle," she said.
However, even if there is a tremendous surge in the F&B, tourism, and services sectors, Mr Seah from DBS said that these sectors do not take up a "sizable share" of the Singapore economy.
He, too, had forecasted the economy to expand by 3 to 5 per cent next year.
"These sectors will not be able to offset entirely the growth normalisation in sectors that have previously done well," he added.
One such sector is manufacturing, which grew by 7.2 per cent in the third quarter year-on-year, but this had moderated from 17.9 per cent growth in the quarter before.
"Those sectors that have done well this year and last year, their growth pace is moderating and normalising," Mr Seah said.
CLOSE WATCH ON CHINA
The economists agreed that China will be the market to keep a close eye on, as it could be potentially the biggest dampener of growth.
Mr Seah said that due to China's zero-Covid policy, there will be a "potential slowdown" in demand from China for goods and services here.
"China is a very important market for many regional countries, and if China really slows down more than expected, then it will have an impact on the region and hence, an indirect second-order knock-on impact on Singapore." 
While the tourism industry will be affected — Singapore had 3.6 million visitors from China in the three quarters before the pandemic struck — Mr Seah said that the impact will be "more deeply felt" in the trade channels for manufacturing goods and consumer products.
"We need to watch China very closely… China will be the number one risk to Singapore's growth prospect as we head into 2022." 
Mr Song from CIMB agreed with this point about China's reduced economic activity affecting the region, but he believes that its zero-Covid policy may not be set in stone.
"If the Chinese authorities persist in clamping down with its zero-Covid policy, you will see that reflected in supply disruptions around the world," he said.
"But this is subject to movement… what we see from China (now) is not necessarily what we will see in the next six months or so.
"I think the Chinese authorities will probably recalibrate based on whatever new information they have with regards to the pandemic or treatment (options)," he added.
CONCERNS WITH INFLATION
MTI also noted that external inflationary pressures are likely to remain elevated next year, and that overall inflation is expected to come in around 2 per cent this year and average 1.5 to 2.5 per cent next year.
Core inflation, which strips out private transport and accommodation costs, is projected to rise between 1 and 2 per cent next year, the Monetary Authority of Singapore said last month.
Mr Song said that inflation will be due largely to supply chain issues caused by the pandemic and to companies choosing to pass increased costs down to the consumers as the economy recovers.
Mr Seah projects that overall inflation will be at 2.4 per cent next year, at the high end of the official forecast.
"I think inflation will emerge as the key risk as we head into the second half of 2022," he added.
MTI said that it would continue helping Singaporeans from lower-income households who need support for their basic living expenses — with assistance such as ComCare and the permanent Goods and Sevices Tax voucher scheme.