'Mad rush' by F&B businesses to use up or donate perishable items, with food also being dumped
SINGAPORE — Caught by surprise by the sudden announcement that their business operations will have to stop temporarily from April 22, food-and-beverage (F&B) businesses selling bubble tea, desserts and snacks had to scramble to find ways to manage their stock.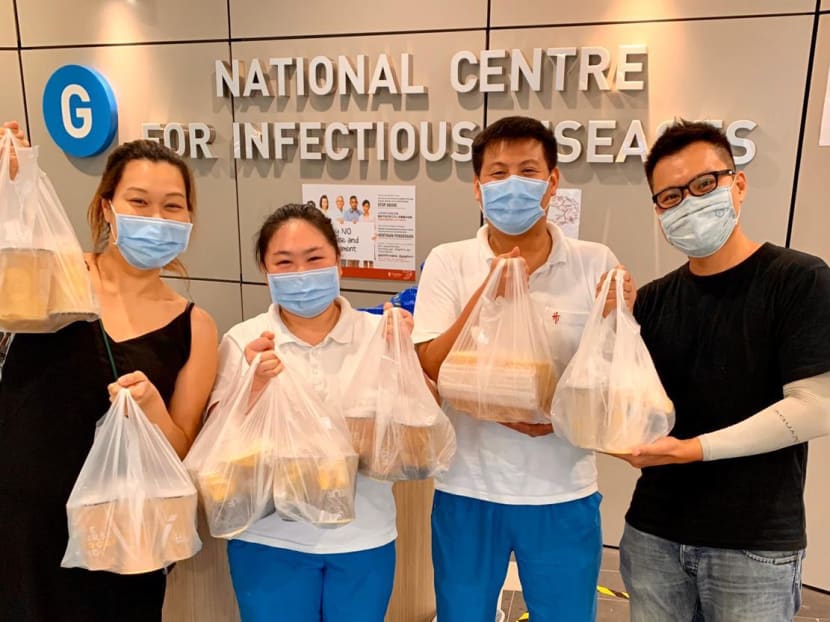 SINGAPORE — Caught by surprise by the sudden announcement that their business operations will have to stop temporarily from April 22, food-and-beverage (F&B) businesses selling bubble tea, desserts and snacks had to scramble to find ways to manage their stock. 
Some had to throw away unused ingredients that could not be stored, while others distributed the ready-to-eat items among their colleagues or to donation drives. The more enterprising ones used up ingredients to make drinks and ice cream that they gave away for free to healthcare workers as a gesture of gratitude.
F&B businesses that sell predominantly drinks, packaged snacks and desserts such as doughnuts, pastries, cakes, cookies and soya bean milk had to close until at least May 4, the Ministry of Trade and Industry (MTI) said on Tuesday.
This was part of regulations and precautionary measures to restrict the movement of people and pare down business operations to curb the spread of Covid-19. This circuit breaker period, which began on April 7, was supposed to end May 4 but is now extended to June 1.
From April 22, F&B operators may still sell food products through online deliveries or takeaways — if the items are made in a central kitchen, warehouse or manufacturing facility. However, they have to stop making items such as chocolate, titbits, ice cream, cakes and confectionery. 
National Development Minister Lawrence Wong, who co-chairs the government task force tackling the pandemic, said on Tuesday that the suspension of these "less critical consumer services" was to further reduce the percentage of Singapore's workforce who commute daily from 20 per cent to 15 per cent. 
Mr Tham Ying Wai, 38, owner of Merely Ice Cream, said that he would have to close his shop and dispose of at least 15kg worth of egg yolks that were meant to be used to make ice cream.
"We have no choice… because they have a short shelf life," he said. "We ordered them before the Government announced the extended list of services that had to shut down."
Mr Tham added that he had to quickly deliver ice-cream orders on Tuesday to clear as much of his inventory as possible. 
"It was a mad rush for us to send out everything on Tuesday," he said. "Maybe a grace period of two days to send out the orders would have been good."
He also asked his employees to take home the leftover ice cream that they were unable to sell. 
Even before Tuesday's announcement was made, Ms Delcie Lam, 36, owner of Delcie's Desserts and Cakes, already began making more cookies to sell instead of cakes.
"I did foresee that shops selling bubble tea and cakes would have to shut down, so we started to focus on making more cookies because they have a longer shelf life."
Ms Lam also said that she tried to pack perishables such as flour into her freezer to extend their shelf life. 
"As our products are vegan and non-dairy, they generally require specific storage conditions to ensure best quality. Frequently used key ingredients such as nuts, flaxseeds, wholemeal flour, almond flour and coconut flour will be kept chilled during shutdown," she said, adding that she also had to tell her supplier to hold off the shipment for ingredients that were supposed to arrive on Wednesday.
Mr Joshua Wong, 36, owner of Sindy Durian, had to close one of his two outlets that sold mainly desserts such as ice cream and pastries. The branch at Somerset is closed but the other on Whampoa Drive could continue operating because it sells fresh durian. 
Mr Wong has packed about 200kg of durian paste meant to be used in his cakes into his freezer at the store.
"Usually, the paste can last for about two to three months and I received the paste last month," he said. "So hopefully, the circuit breaker does not extend again from June or it may go to waste."
FREE BUBBLE TEA, ICE CREAM
In thinking of ways to get around the disruption, some operators decided to distribute their food items to healthcare workers. 
Mr Benjamin Lim, 39, brand manager of Woobbee, which sells bubble tea, said that they made 350 cups of the drinks and delivered them on Tuesday to healthcare workers at hospitals such as the Singapore General Hospital, the National Centre for Infectious Diseases and Sengkang General Hospital. 
"We were already planning to distribute some of the bubble tea drinks to these workers, but after the announcement, we decided to deliver the drinks quickly."
Ms Faith Yap, 28, manager of Tom's Palette, an ice-cream shop along Middle Road, said that it distributed about 120 cups of ice cream to healthcare workers at Sengkang General Hospital. 
"The shelf life for our ice cream is about three weeks, and by the time June comes around, it would go bad, so we thought why not donate them to the healthcare workers to thank them," she said.
"We have friends and customers who are frontline healthcare workers, and we've heard about their gruelling shifts and seemingly endless work load. We just wanted to do a little something that would brighten their day."
HANGING ON, COPING WITH LOSSES   
The F&B operators approached by TODAY said that they are unsure if they could recover the losses incurred in the coming months. 
Mr Lim of Woobbee said that there had been a gradual dip in sales since February and sales dropped by about 30 per cent since the circuit breaker started on April 7. 
"Most of our outlets are in the Central Business District, so we have seen most of our walk-ins drop drastically with more people working from home, but at the same time, our deliveries have gone up tremendously, too," he said. "Overall though, there was still a dip in sales of about 30 per cent."
He added: "I do foresee some losses but we are grateful that the landlords and the Government are assisting us. Most of our landlords passed on rebates they received from the Government to us and the Government has been supporting us through wages subsidies."
Workers at the five Woobbee outlets will still be paid during their leave for this extended circuit breaker period, Mr Lim said. "We'll be looking at no-pay leave as the last resort."
Ms Mayee Fong, 27, who founded Bob The Baker Boy, a shop in Yishun selling customised cakes, said that sales were about one-and-a-half times better than on usual months when the circuit breaker started.
"Our sales from deliveries skyrocketed, not just for us but for all bakeries, and many of us ended up doing overtime to fulfil them," she said. "I think people were craving sweet treats then."
Her employees will still get paid throughout the circuit breaker period but because it now has to stop operating, sales for the beginning of this month will be enough to cover the losses for the rest of April, she added.
"For the next month though, I don't know how we will cover the losses and am hoping that the circuit breaker does not extend even further because it will be worrying."
If you are an F&B owner and still have ingredients or food items left, you may consider donating them to The Food Bank Singapore, who will distribute them to beneficiaries.