Some maids caring for elderly suffer from overwork, interrupted sleep, abuse
SINGAPORE — On most nights, foreign domestic worker Dewi Cahyani, 33, gets to sleep for eight hours before starting her day.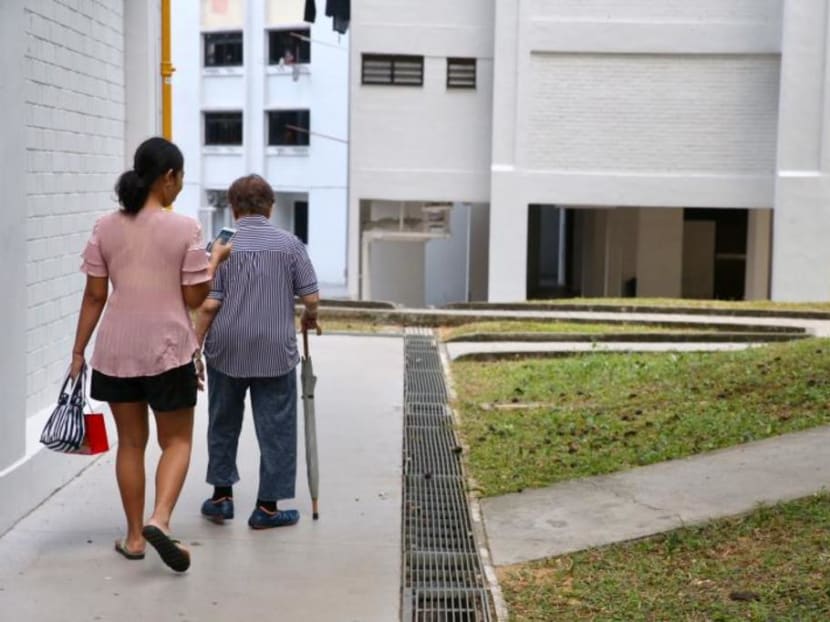 A report released on Wednesday shed light on the caregiver burden carried by foreign domestic workers
This stems from poor job matching, overworking and lack of emotional support and information on caregiving 
It has resulted in many helpers facing abuse and irregular sleep, which has affected their well-being
SINGAPORE — On most nights, foreign domestic worker Dewi Cahyani, 33, gets to sleep for eight hours before starting her day.
The 81-year-old elder she had been caring for in the last 10 years sleeps with her 56-year-old employer, who is a full-time homemaker.
"I will take over the next morning so (my employer) can sleep… Since she's considerate, I try to be, too," she told TODAY in Bahasa Indonesia.
While Ms Dewi counts her lucky stars to be paired with her employer, others like her are not so fortunate.
Another worker who was named Athena, 30, would be awakened every two hours at night by the loud voice of her employer's 85-year-old mother — whom she called "Ah Ma".
She would then have to take Ah Ma, who tended to have mood swings and could sometimes get physically abusive, down to the nearby supermarket to calm her down.
"Every night, every midnight, we would go down (to the supermarket)… I cannot sleep (because) she will shout, 'Wake up, wake up, we go down'," the Filipina said. She had been working with her employer for nearly seven years.
Athena was the name used in a joint report released on Wednesday (Nov 11) by gender equality organisation Association of Women for Action and Research (Aware) and the Humanitarian Organisation for Migration Economics (Home).
It highlighted the plight faced by some of the domestic workers here who care for seniors.
Titled "Neither family nor employee: The caregiver burden of migrant domestic workers in Singapore", the organisations conducted interviews with 25 workers aged 27 to 53 providing eldercare to find out about the challenges on their job.
Interviews were also done with four employment agencies, seven employers for eldercare and five providers of formal eldercare training. These interviews took place between December 2019 and September 2020.
One of the workers interviewed was named Kala, a 48-year-old Indian national who cared for two elderly women — one with dementia and the other who had diabetes — despite having no formal eldercare training.
Ms Kala said that she got headaches from sleeping four hours daily. She would wake up in the middle of the night when the older women woke up. One of them, who was prone to falling, also wandered around the house at night.
THE BURDEN OF BEING A CAREGIVER
The helpers interviewed for the study worked an average of 14.5 hours a day, juggling caregiving responsibilities and housework — causing many of them to suffer from headaches, body aches and interrupted sleep.
The majority — 84 per cent — of the respondents did not have a weekly rest day, and when they were granted time off from work, it was never a full 24 hours.
Ms Kala, who was paid S$550 and was given two rest days a month, said that she did not take her days off at times because she did not think the elderly women could take care of each other.
She was also not compensated for it, because there was an understanding between her and her employer that it was her choice to not take the rest days, not because she was instructed to do so.
Furthermore, with no standard guidelines to assess the caregiving needs of seniors as well as the caregiving abilities of dmoestic workers, one in five respondents said that they were providing a higher level of care than they were initially told to prepare for before starting work.
Ms Dewi said that this happened with her previous employer, who did not inform her that on top of caring for two elders, she also had to keep his three-storey terrace house in order.
With caregiving being a physically and emotionally draining task, the report also highlighted the lack of information and emotional support for maids to deal with their wards' evolving needs.
For example, among those interviewed who cared for persons with dementia, 55 per cent said that they faced verbal abuse while 36 per cent of them received physical abuse.
Researchers found that the stress faced by domestic workers — known as caregiver burden — stemmed from poor job matching, overwork and a lack of emotional support as well as information specific to caregiving duties. 
This affected their ability to provide high-quality eldercare and compromised their efficacy rate. They also had a fear of being blamed for incompetent caregiving.
Ms Shailey Hingorani, head of research and advocacy at Aware, said during a press conference on Wednesday that domestic workers also found themselves getting less rest during the Covid-19 pandemic, where employers are working from home.
Ms Jaya Anil Kumar, a case manager at Home, said that the lack of regulation of these caregivers' working hours leads to complaints of overwork, which adversely affects their well-being.
"Domestic workers are workers like anyone else in Singapore, and it does not make any sense to treat them differently," she added.
Asked about the sample size of the survey, which is small when compared to the more than 250,000 foreign domestic workers employed in Singapore, Ms Hingorani said that the non-profit organisations do not have the resources to carry out a nationally representative survey.
RECOMMENDATIONS MADE
To combat overworking, the study suggested, among others, that the helpers' work and rest hours be regulated, taking into consideration the nature of caregiving work.
Another recommendation is to create caregiving-specific information to help them cope with a range of challenging situations.
Ms Anamar Brage, 48, told TODAY that she has a support group here that she can tap to share her struggles and exchange resources.
The Filipino, who has been working in Singapore for 23 years, added: "When people ask me if I have problems, I always tell them that you need patience (for this job)."
To better match domestic workers to employers, the study also suggested an accreditation system to certify the workers' skills and train them adequately.
Ms Hingorani said that a successful matching process provides information that is accurate and up-to-date about what the job scope is before the person is hired, so that they can prepare for what is expected of them.
Ms Janice Tan, director and senior registered nurse trainer at 1 Care Employment Agency, said that when the domestic workers are matched to their employers according to their skills level, there will be a high retention rate.
She has seen a success rate of 75 per cent in job matching and the agency, which serves about 200 caregivers annually, has seen a majority of the domestic workers it represents renewing their contracts.
The report also suggested that the Government work towards professionalising live-in caregivers through a scheme akin to SkillsFuture — which allows Singaporeans to take up training courses that are work-related to boost their employability.
This will allow the domestic workers to receive corresponding salary increments.
Ms Fadilah Hasan Basri, 45, who hired an Indonesian domestic worker to keep an eye on her 81-year-old mother with dementia when she was at work, admitted that she did not realise that the helper was overworked.
"It was only when she returned home to Indonesia (earlier this year) that I realised how often my mum wakes up at night," the interior designer said.
The mother of two children, aged 17 and 14, said that she allows her helper to take naps during the day when her mother is sleeping.
Ms Alexandra Tan, 29, said that she paid a higher rate to employ a Filipina who is trained to care for her grandmother — a stroke patient.
The account executive added: "I think agencies normally teach them the basics but not all of them learn how to properly care for the patient. I would rather pay more knowing that I'm leaving my grandma in the hands of someone who is very equipped."
Inform your views: Join Today for our lunchtime webinars every Thursday from Nov 12 to Dec 3, as we discuss issues surrounding activism, cyber vigilantism, gender equality and mental health. Get more information here