Man jailed 1 week for hitting autistic 5-year-old boy at indoor playground
SINGAPORE — A father-of-two lashed out at a five-year-old boy with autism at an indoor playground in Yishun, not knowing that he had special needs.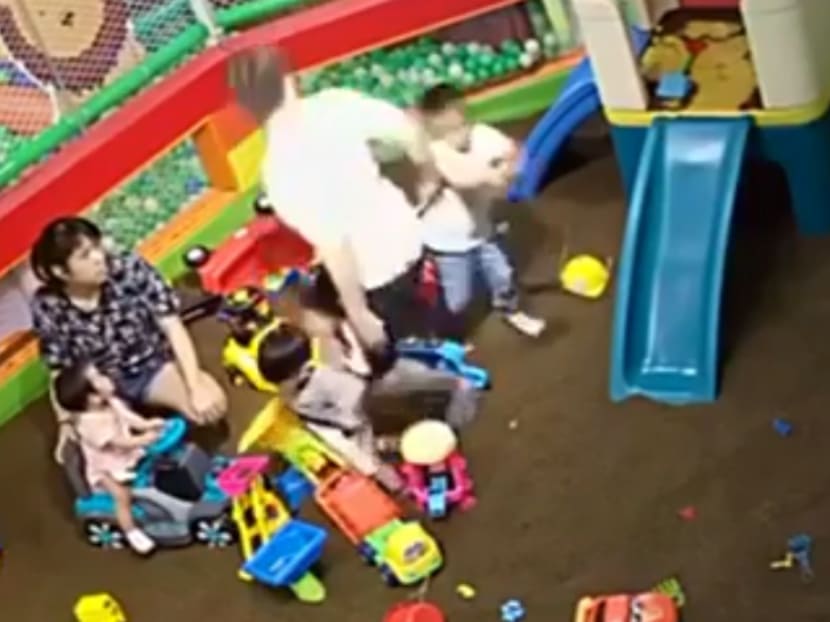 SINGAPORE — A father-of-two lashed out at a five-year-old boy with autism at an indoor playground in Yishun, not knowing that he had special needs.
Soo Wen Jie wanted to prevent his own son from being hurt, so he kicked the other boy, pushed him away and hit him again.
On Tuesday (June 4), the 28-year-old operation supervisor was sentenced to one week behind bars by District Judge Ng Peng Hong, who noted that a custodial sentence was warranted.
"Looking at the circumstances — harm was caused to a five-year-old child — this calls for the (sentencing) principles of retribution and deterrence. Fortunately, in this case, no serious injury has been caused," the judge told Soo.
Soo had pleaded guilty to one charge of causing hurt to the victim, who cannot be named due to a court gag order to protect his identity. Another similar charge was taken into consideration for sentencing.
Soo's lawyer, Mr Walter Silvester, said in mitigation that his client would have been "more understanding" if he knew the victim was autistic. In fact, Soo's child has been referred for showing signs of autism, the lawyer added.
"This was a case of ignorance… What my client did was wrong, he's not denying it, but there was no premeditation. He just wanted to prevent his son from getting hurt," Mr Silvester argued.
He also said that the incident would not have happened if the victim had been supervised, and that the boy had bothered them at another part of the playground and followed them when Soo moved his family away.
"He should have been more discreet but no great hurt was caused," Mr Silvester noted.
While Soo had twice offered compensation to the victim's mother, who was in court on Tuesday, she rejected it both times.
WHAT HAPPENED
The court heard that the incident took place on the afternoon of April 9 last year, at Sunshine Childhood Playland in Northpoint City shopping mall.
Soo, his wife and two children — then aged 10 months and 20 months old respectively — were playing in the sand pit.
Soo then stood in between his son and the victim, as he had noticed the latter "playing roughly" in another part of the playground, said Deputy Public Prosecutor (DPP) Chee Ee Ling.
Closed-circuit television footage of the incident was played in court.
When the victim tried twice to take a blue plastic shovel that Soo was holding on to, Soo pulled the toy away.
The boy then hit Soo's back out of frustration. Soo retaliated by raising his leg backwards and kicking him in the abdomen, causing the boy to stagger back.
Soo threw the shovel aside and squatted down to tend to his son. When the victim hugged Soo from behind, he pushed the boy away and the boy responded by hitting his back again.
Soo then stood up, swung his arm backwards and hit the boy's upper body, causing him to fall on his side.
The boy's mother, who was at the playground's ball pit, came over after hearing the commotion and moved him to another area.
Later that evening, the boy told her during his bath he was feeling pain in his abdomen. She contacted the playground operator to get the CCTV footage, before lodging a police report the next day.
DPP Chee called Soo's conduct "egregious" and noted that the boy suffered from disturbed sleep and nightmares. She said that he had a meltdown about a week after the incident when his mother hugged him, saying: "Naughty uncle beat me, why uncle beat me?"
The prosecutor added that Soo had other options, such as searching for the boy's parents or leaving the playground.
"Instead of doing so, he chose to attack a vulnerable victim — not once, not twice, but three times," she said. "A strong message must be sent to all like-minded offenders that it's unacceptable to take matters into their own hands by inflicting violence as a means to teach others a lesson."
For causing hurt, Soo could have been jailed up to two years and fined S$5,000.