At Mandai zoo, these sex-crazed 'soldiers' are being studied to help process lion and tiger dung
SINGAPORE — Due to their very active sex lives, black soldier flies are being harnessed at one corner of the Singapore Zoo to break down food waste and manage waste more sustainably, in particular, faeces from carnivorous animals.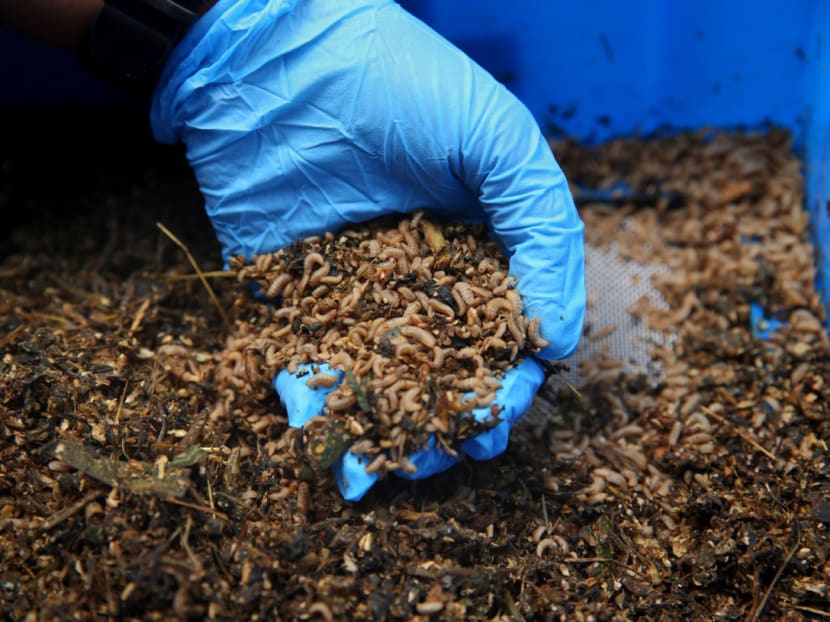 SINGAPORE — Due to their very active sex lives, black soldier flies are being harnessed at one corner of the Singapore Zoo to break down food waste and manage waste more sustainably, in particular, faeces from carnivorous animals.
In the first study of its kind in the world, researchers in Singapore will keep watch on the larvae of these flies as they feed on waste churned out by carnivores such as lions, tigers and bears — to see if the larvae can produce good compost and whether they are safe enough to be food for other animals.
Dr Lily Ganda, a lecturer at Republic Polytechnic's School of Applied Science and one of the researchers leading the study, said: "One very interesting thing about black soldier flies is that they hardly eat and they mate often."
The fly itself is harmless and measures about 1.5cm in body length. Its lifespan as an adult fly is incredibly short — at just a week, even though its life cycle is 44 days from larva to adult fly. During this time, the fly mates twice a week on average and produces 200 to 300 eggs each time.
The larvae of these highly productive breeders are then used to break down and convert waste into plant fertilisers. The nutrient-rich larvae could also be fed to other animals as food. 
The year-long study, led by Dr Ganda and Dr Francis Cabana, assistant director of zoology at Wildlife Reserves Singapore (WRS), ultimately aims to build a sustainable and closed-loop or self-contained waste management system in the parks.
Dr Cabana said that three parks under WRS — which includes the zoo, River Safari and Night Safari — produce about four tonnes of waste daily in the form of animal food waste and animal faeces. 
Of the four tonnes, just 200kg to 300kg are waste from carnivores.
The system they are studying will help to manage just a portion of the waste generated at WRS and the future parks it runs.
NEW RESEARCH ON 'CARNIVOROUS' WASTE
The larvae of black soldier flies have been known to feed on discarded food and most research has centred on using them to break down animal food waste and the faeces of herbivores or plant-eating animals.  
Research on them processing the waste of carnivores or meat-eating animals has not been done before because there were concerns about the high meat content in carnivores' waste. The meat that carnivores consume has a higher chance of being contaminated than, say, plants eaten by herbivores, and the larvae may absorb the contaminants as they feed on the waste.
However, the team at WRS decided to proceed with the study anyway.
Dr Cabana told TODAY: "Black soldier flies have the ability to suppress bacteria. We are testing to see if these pathogens are present inside the larvae reared on carnivorous waste and their compost, to determine their suitability as animal feed and soil conditioner respectively."
The project, which started in March, is backed by the Mandai Research Fund, which was set up by Mandai Park Development to support efforts to strengthen Singapore's environmental knowledge base, WRS said.
The research team soon found that the top meal choice for the larvae are leftovers from food fed to zoo animals, followed by the faeces of carnivores.
Dr Ganda said that the uptake rate of animal food waste is twice that of carnivores' waste, and four times that of herbivores' waste.
The size of the larvae reared on carnivores' waste is larger than others, probably due to the protein content present in such waste.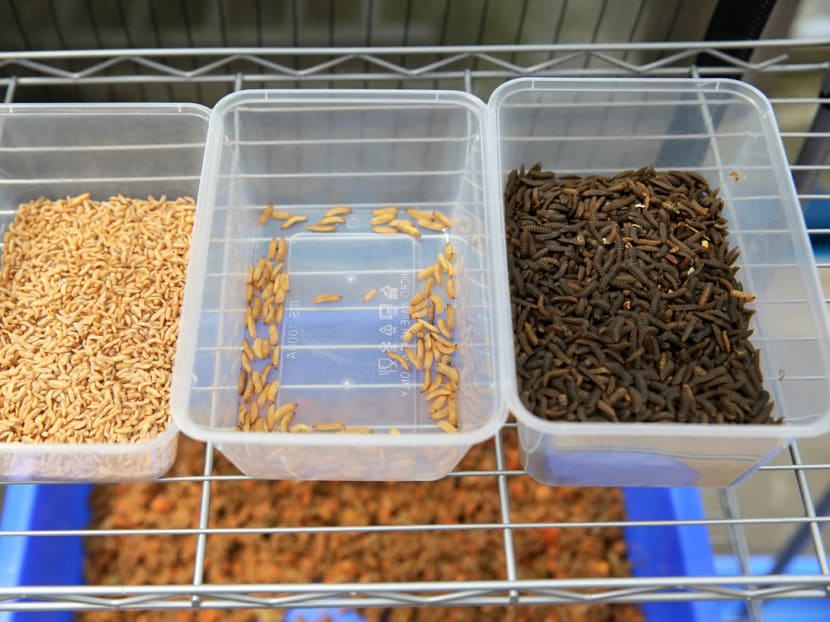 The facility at the zoo is now housing a larvae population of 5kg, which can process up to 20kg of waste weekly.
The target is to process 100kg of waste a day by January next year.
FEEDING TIMES
Animal food waste that is collected each day go through a dehydrator to remove all liquid before being added into compost bins and loaded with larvae.
"Animals or insects are like us. Soggy food might not entice them," Dr Ganda quipped in the facility.
The compost will then be sieved into a bin and tested to see if it may be used as fertilisers.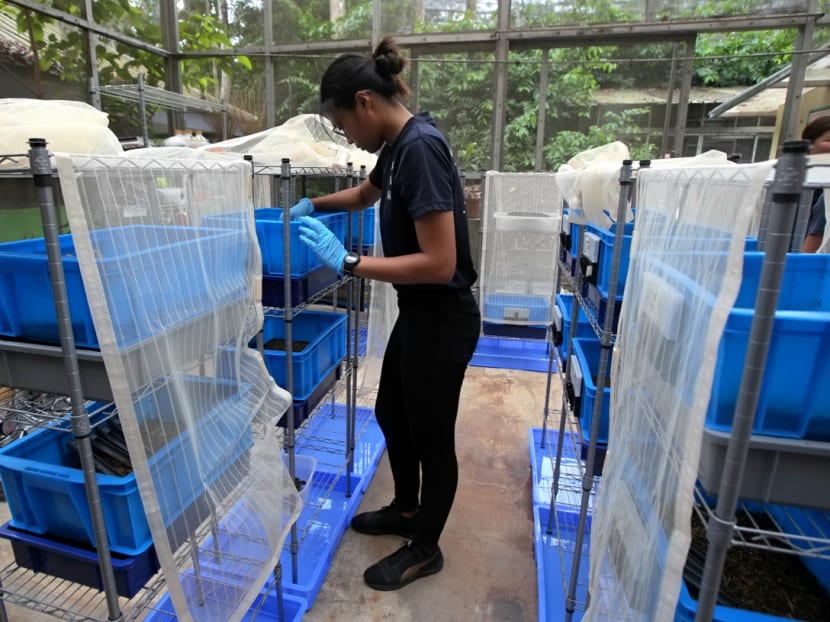 Dr Ganda stressed that none of the larvae-processed feed produced in the study has been given to the animals in the parks yet as they are still testing if it is safe for consumption.
"With this (system), we are able to recycle this biowaste into a useful product, as a protein source for animal feed. And it does not close any opportunities for future human food," she said.