Maserati owner says he lent car to a man named 'Kelvin' and was not driver in alleged hit-and-run
SINGAPORE — The owner of a Maserati involved in an alleged hit-and-run case that left a traffic policeman severely injured said on Wednesday (Oct 9) that he was not the man behind the wheel that night.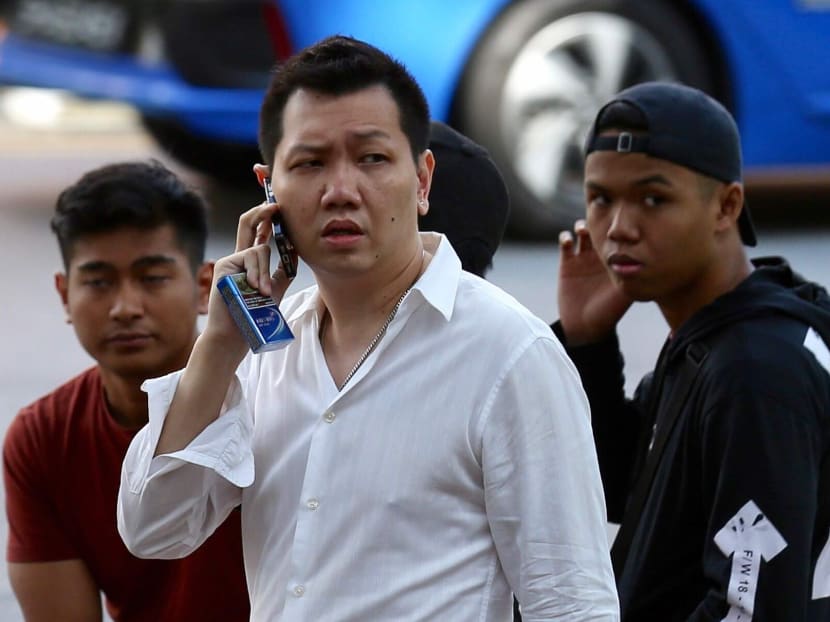 SINGAPORE — The owner of a Maserati involved in an alleged hit-and-run case that left a traffic policeman severely injured said on Wednesday (Oct 9) that he was not the man behind the wheel that night.
Lee Cheng Yan, 35, told the court that he had lent his car on the night of Nov 17, 2017 to someone he knows only as "Kelvin", a man he had met briefly about four months earlier and whose full name and address he does not know.
It was Kelvin, he said, who was driving the car when the incident happened.
Lee faces 69 charges and the prosecution is proceeding with 10 for the trial, including one charge each of voluntarily causing grievous hurt to a public servant, driving while under disqualification, rash driving and obstruction of justice.
The court heard on Wednesday that Lee was at first "reluctant" to let Kelvin borrow his car — which he had bought about a week earlier for S$175,000 — but eventually agreed because Kelvin told him that he needed it just for a few hours.
In his statement to the police two years ago, Lee had described Kelvin as a man who was 1.8m tall, has a fair complexion and a skinny build.
While cross-examining Lee, Deputy Public Prosecutor (DPP) Senthilkumaran Sabapathy asked if Lee agreed that the description of Kelvin fits the description of himself — and Lee agreed.
Lee had also said in his statement that Kelvin was wearing a white T-shirt, checkered shorts, and slippers. This description also matched the attire that Lee wore on the day of the incident, which was captured in a video footage of Lee that was shown to the court.
However, Lee asserted that their appearance was not entirely similar: Kelvin's T-shirt was "fully white", Lee said, while his was "sportswear with luminous stripes and designs on both sides". 
Kelvin was not present in the court on Wednesday and has not been called to the stand during the trial. 
Later, DPP Sabapathy suggested to Lee that Kelvin was "an afterthought he concocted", but he denied this.
LEE'S VERSION OF EVENTS
Lee told the court that at around 7pm on Nov 17, 2017, he had left his house to hand the car key to Kelvin. 
Kelvin then drove off from the parking lot at Lee's public housing block, while Lee went to a coffee shop nearby to have dinner. About an hour later, he took a taxi to visit his friend, Mr Jeff Chan.
Lee said that he remembered reaching Mr Chan's house at around 9pm. Another friend, Mr Jason Ong, was there but he left after 10 minutes to pick up his girlfriend, Lee said. 
Later, at around 11pm, another friend called Lee to tell him that there was a video circulating online, which showed a white Maserati involved in a hit-and-run accident. The car in the video looked like Lee's. 
Lee started looking for the video online and when he told Mr Chan about it, his friend advised him to make a police report.
At this point, Lee said that he was "quite anxious and worried" because he had not signed any agreement with Kelvin about borrowing his car. He was also wearing a white T-shirt similar to what Kelvin was wearing.
It was Mr Chan who suggested that Lee change out of his T-shirt and throw away the one he was wearing, he said.
When Lee's lawyer, Mr S Balamurugan, questioned if Lee had asked for a T-shirt from Mr Chan, he said: "No, I just told him that when I (lent) Kelvin the car, he was (also) wearing a white T-shirt". 
However, DPP Sabapathy noted that in his statement two years ago, Lee had told the police that it was his idea to change and throw away his T-shirt.
At Mr Chan's house, Lee later received a call from another friend Jeffrey Ho and he told Mr Ho what had happened. 
Both Mr Ho and Mr Ong, who had returned to Mr Chan's house by then, also told Lee to go to the police.
Mr Ong then offered to take Lee to the police station, but as they were about to leave, the police showed up at the door looking for him, Lee said.
He was arrested the next morning.
FRIENDS TELL A DIFFERENT STORY 
DPP Sabapathy pointed out that Lee's testimony in court did not tally with his friends' accounts. 
Previously, Mr Chan told the court that Lee arrived at his house at around 10pm, not 9pm, the prosecutor noted.
Lee then explained that he could not remember the exact time, so it was possible that he arrived at Mr Chan's place closer to 10pm.
"I could have spent more time at the coffee shop. I don't know, I don't keep track of the time," he said.
It was therefore also possible that he was not at Mr Chan's house when the alleged hit-and-run incident happened at around 9.20pm, Lee added when probed.
The prosecution pointed out that Mr Ong gave evidence earlier that he had picked up Lee at Willow Avenue, where Lee had abandoned the Maserati that was later discovered by the police.
Mr Ong then drove Lee to Mr Chan's house.
WITNESS SAW DRIVER BEFORE INCIDENT
Another witness at the dock on Wednesday was someone who saw Lee driving the Maserati along Bedok Reservoir Road shortly before the incident.
Mr Larry Teo, who said that he had met Lee just once or twice, testified that Lee went to his flat located near Bedok Reservoir Road to pick up a laptop on behalf of Mr Chan.
Mr Teo went to hand Lee Mr Chan's laptop and saw him standing on the pavement near the Maserati, parked on the main road.
While their exchange was brief — around 10 seconds — Mr Teo identified the driver as Lee after he saw pictures of Lee on social media when the alleged hit-and-run case made the news.
Mr Teo said that Lee was alone and he walked back to the Maserati and drove off after he got the laptop.
The trial continues on Dec 4.