Masterplan for a 'food estate', high-tech farms to build Singapore's food resilience: DPM Heng
Nestled away on Neo Tiew Crescent in Lim Chu Kang is a fish farm that looks at first glance like it is selling ornamental fish to hobbyists. Part of its business though has been to contribute to Singapore's food basket by producing fish meant for consumption as well.
SINGAPORE — Nestled away on Neo Tiew Crescent in Lim Chu Kang is a fish farm that looks at first glance like it is selling ornamental fish to hobbyists. Part of its business though has been to contribute to Singapore's food basket by producing fish meant for consumption as well.
Since Apollo Aquaculture Group started selling seafood to the public in 2017, the group's chief executive officer Eric Ng said that it has been able to yield about 300 to 400 tonnes of fish, such as groupers and trout, a year. This includes the stock from a second fish farm in Lim Chu Kang and a third at Sungei Tengah.
The 47-year-old said that this is set to increase significantly to around 2,000 tonnes by the end of this year, once a new eight-storey facility is up and running. It is now being constructed next to the two-storey farm.
The new development, which creates more space by going vertical, also serves a dual purpose. In times of need, Mr Ng said that they are able to convert the building into a stocking facility. "That means we are able to stockpile our food sources that are coming from overseas as well." 
Speaking to the media after touring the fish farm on Wednesday (April 1), Deputy Prime Minister Heng Swee Keat said that high-tech farms such as the Apollo Aquaculture Group will go a long way in helping Singapore to achieve its 30-by-30 vision. 
He was referring to a plan that was first unveiled last year by Mr Masagos Zulkifli, Minister for the Environment and Water Resources, that aims to produce 30 per cent of Singapore's nutritional needs domestically by 2030.
MASTERPLAN FOR A 'FOOD ESTATE' 
One key consideration for the vision, Mr Heng said, is to have a masterplan for proper high-tech farms. 
"We need to do a proper master planning of the area so that we have like what we did with the Jurong industrial estate in the early days."
The Jurong plan was first mooted in 1961 by Singapore's first finance minister, Dr Goh Keng Swee, who wanted to transform the area into a modern industrial estate to put Singapore on the road to industrialisation. 
Mr Heng said: "We now have to think about how we will plan… (for) a food estate that will produce our nutritional needs. 
"The masterplan will need to be put out, and I'm glad the Singapore Food Agency and the Urban Redevelopment Authority are working together with the farmers on this," he said, adding that the Lim Chu Kang area will be part of this masterplan.
PUSH FOR FARMING TECHNOLOGY AND RESEARCH
Describing the 30-by-30 target as "achievable" and "adequate for now", Mr Heng said that improving domestic production will be one key area in efforts to achieve food resilience.  
This involves getting farms to go high-tech. Making use of the best technology in cultivating crops and growing fish allows for the best use of land in Singapore, he added.
At Apollo Aquaculture Group, its CEO credits the use of technology for the farm's success.
The farm adopts a multi-tiered recirculating aquaculture system that enables it to minimise water usage by recirculating, treating and re-using 90 per cent of the water. 
It also employs technology to control and monitor its farming processes, which reduces its reliance on manpower.
More importantly, it has reduced the mortality rate of the farm's fish fry. 
The farm's aquaculture operating officer Ben Kwan said that this rate has dropped from 30 to 20 per cent.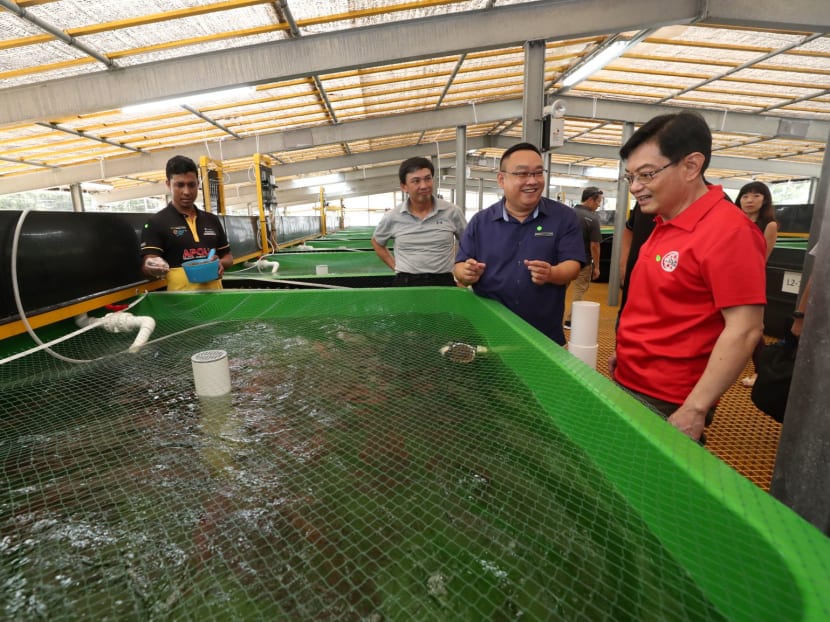 Mr Ng believes that Singapore can achieve its 30-by-30 goal — provided everyone works together. 
"For Apollo, I think we cannot do it alone. We need the cooperation of all the farmers around us," he said.
Beyond that, Singapore residents should also support local farmers.
"By supporting the local farmers, you encourage the farmers to farm more, to farm better. This will ensure and encourage that we have ample supply for the domestic market."
In getting farms to go high-tech, Mr Heng said that the Government will need to accelerate this work and see how best it can enhance research and development.
Noting that Singapore has some "very good people" in the country's research institutes, Mr Heng said that as the chairman of the National Research Foundation, he will be allocating resources for research into areas to improve food security. 
"We have invested in our health and biomedical sciences, and one key part of it is genetics," he said, explaining that for food farming, it is "very important work" to understand how species grow. This means finding out the conditions that make them thrive and how different genetic groups may have different responses to different environments.
BUILDING NETWORK OF TRADING PARTNERS
Responding to a question on how the Covid-19 crisis has affected the 30-by-30 vision, Mr Heng said that the pandemic has reinforced the importance of having the plan in place, and that the authorities are looking to speed up the progress.
"I will be also working closely with (Mr) Masagos on (this), to look at how we can quicken the pace of our work and make sure that different government agencies are able to work quickly on this."
Mr Heng stressed that stockpiling is a "stop gap measure" and is just one of the strategies to maintaining the country's food security.
"The other part of our strategy is to build our networks with our trading partners," he said.
A day before, Mr Heng took part in a virtual meeting with finance ministers and central bank governors from the Group of Twenty (G20) to discuss a coordinated international response to the health crisis.
He said on Wednesday that six countries, along with Singapore, have issued a statement on maintaining supply chain connectivity. He expects several more countries to join in the coming months. 
A statement from the Ministry of Trade and Industry said that Australia, Brunei, Canada, Chile, Myanmar and New Zealand were the other six countries that have affirmed their commitment to this. 
Mr Heng said: "This is a way in which we can assure one another of our supply chain connectivity. And that is one way in which we can continue to have a security of supply. I'm very glad to see that spirit of cooperation."