Maxwell Chambers Suites the new name for Red Dot Traffic building
SINGAPORE – The former Red Dot Traffic building at 28 Maxwell Road has been renamed Maxwell Chambers Suites, the Ministry of Law (MinLaw) announced on Thursday (June 22), and 65 per cent of the new office space has already been taken up even before refurbishment works begin.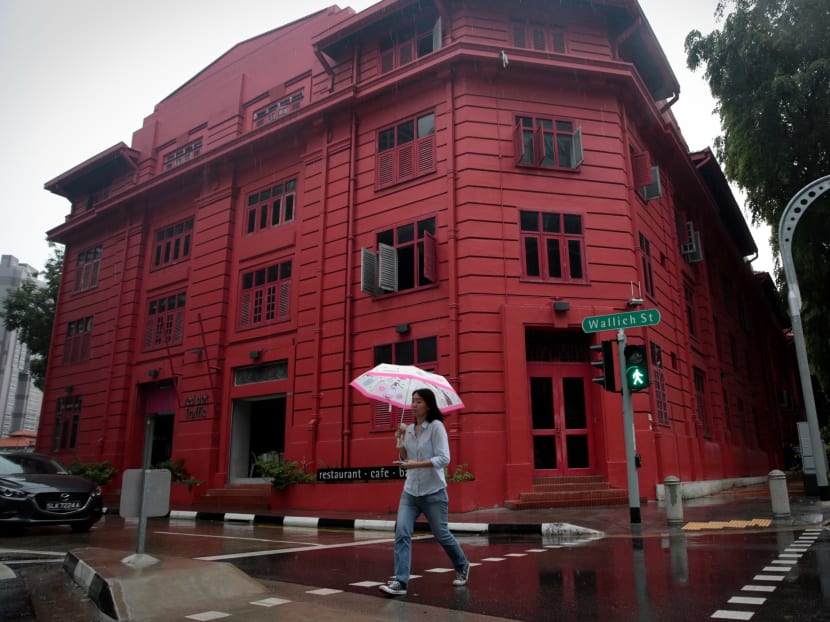 SINGAPORE — A second annexe block will be built to meet the strong demand for office space at the former Red Dot Traffic building at Maxwell Road.
The additional block will add 3,500 sq ft of office space, on top of the 120,000 sq ft original expansion plan to convert the former traffic building — which has been renamed Maxwell Chambers Suites — into an extension of the adjacent Maxwell Chambers. 
The latter is the world's first integrated dispute resolution complex.
"Maxwell Chambers' aggressive expansion is testament to Singapore's strong growth as an international hub for dispute resolution. 
"Our vision is for Maxwell Chambers to be a base in Asia for all major players, from which they can access and capture opportunities in the region," said Senior Minister of State (Finance and Law) Indranee Rajah on Thursday (June 22).
She was speaking to about 70 dispute resolution practitioners at the groundbreaking ceremony to redevelop the site.
When completed in 2019, Maxwell Chambers Suites will provide about 50 new offices for international dispute resolution institutions, arbitration chambers, law firms and ancillary legal services over four storeys. 
Currently, 65 per cent of the new office space at the building has been taken up, the Ministry of Law said on Thursday.
Maxwell Chambers will house only hearing rooms after the refurbishment. An overhead link-bridge will be constructed to provide access between hearing rooms and offices.
A new 24-hour public thoroughfare will also be built through Maxwell Chambers Suites. 
"This public thoroughfare will enhance the pedestrian network in the area, and better link Maxwell Road and the upcoming Maxwell MRT Station with the Tanjong Pagar MRT Station," said Ms Indranee.
The Arbitration Chambers — a firm of professional arbitrators and mediators — is among the 17 existing tenants at Maxwell Chambers, all of which are expected to relocate to the new building.
"I'm very excited, I've always been waiting to have more space," said the firm's head of chambers, Professor Lawrence Boo, 62.
Expecting to at least double the number of staff at his firm to 20 when it moves to its new premises in about 18 months, Prof Boo hopes to expand his current 600 sq ft office space to between 1,000 and 1,500 sq ft.
"With more arbitration cases coming into Singapore … we are expanding our body of arbitrators and law clerks. So, we are hoping this new space will give us more opportunities to expand the work here," he said.
Maxwell Chambers Suites will also house an ancillary services firm — Opus 2, an international firm that specialises in transcription and hearing room services — for the first time.
Prof Boo said the congregation of local and international institutions, chambers, dispute resolute practitioners and related legal support services in the building will bring about "a concentration of legal energy" that will be beneficial for the legal environment.
"The interaction with them is really going to be very exciting," he added.
The Red Dot Traffic building was first built in 1928, and was the home of the Singapore Traffic Police Headquarters for over 70 years.
Anchor tenant Red Dot Design Museum announced on Tuesday that it will be relocating to Marina Bay towards the end of this year, after its lease of the Red Dot Traffic building ceased in end April.