Mega Tampines complex set to draw over 2 million visitors a month beyond 2020
SINGAPORE — With most of its facilities now up and running, monthly footfall at Singapore's largest integrated community and lifestyle complex is expected to double to 1.5 million.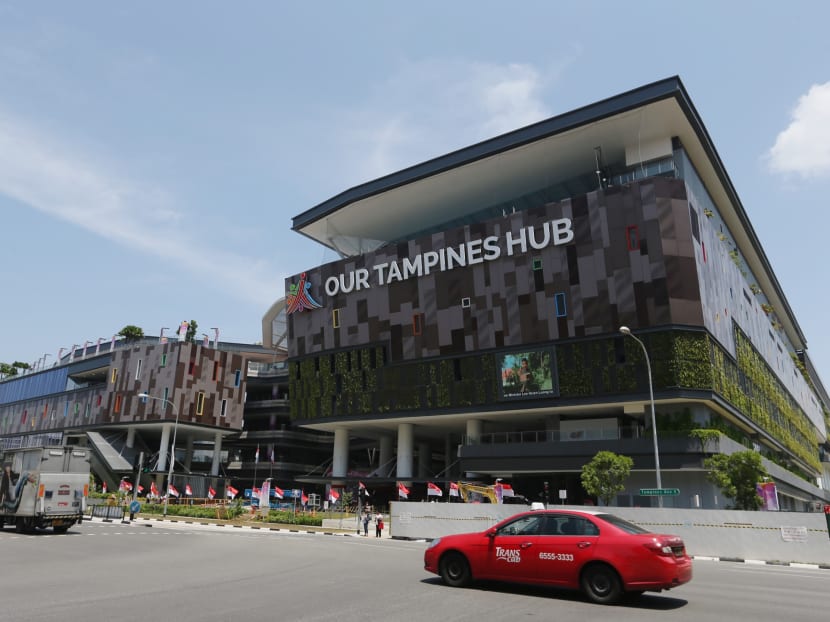 SINGAPORE — With most of its facilities now up and running, monthly footfall at Singapore's largest integrated community and lifestyle complex is expected to double to 1.5 million.
On Sunday (Aug 6), Our Tampines Hub marked its official opening, with all its amenities available to the public save for an arena that will be opened next month or in October.
The latest facilities to be ready, as part of a gradual rollout since November, include six swimming pools — the first above-ground ActiveSG pools — a 400-seat arts theatre and an eco-community garden. 
The pools, on the sixth-storey of the ActiveSG Tampines Swimming Complex, opened last month and include a 10-lane competition pool and a jacuzzi.
In the first quarter of this year, the centre's monthly average footfall was 750,000. Between April and June, this figure rose to 830,000. Beyond 2020, it is expected to draw more than two million people a month, said its director Suhaimi Rafdi.
Speaking at the opening, Prime Minister Lee Hsien Loong said the hub's town square, which includes a 5,000-seat stadium, will allow residents to take part in an array of sporting and community activities. Previously, spaces for such activities were not purpose-built.
The hub, mooted in 2011, also houses a 150,000 sq ft library, home to a heritage gallery that takes visitors through the highways and byways of Tampines' history. Also on display are memories from the town's residents and workers.
The hub's arena, which is about 80 per cent complete and will house futsal, hockey and tennis facilities, was confirmed only after the concept for the rest of the complex, an Our Tampines Hub spokesperson told TODAY.
By 2020, Tampines will be home to about 250,000 residents, up from around 220,000 now. Most residents told TODAY they were unperturbed by the expected surge in human traffic.
Mr Nicholas Chan, 35, enjoys having "everything under one roof" there and is unconcerned by the expected rise in Our Tampines Hub's footfall: "If it's heavily underutilised, then it's not a good use of resources."
Ms Brenda Kwon, 40, said the crowds do not make her uncomfortable: "This (place) is ... big enough." 
But Mdm Shafawati Wahid, 33, fears it will become "overcrowded", leading to congested pools and a lack of seating.
Measures are in place to manage the rise in footfall, said the hub spokesperson. Initiatives like robotic cleaners and restroom sensors that alert housekeeping will enable "the hub to serve the community well".
More bicycle bays are also being built, adding to the existing several hundreds of bays. There are also 1,400 sheltered parking spots.
To connect residents between the hub and Tampines Regional Centre, a sheltered walkway and pedestrian overhead bridge are being built. Activities are also "well-spaced" across the facilities, the spokesperson added.
On the retail front, the hub's 105-shop mall is fully occupied, besides a store due to open in October, Mr Suhaimi said.
When asked, Mr Suhaimi said department store BHG, an anchor tenant at Century Square that closed recently as the mall prepares to shut for a major facelift next month, had enquired about relocating to Our Tampines Hub. 
"But what they've asked for is a very large footprint, which we don't have," he added.
Sunday's opening saw over 105,000 people attending, including Tampines' Members of Parliament. Finance Minister Heng Swee Keat said the hub will continue to engage residents in planning activities for all.
"I hope that this is a place where our residents will find real lasting memories," he said.