A Michelin star accolade is not for the faint hearted, say restaurateurs
SINGAPORE — Running a Michelin-starred restaurant, to Emmanuel Stroobant Group director Edina Hong, is akin to "keeping a mistress". And she has two.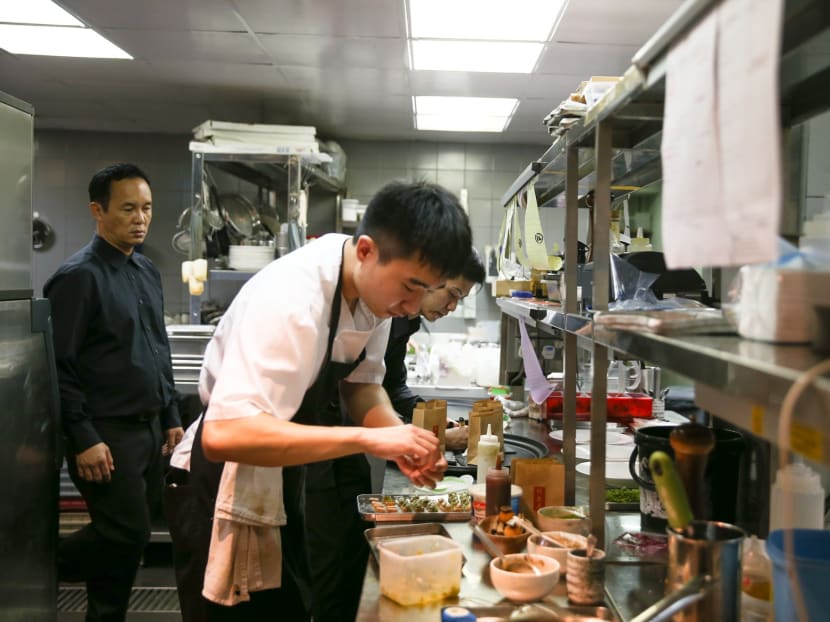 SINGAPORE — Running a Michelin-starred restaurant, to Emmanuel Stroobant Group director Edina Hong, is akin to "keeping a mistress". And she has two.
While her three other restaurants are "kids who give no problems" and rake in a lot more in profits, her 24-seater one-starred French restaurant Saint Pierre and eight-seater two-starred Japanese restaurant Shoukouwa are "high maintenance" mistresses with a high price to upkeep.
For example, a plate chipped is S$200 incurred at Shoukouwa, and Saint Pierre serves up its food with Christofle silverware that cost the group S$30,000 in all.
"It's not for the faint-hearted," said the wife of her group's namesake celebrity chef.
Ever since receiving the honours for Shoukouwa in 2016 and Saint Pierre last year, Madam Hong has spared no resources on the two restaurants as losing the Michelin stars — which has become synonymous with her group's reputation —is out of the question.
Ahead of Wednesday's (July 25) release of the 2018 Michelin list, TODAY checked in with last year's winners to find out whether receiving the accolade has been a boon or bane. Having a star does not guarantee success, as proven by the high-profile closures earlier this year of three Michelin-starred eateries, including Singapore's only three-starred restaurant, Joel Robuchon Restaurant.
Of the eight establishments interviewed, five restaurateurs said the recognition brought with it the stress of competition, increased customer expectation, and a wafer-thin margin for errors — cooking was no longer just a chef's own journey towards culinary perfection.
Take the example of the three-table private kitchen Chef Kang's — since it was awarded one Michelin star last year, the number of reservations had doubled, and diners have to book two months in advance instead of one month previously.
But its chef-owner, 53-year-old Ang Song Kang, refused to increase his restaurant's capacity. Instead, he hired two more staff to "respect the Michelin title" and maintain standards.
"To be honest, I have no ability to go any bigger without compromising on quality," he said.
Chef-owner of one-starred restaurant Labyrinth Han Liguang explained — one key aspect of his restaurant is its ability to source for the best quality produce, and that is not possible in high volumes.
"You go to the markets, you go to the farms, there is not going to be enough of the best fish to serve 100 people … You've got to settle for second rate quality in order to have the quantity to serve everyone in the restaurant," added the 33-year-old.
Over at the one-starred Alma by Juan Amador in Goodwood Park Hotel, while getting featured in the red guide had brought in an average increase of 50 per cent in the number of patrons, this spike in turn entails an additional investment of 25 per cent more manpower, cutlery, and kitchenware on the restaurants' part.
Getting enough quality staff is a problem, lamented Labyrinth's Mr Han. He said running his 26-seater fine diner offering "new Singaporean" cuisine involves a combination of serving the best produce "with optimal flavour and the right techniques" helped by "pure hard work, perseverance, teamwork, and clear focus on customers and product".
Though there has been no dearth of foreigners applying to work in his kitchen since it snagged a star, he can't bring them onboard due to the foreign worker quota.
Even if they manage to secure more resources, restaurateurs told TODAY there is a cap on how much sales they can make, because to maintain the food quality, they typically do not serve more than 30 diners during each lunch or dinner service.
Maintaining the Michelin star is a tedious daily battle, Alma's executive chef and general manager Haikal Johari told TODAY.
The one-star Spanish restaurant, which has been listed on the guide for two years, offers diners six- or eight-course menus offering 14 different dishes, which are assembled from more than 100 components, such as pickled cabbage and vinaigrette of yuzu.
Certain components, such as the petit pois (or peas), can take up more than three hours in preparation time, said Mr Haikal.
The popularity of the restaurants may also wax and wane according to the timing of the guide's release.
For example, Mr Haikal said Alma would see a slowdown in its business from around April, ahead of the release of the guide's latest edition.
"Then when it hits the Michelin Guide again, for the next three months, it will go up again," said the 41-year-old. "If (the restaurant) gets busy, you increase your manpower and everything, costs start to go up. And in the end, the bottom line will also start to shrink on some (quieter) days."
Despite all the challenges, it is important to these restaurants to either maintain status quo or get more stars.
Asked what he would do if he was to lose his single star, Labyrinth's Mr Han said: "I will work harder, if it is even possible to work harder than how I am already working right now."
If Alma were to receive one more star, Mr Haikal said it would be "a lot more responsibility" but not something he would push away.
"The only thing is we have to up our game, spend more and more time to do it, (and) I will have to sacrifice other things (in life).
"It is not about food anymore. It's about the whole experience — the ambiance, the small little details. I would love to be in that shoe, but if I get that, not only me, all (the staff) need to (be in with) the same mentality," he said.