New SAF unit to battle cyber threats
SINGAPORE — In a major effort to shore up its cyber-security capabilities, the Defence Ministry (Mindef) will not only set up a new cyber command but also rope in national servicemen (NS men) as part of a new cyber-defence vocation.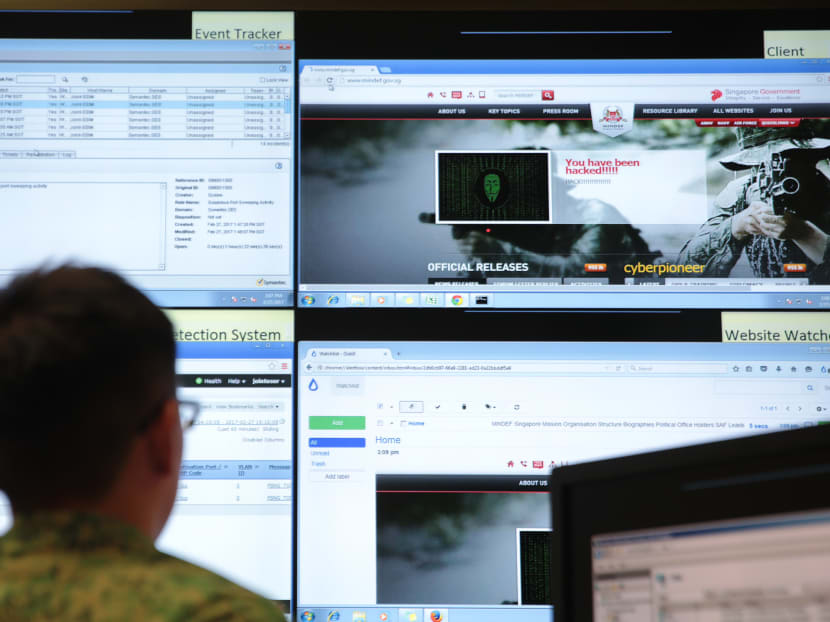 SINGAPORE — In a major effort to shore up its cyber-security capabilities, the Defence Ministry (Mindef) will not only set up a new cyber command but also rope in national servicemen (NS men) as part of a new cyber-defence vocation.
The vocation, under the Singapore Armed Forces (SAF), will see selected soldiers deployed from August. These "cyber-defenders" will fan out across the new Defence Cyber Organisation, which will also house the SAF's new Cyber Defence Group.
The aim is to have about 2,600 servicemen — regulars as well as full-time and operationally ready NSmen — on board in about a decade, a "significant build-up" from current numbers, Defence Minister Ng Eng Hen announced on Friday (March 3) in the debate on Mindef's budget.
The move comes amid the growing threat of hybrid warfare, including cyber attacks and fake news. Rarely mentioned previously, it has "become so common, so well known" today, said Dr Ng.
German Chancellor Angela Merkel has said that some nations considered hybrid warfare "legitimate", while Russia's Defence Minister has confirmed the existence of "information troops", with the government spending hundreds of millions yearly on its 1,000-strong "Cyber Army", said Dr Ng, citing media reports.
Other countries, too, have reported having cyber-battalions and divisions in their militaries and ministries. "The next-generation SAF needs to prepare for this environment, where state-orchestrated cyber and information campaigns against another state are not only considered legitimate but can be ongoing all the time," Dr Ng said.
While figures for cyber attacks against the Republic's defence networks are unavailable, Dr Ng noted in Parliament last year that cyber intrusions occurred daily: "For those of you in this business, it's not tens; it's not hundreds; it's not thousands; it's hundreds of thousands or millions of network event logs."
On Tuesday, Mindef revealed that its I-net system, which is used in military premises to access the Internet, had been breached and the personal data of around 850 servicemen and employees were stolen.
NS cyber-defenders can expect to fulfil three key roles: Monitor critical networks and systems around the clock to detect anomalies and flag potential attacks; respond quickly to contain cyber-incidents and reduce their impact on regular network operations; and analyse data and detect patterns that may allow the SAF to better defend its networks against similar attacks in future.
Second Defence Minister Ong Ye Kung, who also spoke on Friday, said these servicemen would be entering a "very selective and demanding vocation", with a stringent selection process - sieving out those with special skill sets - akin to how commandos or naval divers are chosen.
Those chosen, who will be assessed case-by-case, will need to have the relevant cyber-skills, experience and academic background. They could include employees from the cyber-security industry or be identified from activities such as local cyber-competitions and camps, and through rigorous selection tests.
Much of the selection is expected to happen in educational institutions, from the Institute of Technical Education to junior colleges.
As part of a pilot, some cyber-defenders who are doing National Service may also be deployed to support the Cyber Security Agency of Singapore (CSA) at the national level.
Before this, only a small number of full-time national servicemen have been deployed to support the SAF's cyber-defence efforts.
Helmed by Mr David Koh, Mindef deputy secretary (technology) and CSA chief executive, the new Defence Cyber Organisation will lead and coordinate cyber-security efforts across the defence cluster, including the Defence Science and Technology Agency (DSTA) and DSO National Laboratories.
As for the new Cyber Defence Group, part of the Defence Cyber Organisation, it will monitor and audit the cyber-defence of the SAF's military networks around the clock and neutralise cyber threats, among other things.
To ramp up training for cyber-defenders, the SAF's Headquarters Signals and Command Systems will this month sign a memorandum of understanding with cyber-security firm ST Electronics (Info-Security) and Nanyang Polytechnic. It will cover six areas, including providing specialised, globally accredited courses and co-developing a customised cyber-defence curriculum.
These new initiatives build on efforts over the years to improve cyber-defence, Mindef said, such as the Cyber Defence Operations Hub established in 2013.
Speaking to reporters earlier this week, Lieutenant-Colonel (LTC) Mok Chuan Hao, the hub's operations control head, said that the SAF faced "all sorts of attacks", from those that were less critical detected by its systems to the more advanced ones which require skills and analysis to decipher if an attack has indeed occurred.
It takes about half a year to train a cyber-defender. Aside from grasping networks and the SAF's systems, a cyber-defender — who will undergo a training programme that includes on-the-job training — must also be well-versed in areas such as operating the force's cyber-defence tools, LTC Mok said.
Meanwhile, to tap emerging technologies to boost the SAF's capabilities, DSO will set up a new robotics laboratory next month, giving defence engineers a space to test systems before they are trialled in the field.
DSTA also has a new analytics and artificial intelligence lab that allows its engineers to leverage emerging technologies, including data analytics and the Internet of Things.